A national park in Alaska is asking the public to vote for who they think deserves the title of fattest bear in all of the Brooks River this week.
Katmai National Park and Preserve is home to an estimated 2,200 bears, and ahead of hibernation season they have been eating nearly non-stop to gain weight for the winter.
With that in mind, the national park runs a competition on its Facebook page encouraging the public to vote on its favorite weight gainers on the Brooks River – it really is something of a bear Champions League.
---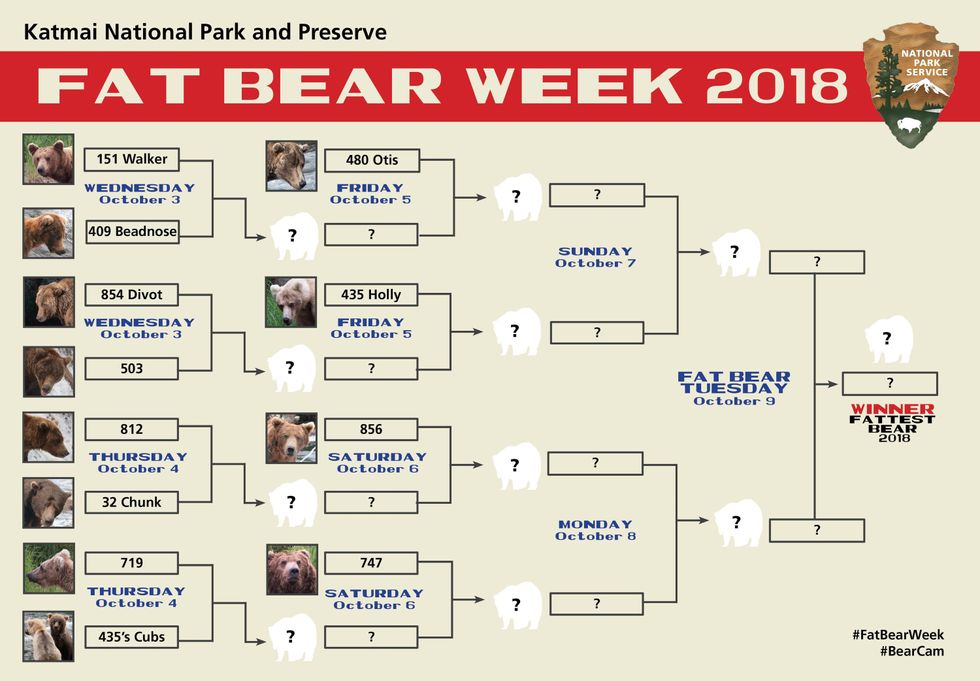 (Katmai National Park and Preserve/flickr)
This is the fourth year the competition has run, with its March Madness style format pitting bears against one another in the public vote until a champion is found on Fat Bear Tuesday (October 9).
And while it might seem a humorous endeavour, there's nothing funny about bears gaining all the weight they need to survive a six-month hibernation in which they can lose a third of their body mass.
To gain the weight, the bears gather at Brooks River to feast on sockeye salmon, and in peak season can eat as many as 30 a day.
(Katmai National Park and Preserve/flickr)
"For the bears it's serious," said ranger Andrew LaValle. "They're trying to pack on as much weight as possible to survive the winter.
"Life as a bear is hard. They come out of the dens in spring looking weak and hungry, and being fat in October or November is a sign of success and resilience."
Some of the favorites this year include Bear 747 as well as 435 Holly who has to feed two cubs. Meanwhile, 480 Otis cannot be counted out as the reigning champion.
The public can vote on the Katmai National Park and Preserve's Facebook page, but what should they be looking out for?
"It is open to interpretation!" said LaValle. "This is a fun way to educate the public about these bears, not a federal election.
"We simply urge people to vote for the bear that 'looks fattest', however they may judge that. Fat is a hallmark of a successful bear. Does that mean clearance with the ground? Number of rolls? Neck flab? Its up to you!"
The competition is already fierce, with fans showing their support for their picks: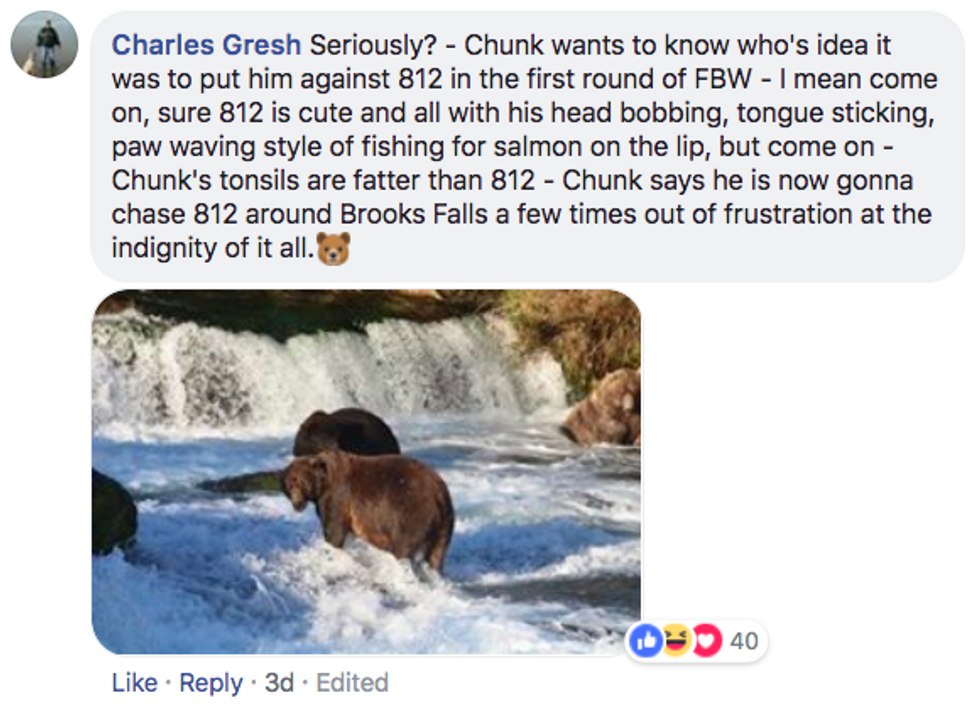 Facebook
Facebook
Facebook
Facebook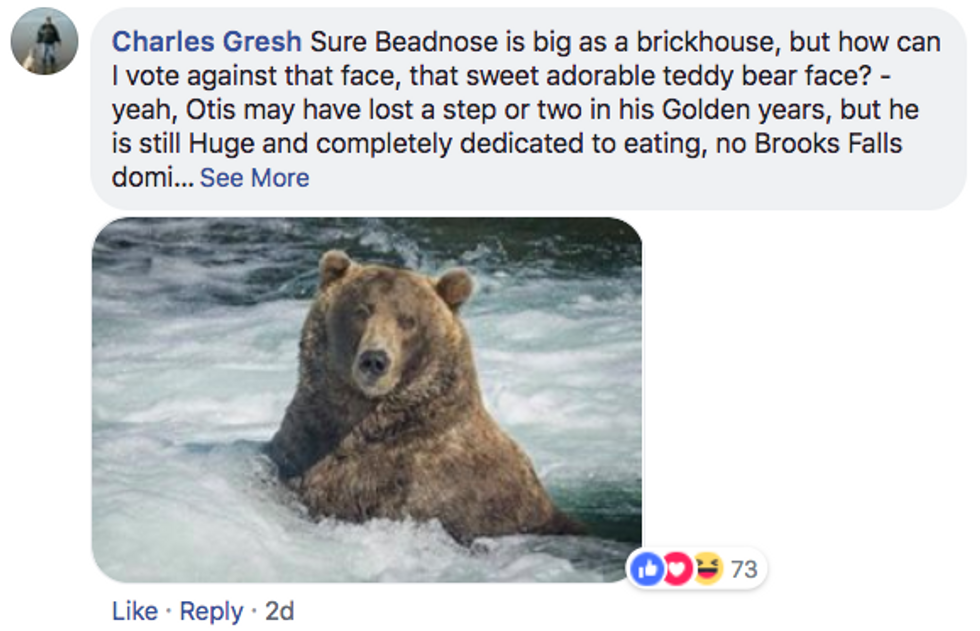 Facebook
These bears are definitely loved: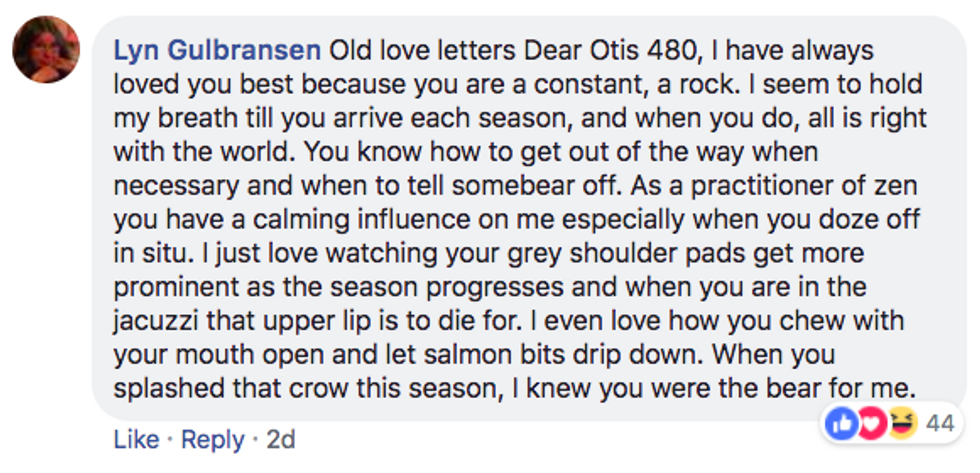 Facebook
To help you keep an eye on some of the contenders, the park has a partnership with explore.org that has allowed for a 24/7 live stream of the Brooks River area during the summer months.
Who will be crowned the fattest bear on the Brooks River? We'll find out soon enough.
Don't miss your chance to vote for your favorite by heading to the Katmai National Park & Preserve Facebook page and "liking" your favorite bears!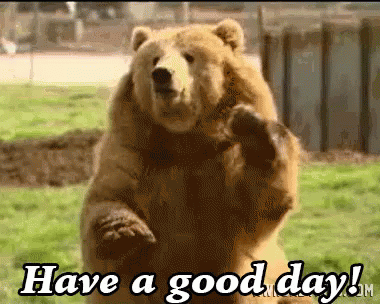 Giphy
A version of this article originally appeared on Press Association.