Thanos was certainly a presence before Avengers: Infinity War.
We heard Loki mention him in the first Avengers film and even get a glance of his visage. And Nebula talked about him during The Guardians Of The Galaxy Vol. 1 as the father of both herself and Gamora.
---
What we didn't know about Thanos is that he had an almost completely different aesthetic on the concept artists' page before he made it to full terrifying chin-presence in Avengers: IW.
Take a look:
While we wait here for #AvengersEndgame Thanos be on his farm like....... @Russo_Brothers https://t.co/hmHKSpg9SL

— BossLogic (@BossLogic)1551160919.0
Yeah, Thanos was almost wearing an entire white suit and DJing a white party.
Crazy, right?
Just kidding. But we would pay money to go to that party.
THIS is how Thanos looked in the film:
@kahrazyinlove @BeyonceF0rever Bey looks WORN OUT and Rih giving Crimson Chin 😫😂😂... https://t.co/RuU7FzUtBA

— 🇨🇴 R U S S O 🇨🇴 (@🇨🇴 R U S S O 🇨🇴)1551054131.0
Okay we'll stop pulling your leg now.
This is REALLY what Thanos looked like in the film:
I'm happy First Man won an Oscar...but Infinity War really did deserve it for Thanos alone https://t.co/eXHkoPth5v

— Parth Marathe (@Parth Marathe)1551063858.0
February 26: if you see one Joe and Anthony Russo movie in which a group of loveable misfits band together to pull… https://t.co/Hg8cx3ycOU

— Chris Hewitt (@Chris Hewitt)1551211223.0
Infinity War should win best Visual Effects for Thanos alone https://t.co/kks97YpoPC

— Webhead 1962 (@Webhead 1962)1551048450.0
Friendly lowkey reminder... #oscars #visualeffects #thanos #avengers #InfinityWar https://t.co/Ouu60DKZhj

— DanzQueen (@DanzQueen)1551152037.0
And here is an early design of the Crimson Chin's alter-ego himself from a member of the movie's team:
We immediately can see his face is pretty similar, if not a bit more purple than crimson.
What is not similar, at all, is the costume.
For one, it looks like a bit like athleisure.

Photo via @jsmarantz/Instagram

Photo via @jsmarantz/Instagram

Photo via @jsmarantz/Instagram
For another, though, it does make Thanos look a lot different than the Marvel heroes.
The look from the film is almost an Iron Man/Thor look.
It has the same basic shape, complete with shiny chrome helmet.
#thanos orthographic #conceptdesign from #guardiansofthegalaxy in case you guys want to model him or make his costu… https://t.co/qSu8yxZlSh

— Charlie Wen (@Charlie Wen)1550509604.0
That other Thanos almost looks like a different RPG class of Thanos before he levels up.
Philosopher Thanos Look https://t.co/VukADGxF8V

— SkySlip (@SkySlip)1551154059.0
Here are the two side by side.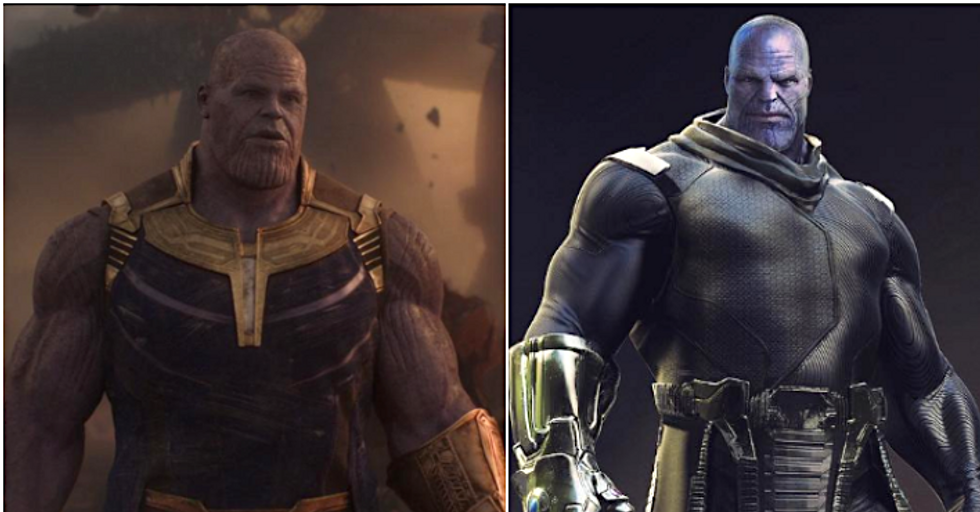 Thanos film version versus concept art.Avengers: Infinity War/Marvel Studios and jsmarantz/Instagram
Your time is coming Thanos. https://t.co/YsbHgkaSku

— Adam Warlock (@Adam Warlock)1551210914.0
Not only did Thanos' CGI in Infinity War deserve an Oscar, so did Josh Brolin's performance https://t.co/1fU9kjbxLp

— MG (@MG)1551129779.0
The new Avengers: Endgame is slated for release on April 26, 2019.
In preparation, you can study up on Avengers: Infinity War, available in multiple formats here.
Thanos will likely sport a newer look in Endgame, too.
Here are some fan theories:
Hoooo PAP! Thanos AVENGERS ENDGAME https://t.co/1EcuO6CWcE

— End Game (@End Game)1550805548.0
thanos in avengers: endgame (2019) https://t.co/QDhWHjdPqn

— 𝘣𝘳𝘦𝘦 ​❂ actually loves tess (@𝘣𝘳𝘦𝘦 ​❂ actually loves tess)1550764463.0
Thanos in Avengers Endgame looking for his gauntlet @GreatKhanHD 🤣 https://t.co/rLVT4E8gHO

— Cris/ Waddles Jr (@Cris/ Waddles Jr)1551239150.0
Which one is your favorite Thanos *look* so far?

And is it April yet‽
*digs out copies of Avengers, Guardians of the Galaxy, and Infinity War*