Thanos was certainly a presence before Avengers: Infinity War.
We heard Loki mention him in the first Avengers film and even get a glance of his visage. And Nebula talked about him during The Guardians Of The Galaxy Vol. 1as the father of both herself and Gamora.
---
What we didn't know about Thanos is that he had an almost completely different aesthetic on the concept artists' page before he made it to full terrifying chin-presence in Avengers: IW.
Take a look:
Yeah, Thanos was almost wearing an entire white suit and DJing a white party.
Crazy, right?
Just kidding. But we would pay money to go to that party.
THIS is how Thanos looked in the film:
Okay we'll stop pulling your leg now.
This is REALLY what Thanos looked like in the film:
And here is an early design of the Crimson Chin's alter-ego himself from a member of the movie's team:
We immediately can see his face is pretty similar, if not a bit more purple than crimson.
What is not similar, at all, is the costume.
For one, it looks like a bit like athleisure.

Photo via @jsmarantz/Instagram
Photo via @jsmarantz/Instagram
Photo via @jsmarantz/Instagram
For another, though, it does make Thanos look a lot different than the Marvel heroes.
The look from the film is almost an Iron Man/Thor look.
It has the same basic shape, complete with shiny chrome helmet.
That other Thanos almost looks like a different RPG class of Thanos before he levels up.
Here are the two side by side.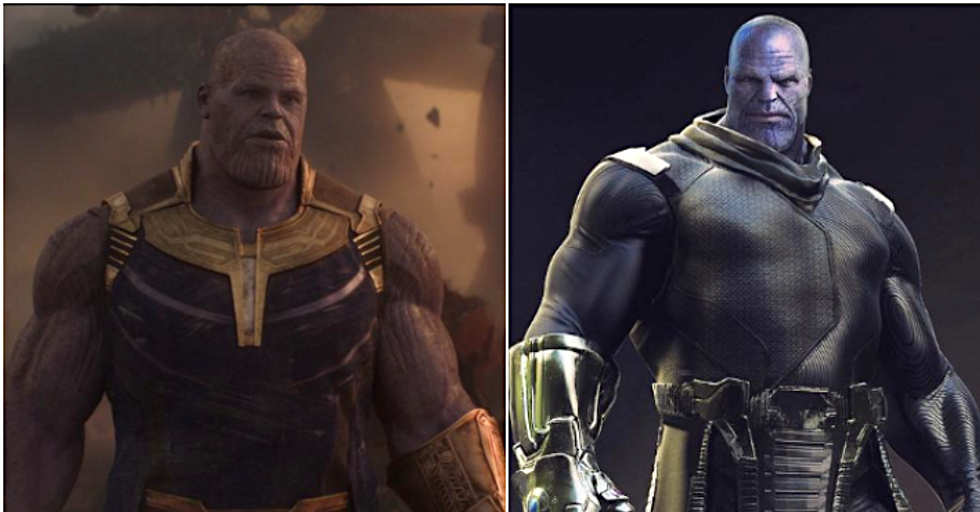 Thanos film version versus concept art.Avengers: Infinity War/Marvel Studios and jsmarantz/Instagram
The new Avengers: Endgame is slated for release on April 26, 2019.
In preparation, you can study up on Avengers: Infinity War, available in multiple formats here.
Thanos will likely sport a newer look in Endgame, too.
Here are some fan theories:
Which one is your favorite Thanos *look* so far?

And is it April yet‽
*digs out copies of Avengers, Guardians of the Galaxy, and Infinity War*