It's always a beautiful moment when children realize just how hard their parents have had it over the years.
Olivia Galloway, a first-year high schooler from Richmond Hill, Georgia, was scheduled to take an engineering class this semester but, worried it would be too difficult, enrolled in early childhood education instead.
She quickly learned that intense mathematic equations and design problems would be nothing compared to the challenge of caring for a baby.
---
Olivia was assigned a robotic baby which she had to tend to every time it cried.
And boy oh boy did this baby love to cry: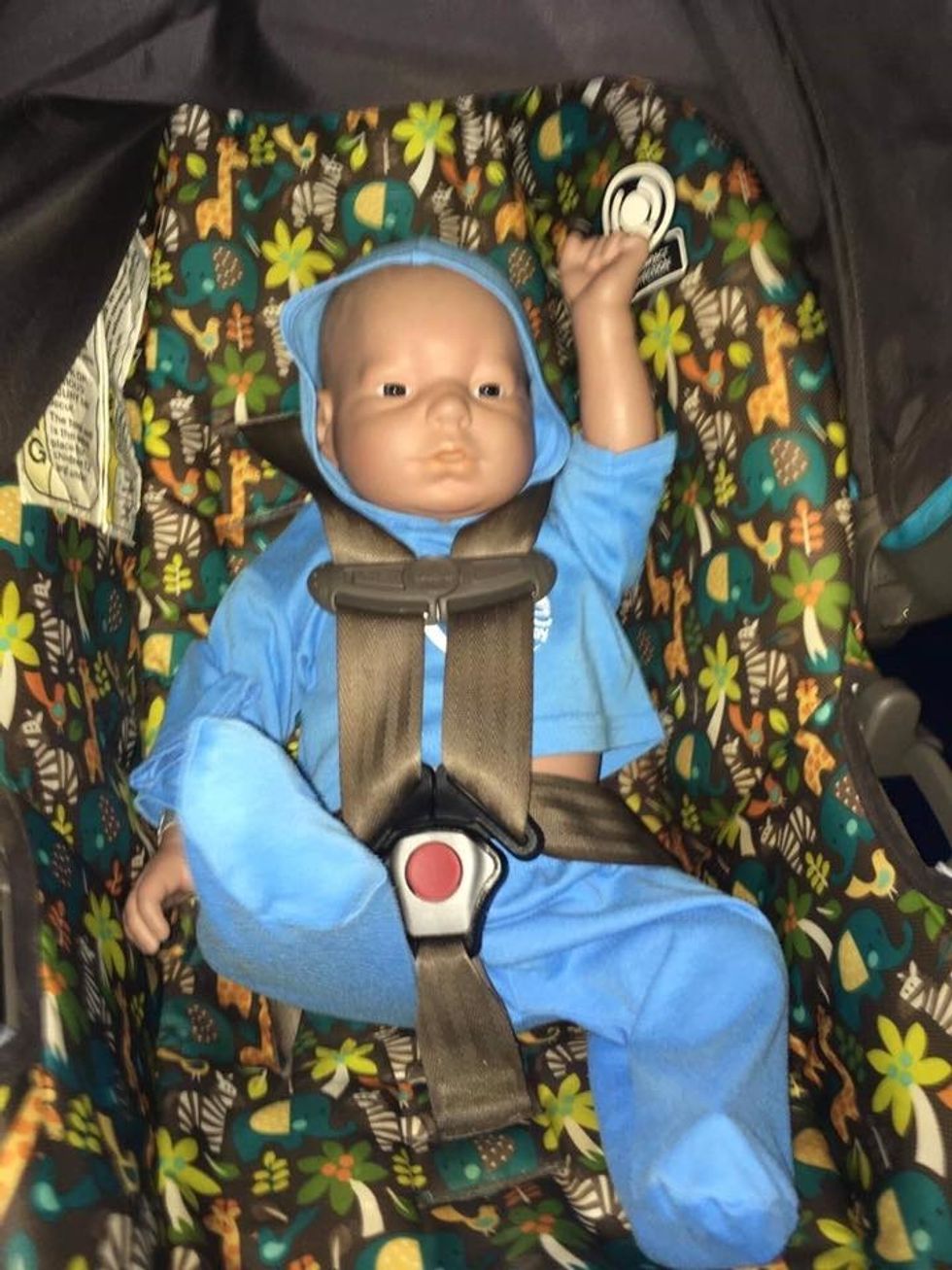 Lawren Galloway/Facebook
The task of caring for the child was far more overwhelming than Olivia expected.
Olivia's mom, Lawren, posted to Facebook showing her daughter's frustration as the baby kept her awake at all hours of the night, writing:

"Meet William. He's Olivia's interactive baby assignment for her Early Childhood Education Class. Now, meet Olivia with William. She's had him since Friday night. She is absolutely exhausted and ready to quit the class and give William back. (Maybe even throw him back) It's definitely been a learning experience. My favorite moment so far is when she came into my room last night around 3 am. She was crying real tears while feeding him his bottle. She was begging me to help her because she just wanted to get some sleep. 😂Yeah, no."
Lawren noted that the robot baby cries for pretty much the same reasons a real one does:
The baby cries for its bottle, cries to be burped, rocked, and for a diaper change."
There was truly no escape from the endless crying...
"It sounds like an easy task, but then it repeats at ungodly hours. It would wake her crying when she was dead asleep and then cry again an hour later."
Olivia's mother would overhear desperate, tearful exchanges between the teen and the robot late at night:
"I would hear her say things like, 'Please, just burp. Please, please, please, just burp' while crying. She was crying real tears, like snotty, ugly crying."
Olivia would try to enlist Lawren, who also happened to be awake at those times caring for the family's REAL newborn, to help her take care of the robot baby, but her mother held firm:
"My response to her was, 'My hands are full. This is your grade, not mine.'"
With over 126k shares, it's clear people can relate to the mother's Facebook post.
Many sounded off in the comments:

Lawren Galloway/Facebook

Lawren Galloway/Facebook

Lawren Galloway/Facebook
Some people thought the "baby" project was hard; others handled it no problem.

Lawren Galloway/Facebook

Lawren Galloway/Facebook
The majority of people, however, had only bad memories of the robotic child.

Lawren Galloway/Facebook

Lawren Galloway/Facebook
Many thought all high schools should offer this course to give teens a real idea bout what being a parent is like. Far more effective birth control than teaching abstinence!

Lawren Galloway/Facebook

Lawren Galloway/Facebook

Lawren Galloway/Facebook
Perhaps now Olivia will have a better idea of what her Mom has gone through MULTIPLE TIMES.

Lawren Galloway/Facebook

Lawren Galloway/Facebook

Lawren Galloway/Facebook
Unfortunately, Olivia's baby (named William) did not receive the outstanding level of care he deserved. Olivia scored only a 65% on the assignment.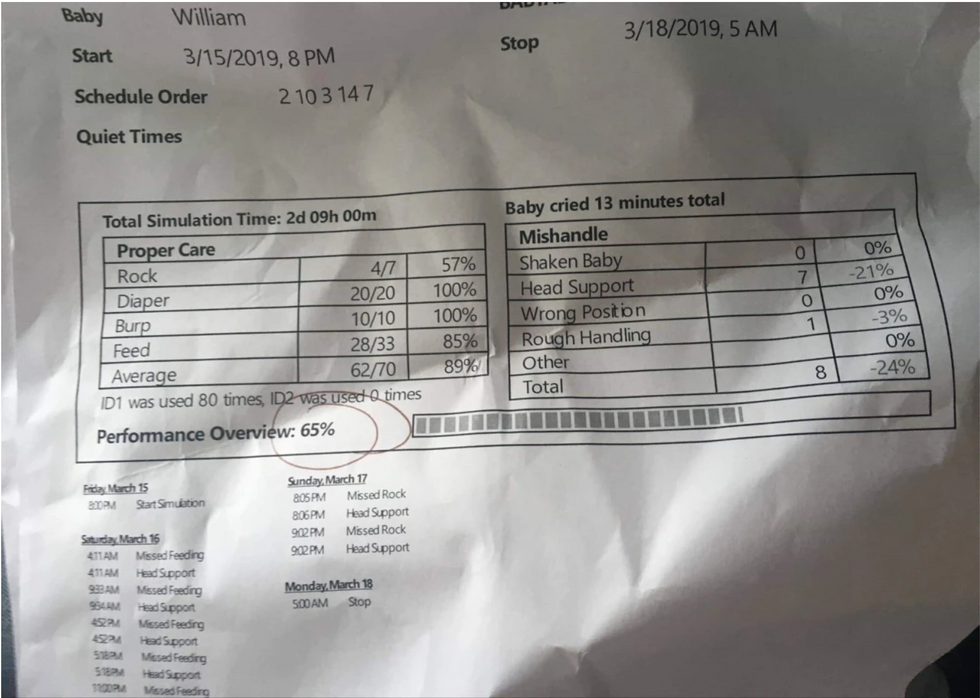 Buzzfeed
Lawren just hopes Olivia gets it all together before she has a REAL baby:
"[With a robot baby] there's no chance of a blowout diaper, spit up, or diaper rash. No fevers. No sickness. And, hey, she didn't have to nurse, buy formula, diapers, wipes or any other essentials. She's still clueless, but maybe just a bit more educated."
Fear not, Olivia, we believe in you!
And those of you who feel you need practice before the real thing, you can experiment with your very own realistic doll!