Every year, Halloween has been known to bring out one of the spookiest specters of all: racism.
Thinking it'd be a funny, topical costume to wear in front of children, teachers from Middleton School District in Middleton, Idaho, dressed up as Trump's border wall and a group of stereotypical Mexican people trying to cross it.
---
Photos of the dozen or so teachers in costume were originally posted by the teachers themselves to the Middleton School District's Facebook page, alongside the caption:
"It was a great day to be a Heights Hawk! We celebrated our RESPECT character winners, single and double marathon runners."
Another day, another racist costume. This is from Middletown School District in Idaho. Please call (208) 585-3027 t… https://t.co/fLUImlg8Ds

— unholy heidi (@unholy heidi) 1541172154.0
Unfortunately, none of the teachers featured in the photos are likely to become a RESPECT character winner anytime soon.
The photos show half of the educators acting as a wall labelled "Make America Great Again," while the other half of teachers dress in ponchos, hold maracas and even write "MEXICAN" at the top of a sombrero.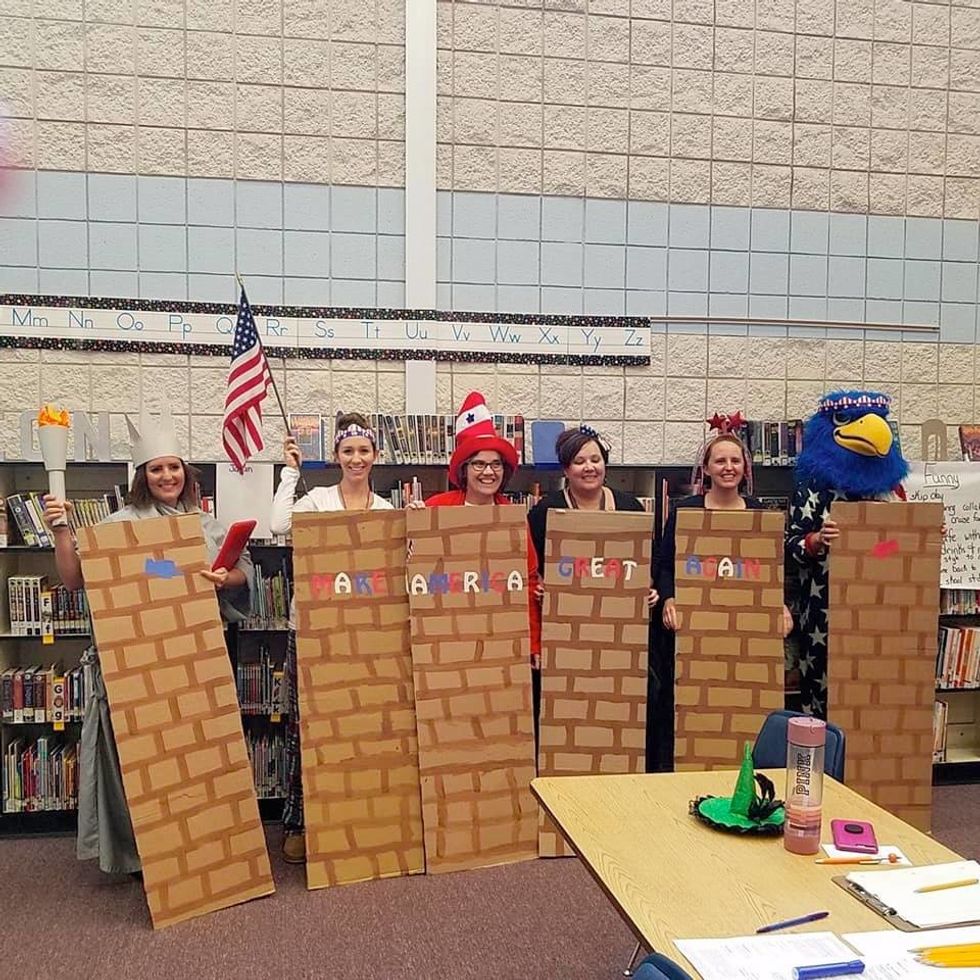 @heidiheilig/Twitter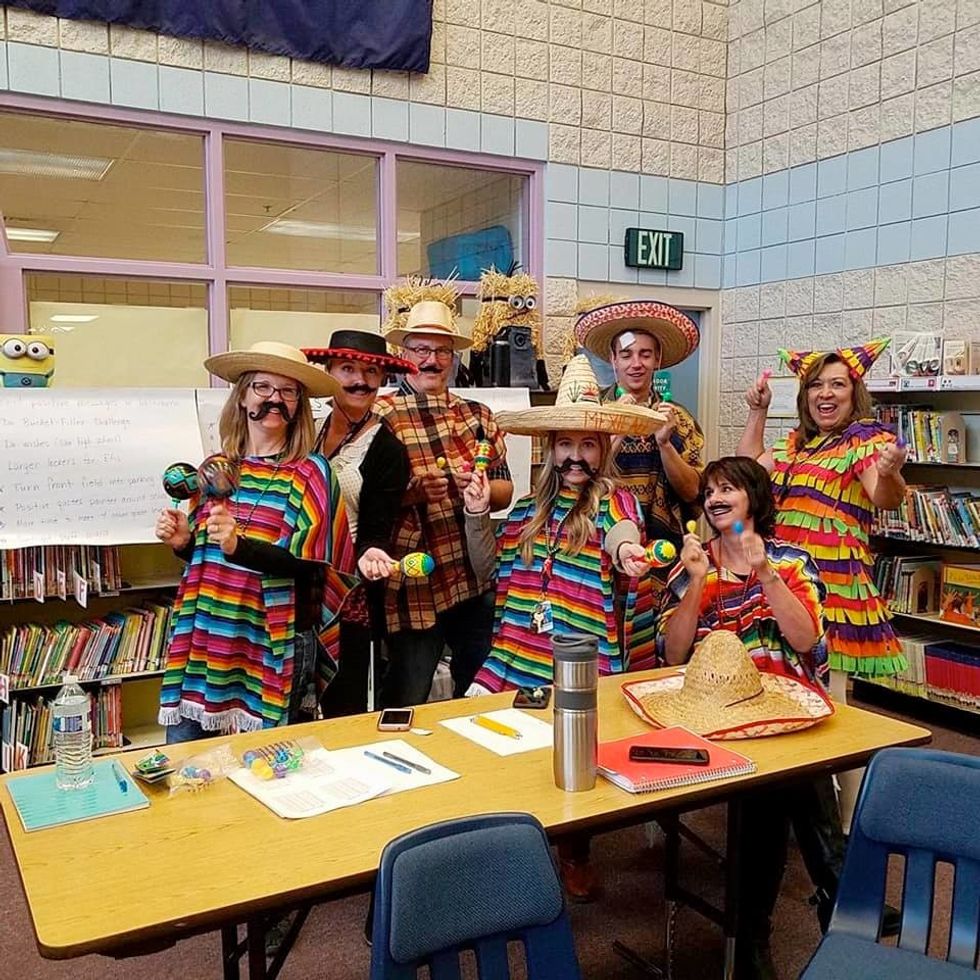 @heidiheilig/Twitter
Though the original post was quickly deleted, Facebook users had already captured the images, which were widely shared across the internet.

@thehill This is what is teaching our children? Division over unity, racism.

— JWamelia (@JWamelia) 1541336412.0
@thehill They need to be immediately fired.

— CK (@CK) 1541336406.0
@AP I keep wishing that common sense was more common. Unbelievable.

— Rhonda (@Rhonda) 1541270036.0
@AP Racism aimed toward a percentage of their own students is mind boggling!

— Tim M (@Tim M) 1541270209.0
@HuffPost Sends wrong message to the kiddos. Even Kids in Idaho need to be taught to respect everyone

— Paul M. Dumouchel (@Paul M. Dumouchel) 1541304865.0
@HuffPost Wow. 😑 I support Trump. But they went too far. Shame shame.

— KatieKelley® (@KatieKelley®) 1541297153.0
@MotherJones These people are paid with tax dollars to teach students. This is beyond unacceptable.

— Grant Deppen 🇺🇸 (@Grant Deppen 🇺🇸) 1541258381.0
Elizabeth Almanza, a member of immigrant advocacy group PODER (Protecting our Dreams and Empowering Resilience), denounced the costumes in a strongly worded Facebook post on the Idaho DACA Students page:
"These photos are extremely disheartening."
"ALL children should have the right to a learning environment that celebrates all backgrounds."
"Imagine how some of the students felt when they walked into their classrooms on Halloween and saw their teachers (people they look up to) dressed like this?"
"This is NOT funny. This is heartbreaking. Students deserve better."
Dr. Josh Middleton, the Middleton school district's aptly-named superintendent, offered his "sincerest and deepest apologies," saying he'd only become aware of the costumes after-the-fact, on the Thursday following Halloween.

He commented:
"I was shown those photos and [was] deeply troubled by the decision by our staff members to wear those costumes that are clearly insensitive and inappropriate."
"Do I think there was a malicious intent in this poor decision? No, I don't."
"Was there a poor judgment involved? Absolutely."
@ajplus From their code of ethics commitment: "The professional educator, recognizing that students need role model… https://t.co/LpCGazbWcW

— 1700s sea shanty (@1700s sea shanty) 1541203119.0
@jmwilson_ @AASwiftie13 @ajplus https://t.co/w60ocbbBgb

— kayleigh (@kayleigh) 1541210625.0
The group of teachers is now under investigation by the school district, and face potential suspension or termination. Middleton knows the district is capable of better.

"We are better than this. We embrace all students. We have a responsibility to teach and reach all students, period."