A professor from the University of Miami was fired after a TikTok video showing his Zoom session with students revealed he had another tab with pornographic content left open.
---
During an online class conducted on March 26, students inadvertently discovered that their business analytics instructor, John Peng Zhang, had a thing for buxom college girls, based on his browser's bookmark.
During the screen-share session, one of Zhang's student's who had left their computer's microphone on noticed a tab that read:
"Busty College girl fu…"
University of Miami professor fired after TikTok of his pornographic bookmark goes viral https://t.co/wcUnlv0quy

— BethAnn McLaughlin, PhD (@BethAnn McLaughlin, PhD) 1588134975.0
When the student alerted the other classmates by reading the tab's words out loud, Zhang continued "as normal."
By the time the Zoom session ended, students had already taken screen shots.
@swiftieboston13 Benefit of the doubt: "Busty college girl fundamentally enriches nonconventional learning experience for everyone involved"

— Merk (@Merk) 1585346626.0
SOME COLLEGE PROFESSOR SHARED HIS SCREEN AND HAD A "Busty College Girl" PAGE BOOKMARKED BWAHAHAHAHAHA https://t.co/N87ZqqMgnS

— 𝘿𝙎 🥧 (@𝘿𝙎 🥧) 1585619758.0
A now-deleted TikTok video went viral in which the clip zoomed from the professor to the pornographic tab that was prominent under the miami.edu website URL.

Embarrassingly, Zhang conducted the next session with the same tab remaining visible.
Eventually, he did not appear in a later session, leaving students alone in the Zoom session for approximately 20 minutes before business analytics department chair Robert Plant sent an email announcing the class was cancelled.

According to the Miami Hurricane – the university's school paper – the original TikTok video went viral with "800,000 views in a handful of hours."
Within 24 hours, the video spread to Instagram on college-centric profiles like Fifthyear and Barstool.
Teachers, Professors, managers etc. - Always make sure you close the busty college girl tab. 😐 https://t.co/MFLtJCnX5x

— 94.5 The Buzz (@94.5 The Buzz) 1585936839.0
Ethan Hartz, a freshman business student, who was taking the class when other students noticed the tab, said:
"I had friends sharing it with me from other schools who saw it."
Hartz added that he initially thought the incident was "super funny" but later grew concern for Zhang's future with the university.

"I felt guilty afterward for even sharing it with my close friends."
The school administration asked the student who originally posted the TikTok video to remove the eight second video from the site.
The unnamed student told the paper that they later "felt bad" about all the attention the post received.
"I didn't want him to lose his job…I thought he would be fine…I felt really bad for him."
The following day, Zhang addressed his students about the incident and also sent an email discouraging them from sharing the screenshot images.
He said:

"I don't know how it happened. I didn't see it, I'm pretty sure everybody else did…My apologies to the class."
Miami professor shares screen with 'college girl' porn bookmark, gets fired https://t.co/PzRa2CGoJK

— 📰The_News_DIVA📰 (@📰The_News_DIVA📰) 1588197302.0
With new professors hired to take his place, Zhang's name has since been removed from the university website, and his email is no longer active.

UM confirmed he no longer works for the university.
@McLNeuro This type of thing was inevitable. I bet he was fired for improper use of electronic equipment. The rules… https://t.co/yiM547Mr7d

— Professor Ferroptosis (@Professor Ferroptosis) 1588149460.0
Jade Johnson, a junior marketing major in Zhang's class was sympathetic over the controversy and told fellow students to stop sharing the images online.

"This is someone's livelihood. I told my friends, this guy could lose his job."
She said his firing was a "little too extreme" and believed that the professor didn't do anything illegal.
"He was one of my only professors who seemed to care."
Some on Twitter were frustrated with the consequences of the professor's indiscretion.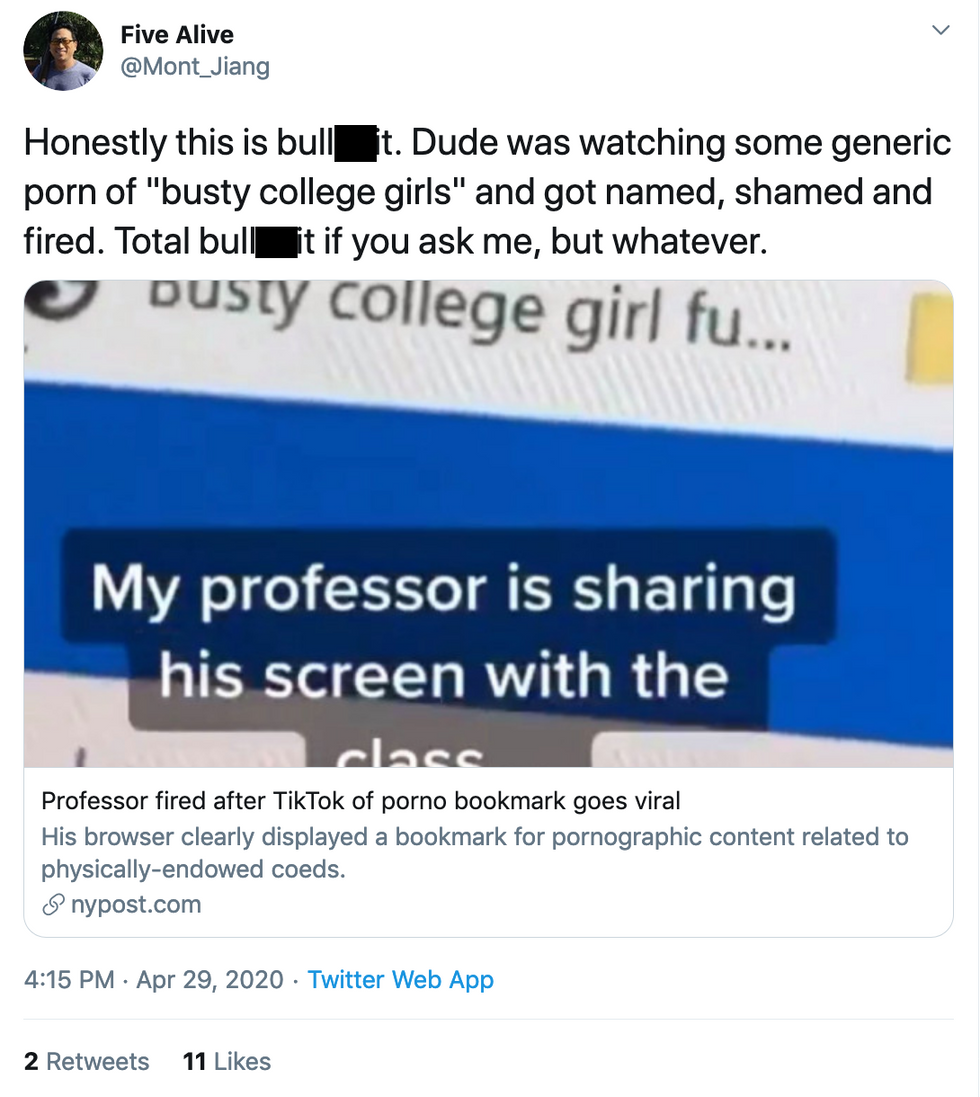 @Mont_Jiang/Twitter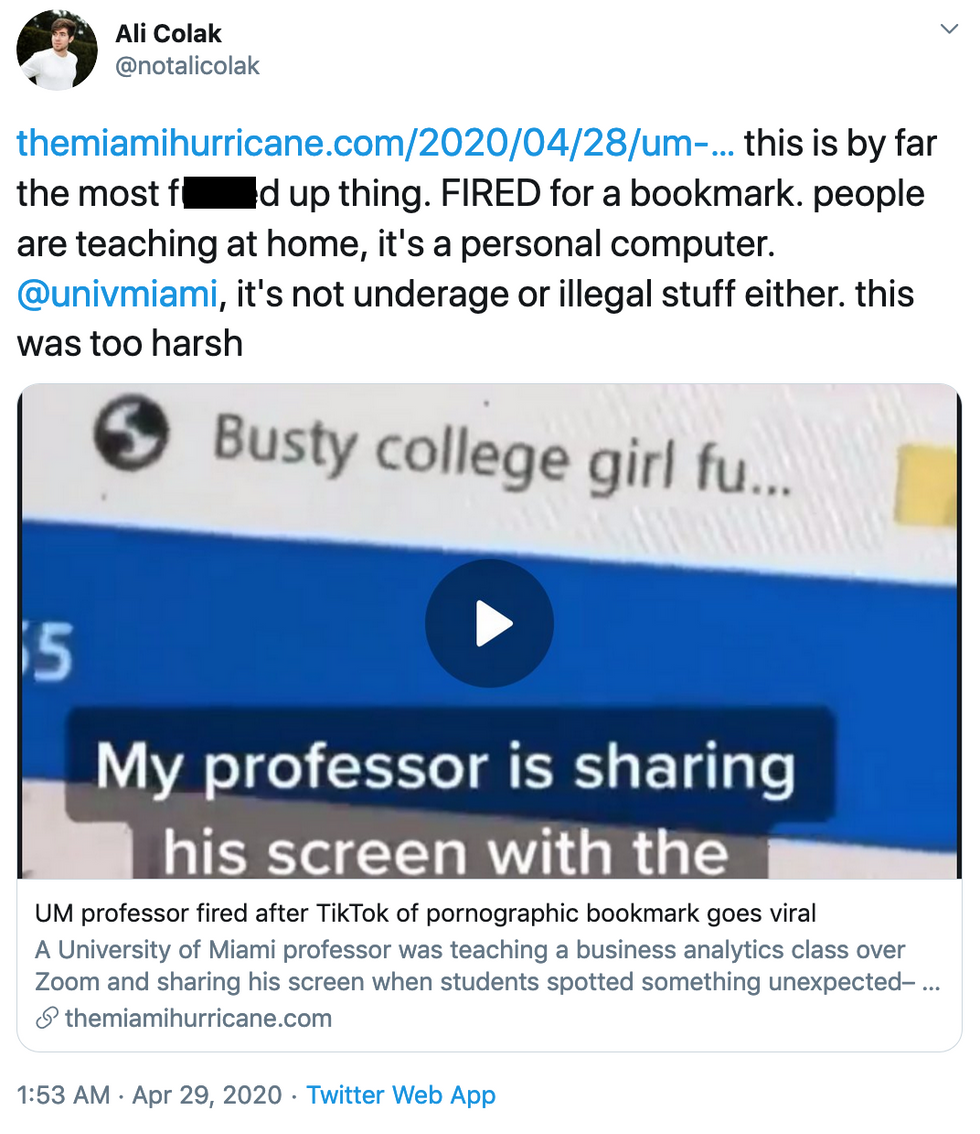 @notalicolak/Twitter
@McLNeuro Ugh. Meanwhile actual harassers keep their damn jobs. I know, I know I'm preaching to the Pope on that one.

— M (@M) 1588135236.0
Now having ever viewed porn is a fireable offense for professors. https://t.co/seNZ8fRnht

— Dr. Camilo Ortiz (@Dr. Camilo Ortiz) 1588186732.0
@MensHumor Poor guy. That is a ridiculous thing to get fired for. It's not like it was child porn and he was showing it to the class.

— 🖤💛 (@🖤💛) 1588194399.0
@MensHumor Err. I dont know. Two things I think of. The prof is a porn addict or the students are jerk.

— joplinortaleza (@joplinortaleza) 1588194233.0
This is extremely wrong, @univmiami Did you fire him for this? Really? https://t.co/gFfrq4iyUF

— Hudson River Croc (@Hudson River Croc) 1588188085.0
However, some female students disagreed, mainly due to their concern over the tab's link to pornographic content related to college girls.
Samantha Hill, a freshman majoring in business law and a student of Zhang's told the school paper:
"It was the fact he is a college professor and saved a video to his bookmarks describing college girls."
"A video to watch over and over again."
She added:

"It's hard not to think he's looking at you like that. I wouldn't turn my camera on…I don't want him to look at me."
The university provided no further comments regarding Zhang's dismissal and only issued the following statement.
"The University of Miami aggressively investigates all complaints of inappropriate behavior or sexual harassment."
"After receiving a complaint through the University's ethics hotline, the incident was investigated by the Office of the Provost, Title IX investigator and Miami Herbert Business School."