Heather Nauert is a state department spokesperson and former Fox news host. She was sent to Saudi Arabia this week in order to attend meetings related to the disappearance, torture, and eventual murder of Saudi critic and journalist Jamal Khashoggi. As a journalist herself, it would stand to reason that Heather would understand the gravity of the situation and show concern. Unfortunately, that's not what happened.
---
Khashoggi is believed to have been kidnapped from the Saudi consulate on October 2nd. He went in order to obtain documents for his upcoming wedding. Reports claim that he was tortured with a saw for several minutes before his eventual death. He was beheaded, dismembered, and his fingers were removed. Khashoggi had suspected he was in danger, instructing his fiance to call for help if he was not back within a few hours. She never saw him again. One of the men believed to be associated with his murder was soon dead himself - having been killed in a "suspicious vehicular accident."
The incident Ms. Nauert was sent to Saudi Arabia to discuss was, in no way, a lighthearted one - clearly. That didn't stop her from posting a smiling selfie taken in front of the Saudi Royal court and posting it to her Instagram.
The vacation-style photos continued with her next post.
Both were met with immediate backlash. People couldn't grasp how she could post such casual pictures when she was supposed to be investigating something so heinous.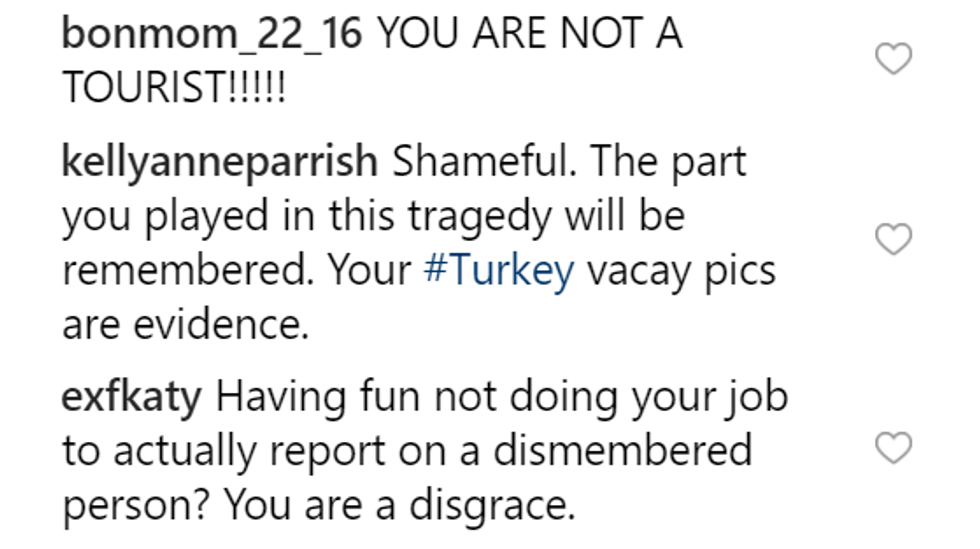 Instagram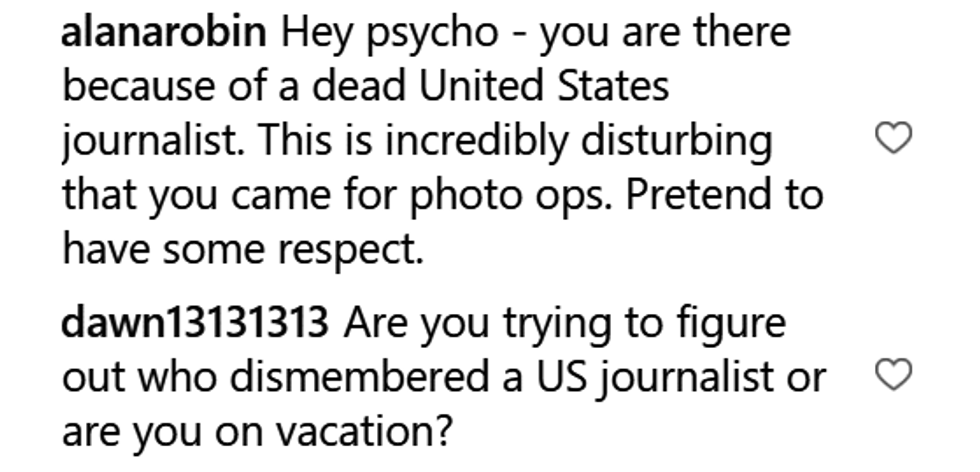 Instagram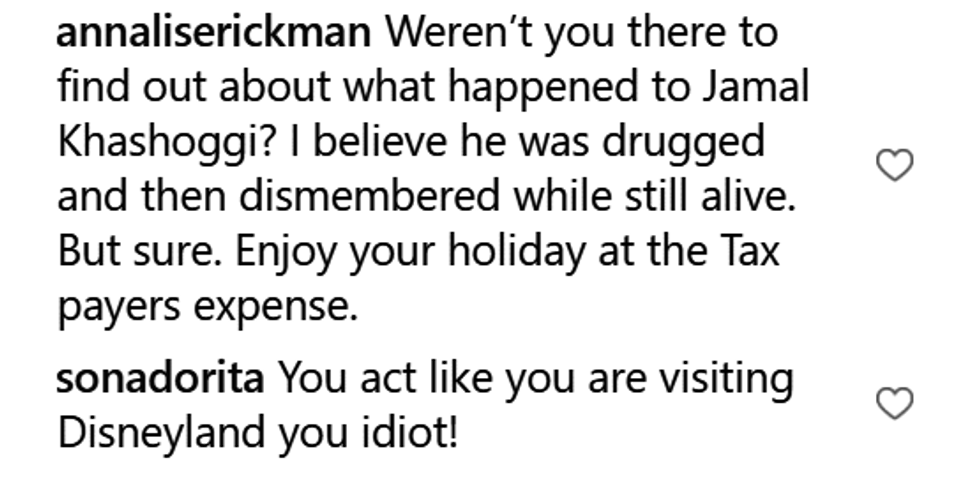 Instagram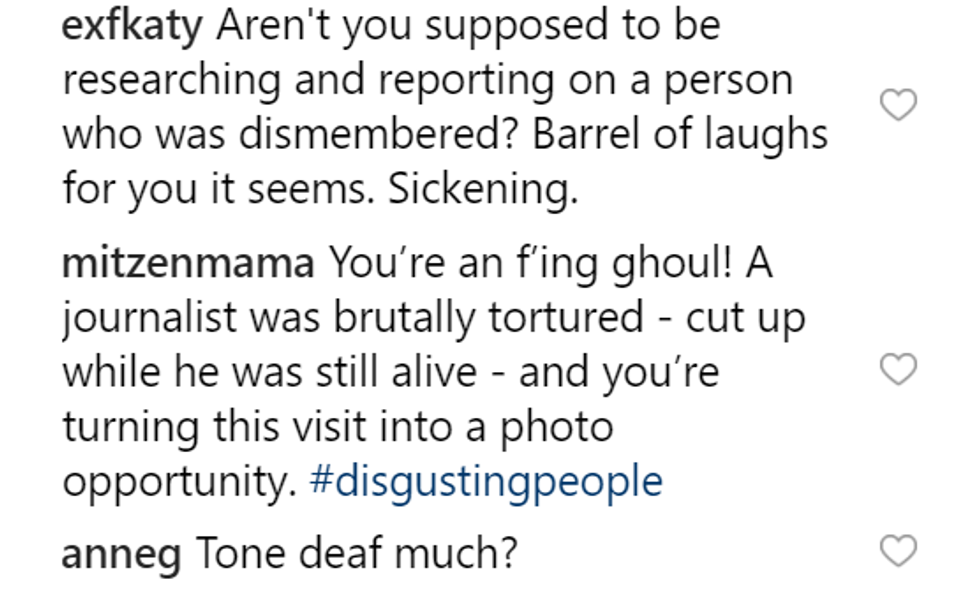 Instagram
The anger didn't stay confined to Instagram.
@erinmcunningham @CnBsNana @statedeptspox It's like she's having a great time as a tourist. The tone deafness and… https://t.co/RFML08fIFK

— Citizen, Interrupted (@Citizen, Interrupted) 1539831561.0
@EliClifton @JeremyDeeSelden "Oh my GAWD! It's like TOTES awesome here! SHOPPING!!!"

— Semi-pro Snarkist (@Semi-pro Snarkist) 1539872448.0
BECAUSE OF COURSE Fox Shill Heather Nauert Poses For Unbefuckinglievably 'Stunningly Tone Deaf' Photo https://t.co/E1bjIfGm6G

— G. Whillikers (@G. Whillikers) 1539818027.0
@HuffPostPol @StateDept do you people have no decorum at all ? What a cluster *uck

— mkdarizona (@mkdarizona) 1539834948.0
@erinmcunningham @statedeptspox Even more disturbing considering she is a graduate of the Columbia Journalism Schoo… https://t.co/5WKJZOHT5Y

— Chantie Khan (@Chantie Khan) 1539824712.0
@NaamaYehuda @erinmcunningham @chrislhayes @statedeptspox Right ?!!

— Wendy Jacobson (@Wendy Jacobson) 1539833117.0
@HuffPost Ok that's 2 smiling so far... seriously? Have you no soul, compassion, moral compass? I swear I feel like… https://t.co/YQWTrqT6xY

— isabella P (@isabella P) 1539830254.0
This is no way for a journalist to behave!

H/T: Huffington Post, Instagram, New York Times, Twitter, RT