Following news of famed Irish singer Sinead O'Connor's death, fans have been revisiting highlights from her career–including the time she slammed embattled British journalist Piers Morgan–that elevated her further to legendary status.
In 2022, the "Nothing Compares 2 U" singer turned down Morgan's multiple attempts to get her on his show following the tragic death of her 17-year-old son, Shane.

She wrote an email to the former Good Morning Britain host explaining her reason for declining having much to do with his well-publicized obsession with Meghan Markle.
On Twitter, O'Connor shared a screenshot of the sent email and captioned it with:
"Piers Morgan's been trying to get me on his breakfast show since Shaney died."
"Here's what I emailed him in response: Hopefully you'll chortle your tea out your nose."
She wrote the following to Morgan:

"Hi Piers, I think it's best I don't do your show because of the irresistible temptation I would have to point out that you're dying to be balls deep in Meghan Markle so bad it's driven you crazy, and that your dislike of Prince Harry is down to his being balls deep in her ten times a day."
She added:

"It being the case that if you were ever to get near her, which would never happen, you'd last ten seconds: and that would be that for ten days."
Here is the screenshot of the resurfaced email shared by Twitter user Joel S.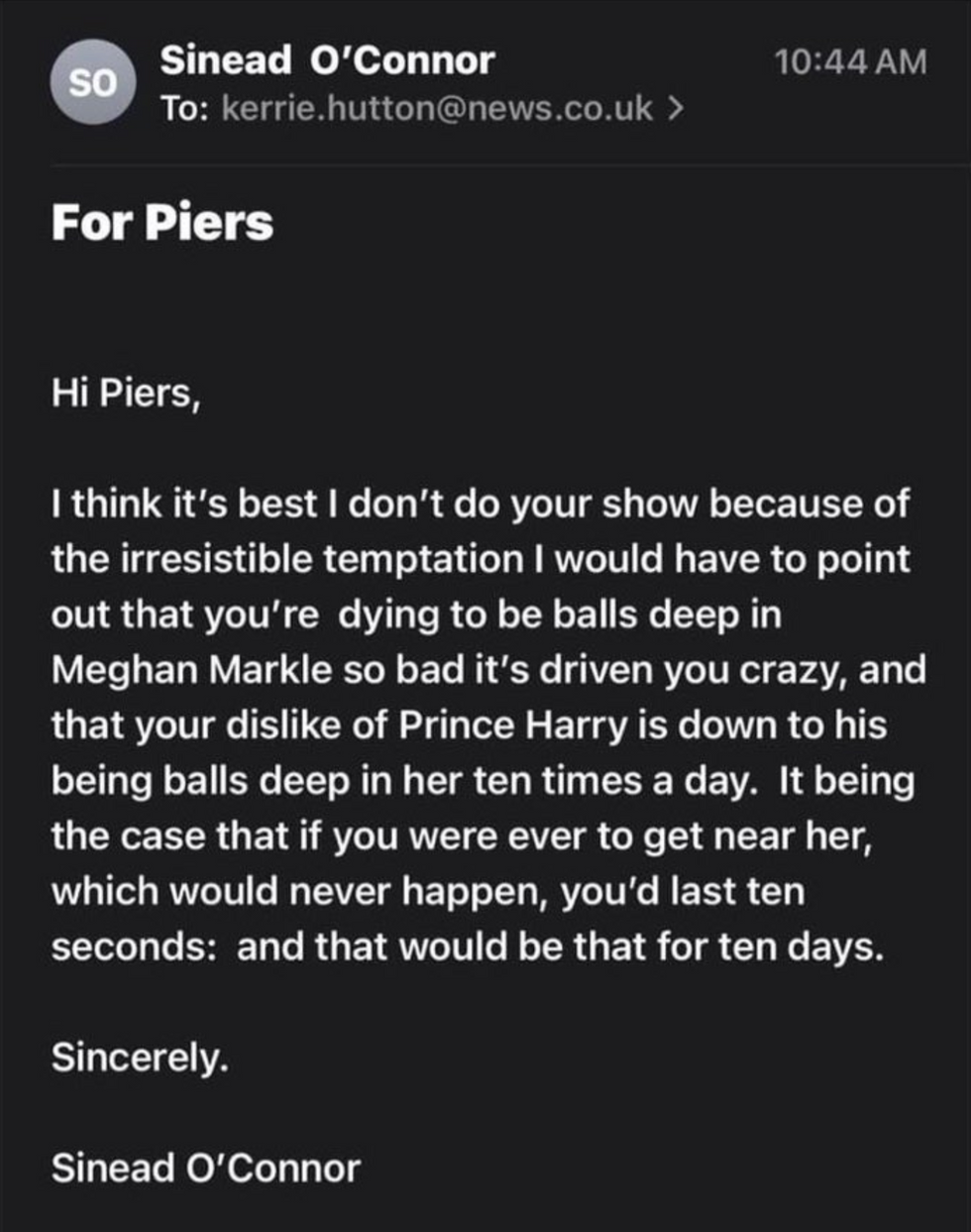 @jh_swan.../Twitter
Morgan's bitterness towards Prince Harry and Meghan Markle is alleged to stem from him once being ghosted by the former Suits actress.

His resentment reached a boiling point when he had the famous meltdown over a heated discussion about Markle that led to his exit from Good Morning Britain in March 2021.
Since then, he has continued pitching a fit at the mere mention of the former Royals.
Morgan claimed he "did not believe a word" Markle was saying about her mental health struggles in Oprah's exclusive interview with the Duke and Duchess of Sussex in which she made claims of racism leveled at her by the Crown during her time in Buckingham Palace.
He also lambasted the trailer for Netflix's Harry & Meghan docuseries, calling it "vomit-inducing" and the couple, "repulsive hypocrites."
O'Connor's scathing email to Morgan posthumously delighted old and new fans.
Never one to pass up getting the last word in, Morgan responded to her tweet with:
"Hi Sinead, a delight to hear from you and I did indeed chortle my tea out of my nose."
He also set the record straight with three points in addition to making a remark that earned Chris Rock the slap heard 'round the world at the 2022 Oscars.

"Three things. a) I haven't hosted a breakfast show for a year. b) I actually fancy you, not Meghan. Think it's the GI Jane hair thing."
For his final point, he expressed condolences to the grieving mother.

"c) I was so sorry about your son. Hope you're OK."
O'Connor was a musician and best-selling author who released 10 studio albums starting with her 1987 debut album, The Lion and the Cobra, which charted internationally.
She rose to fame with her second studio album released in 1990, I Do Not Want What I Haven't Got–which spawned the number one world single, "Nothing Compares 2 U," written by Prince.

Throughout her career as an artist, O'Connor was vocal about her spiritual journey, activism, socio-political views, and struggles with mental health.
She was also outspoken on issues relating to child abuse, human rights, racism, organized religion, and women's rights.

On Wednesday, July 26, 2023, O'Connor was found dead in her home.
The cause of death remains undisclosed but the Metropolitan Police reported that it was not being treated as suspicious.
She was 56.