Modern Family star Sarah Hyland went into protective sister mode when her onscreen costar Ariel Winter was slut-shamed by the trolls of Instagram.
The hugely popular ABC sitcom is currently in its eleventh and final season and wrapped up with filming this week.
---
At the show's wrap party, Hyland posted a set of pictures featuring the cast turning it out in their posh outfits.

Hyland, 29, wore a strapless form-fitting sheer black dress while Winter, 22, donned a more transparent black mesh dress.

The party honored the comedy's successful run and took place at the Sunset Room Hollywood in Los Angeles.

"I love these people with all my heart," wrote Hyland.
"11 years together is proof you and your tv sister will start wearing the same outfit, siblings for life will be made, and you'll forever fight over the same professor."
"We'll always be Dunphys and we'll always have each other."
That sentiment rang true when Hyland clapped back after trolls had the audacity to crash the party by criticizing Winter's outfit.
One bitter commentor wrote:
"What was she thinking...seriously."

@sarahhyland/Instagram
Another wrote:

"Ariel is beautiful but that outfit is more for a strip club or surprise for the boyfriend. Come on girl."

@sarahhyland/Instagram
The slut-shaming of Winter was relentless.

Why are people so despicable?

@sarahhyland/Instagram

@sarahhyland/Instagram
No one comes after Hyland's TV sister like that and gets away with it.

Hyland fired back, once and for all:
"[Ariel was thinking] that she's a sexy and confident woman."
"Everyone that is making a negative comment about my sister can back the f'k up because I WILL NOT tolerate it!"

@sarahhyland/Instagram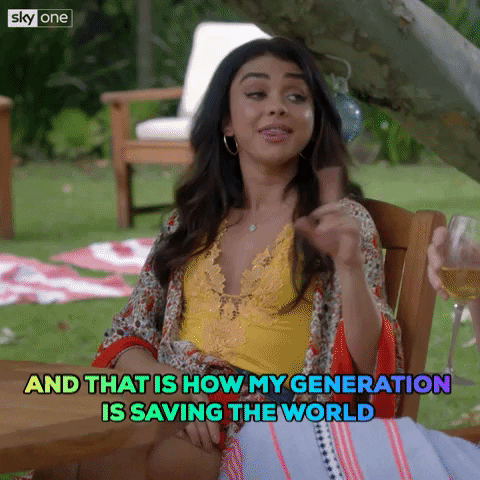 Giphy
Fans could not agree more with Hyland.

@sarahhyland/Instagram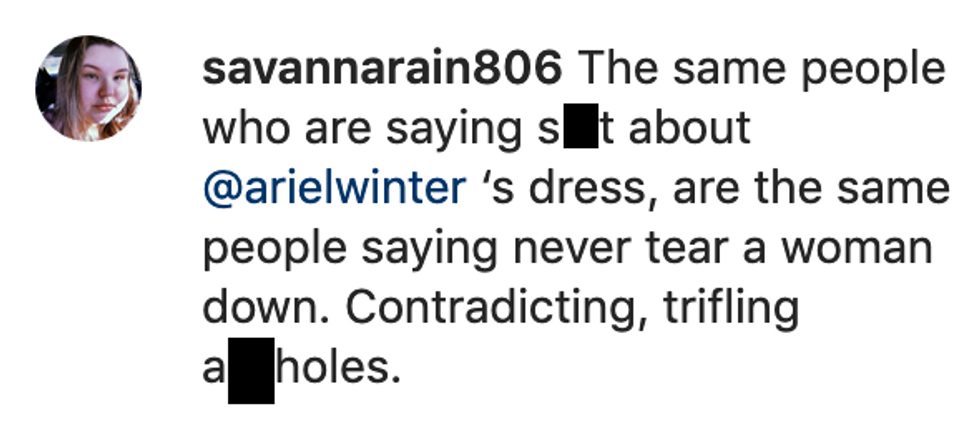 @sarahhyland/Instagram

@sarahhyland/Instagram
Winter has many admirers who have her back.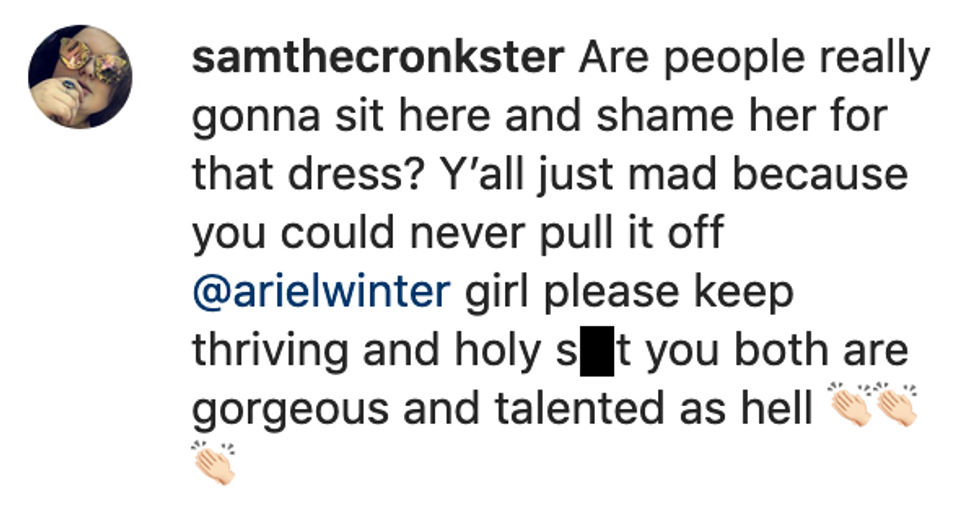 @sarahhyland/Instagram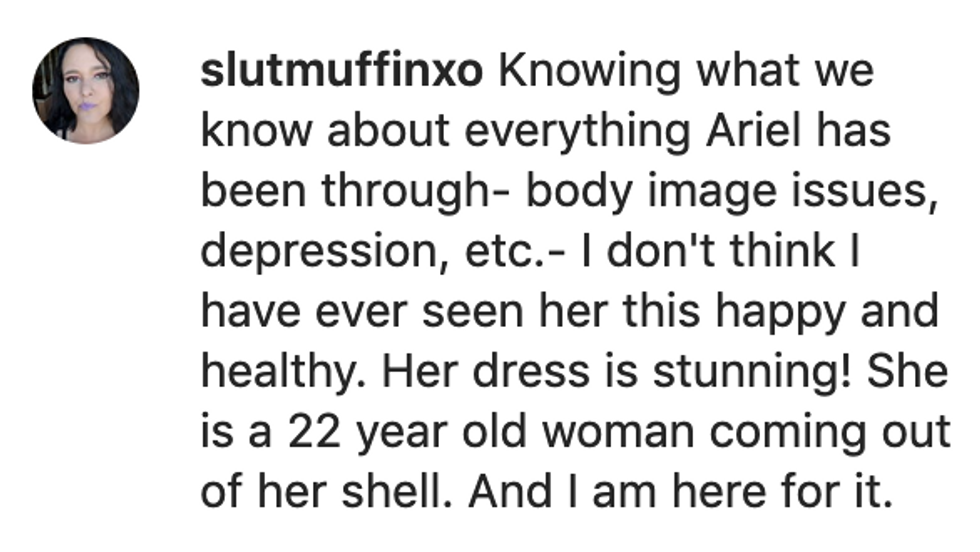 @sarahhyland/Instagram

@sarahhyland/Instagram

@sarahhyland/Instagram
@jamesandrewallman weighed in on celebrity scrutiny and defended the actresses.

"Gorgeousss ladies! (And go you for defending!) - May all time favourite saying - HATERS GONNA HATE. F'k em' preach sister."
"People are just jealous, fame and money.. it makes people think they have the right to pull you down to their level. But the issue is, you're just human! Like everyone else, you don't think you're better than anyone else, you're just living your truth."

"People wouldn't think twice about these comments if you guys weren't famous, why we feel the need to alienate celebrities like we do is beyond me, come on people!"
"They're just human beings sharing a happy memory, looking fab-u-lous! Leave them alone! They're happy, and what you say, doesn't define them."
He continued with a message for the haters.

"But one thing for sure? It defines you. Crawl back into your little insecure hole and stop commenting if you have hate in your heart."
"Celebrities are just like us, they're human, they hurt, they feel pain and they don't need negativity!"
"I thought this post was so cute! Look how much fun they're having!"
@sarahhyland - You're amazing. Don't ever let the haters get you down!"

"Peace out, lovers, haters & all those in between."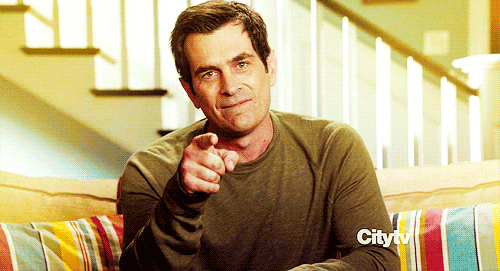 Giphy
True fans of the show chose to focus on lamenting the end of an era by saying goodbye to the Dunphys.

@sarahhyland/Instagram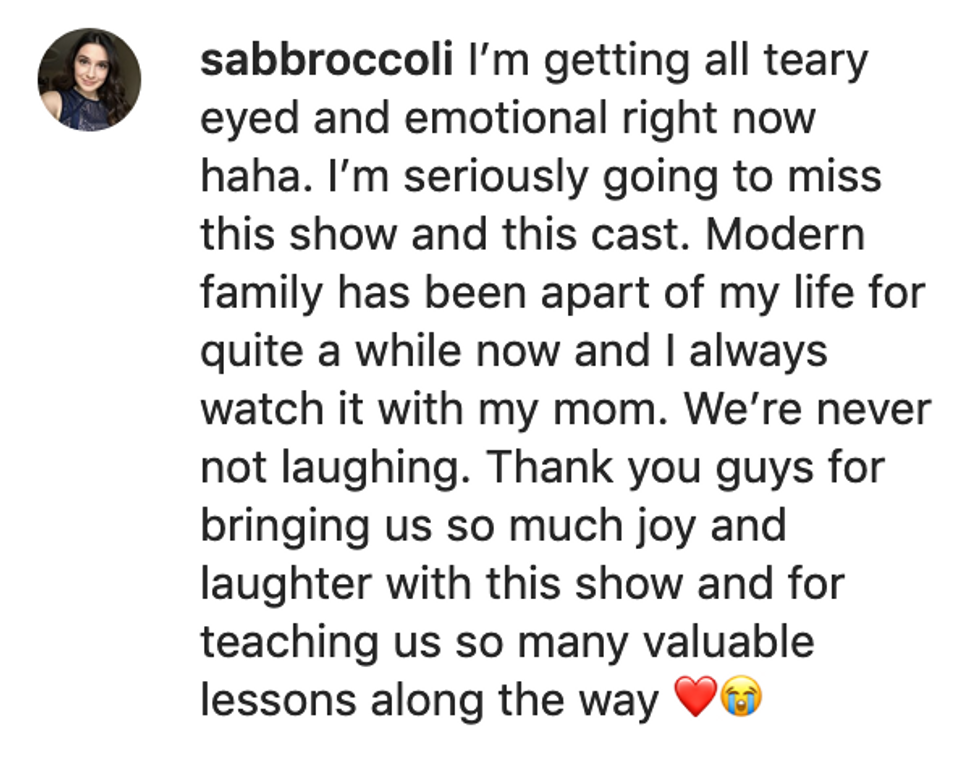 @sarahhyland/Instagram

@sarahhyland/Instagram

@sarahhyland/Instagram
Modern Family may be coming to an end after the series finale airs on April 8.

But for this loving cast, family is forever.

And no one can mess with that.

You can get Modern Family season 1 here.