Former talk show host Sally Jessy Raphael is still not over her show's cancellation.
Many American audiences tuned in to watch The Sally Jessy Raphael Show–which was later shortened to Sally–since its first-run syndication that ran from October 17, 1983, to May 24, 2002.
Raphael's show was one of the first audience-participation talk shows led by a female host before The Oprah WinfreyShow three years later.
Wearing her signature red-framed glasses, she discussed a variety of topics ranging from light-hearted fare to hard-driven issues of the day.

The now 87-year-old reminisced about her time on daytime TV with Ricki Lake–who had a talk show of her own–on the Raised by Ricki podcast and did not hold back when it came to the abrupt ending of Sally.
"When it started, I talked to presidents of the United States [and did] interviews with celebrities," recalled Raphael, adding:
"But ownership of the program changed hands several times and once NBC Universal 'got a hold of it,' [it became a] 'Who's your baby mama?' type of show."
"That's when it all went downhill."
You can listen to a portion of the interview, here.
She said of the unceremonious cancellation of her show:
"Not only didn't I have a say, but let me tell you how bad this was."
"I had 250 employees ... and I told them, because I was told by the company ... we were going to be renewed and everything was fine."
"Then they called me in one day ... and told me 'No, we're not continuing the show. You're off.' I had to call the 250 people together ... and say, 'I'm terribly sorry."
"I don't know if you'll believe me but I was lied to.' And that was the end of that."

@lemonadamedia/Instagram
Raphael never predicted that would also herald the ending of her career.
She has not worked since Sally ended in 2002.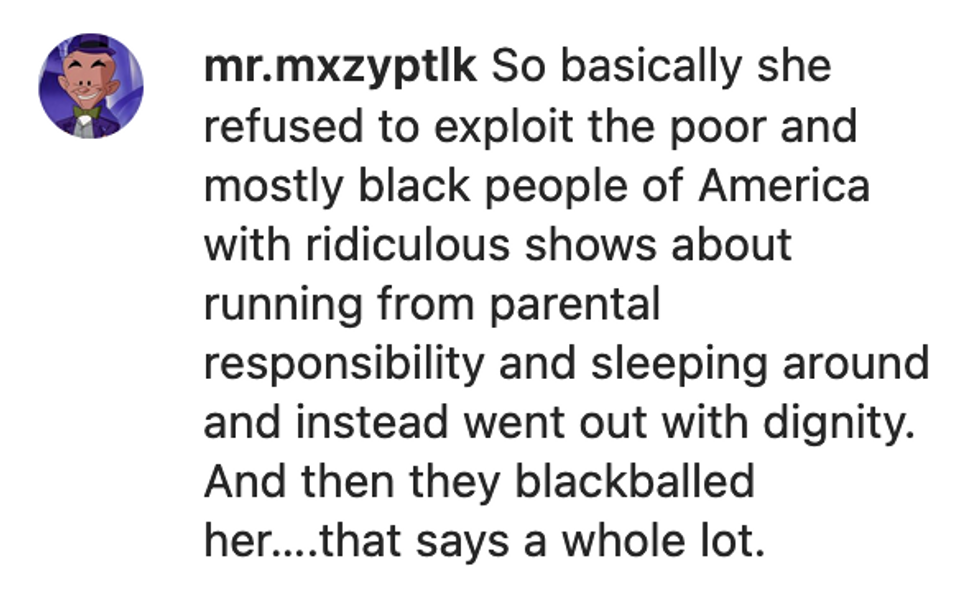 @lemonadamedia/Instagram
Raphael said that after her firing, her agent sent her a vase with a message engraved on it that read:
"The best is yet to come."
However, the years following proved that would not be the case.
"If you look at my résumé, I haven't worked since then. Haven't earned a dime," she said, adding that her agents "never found one other job [for me] since 2002."

@lemonadamedia/Instagram

@lemonadamedia/Instagram
She remained determined in spite of the lull.

Between 2005 to 2008, Raphael hosted a daily radio show called Sally Jessy Raphael on Talknet online and in syndication to local a.m. radio stations in New England, the Mid-Atlantic, the Midwest, and at least one station in Arizona before abruptly cancelling the program on July 7, 2008.
She also touched on her grief after losing her husband Karl Soderlund, who was also Raphael's manager and the father to their son, Jason.
Raphael and Soderlund were married for 58 years until he died in 2020.
While she grieved for the last two years, she is looking ahead to the next romantic chapter in her life.
"I've been trying to find ... you can't say a 'boyfriend' at my age. That sounds ridiculous," she said.
But it didn't take long for her to list exactly what she's looking for.

"I can tell you very quickly: 70s or 80s," she said.
"Not rich and not poor. An ordinary Joe."