In case nobody was aware Roseanne Barr voted for Donald Trump, her political leaning was made very clear when she lashed out on Jimmy Kimmel Live on Thursday night.
Oh, and she was also there to promote her reboot of the Roseanne show on ABC.
The subject of politics inevitably came up when the 65-year-old comedian made an appearance with her co-star John Goodman on Kimmel's show.
After all, she did run for president in 2012 and ran her "whole campaign on Twitter."
---
"You were kind of the original crazy tweeter," Kimmel mentioned. "Yeah, Trump totally stole my act," Barr quipped.
"Do you know what's weird, Jimmy? It's really hard to get on the ballot on account of, you know, corruption and stuff," Barr told the host.
She ran on the legalization of marijuana and was only out on three state ballots – which included Denver, California, and Florida, two of which legalized the use of marijuana for recreational use – and still managed to place 6th.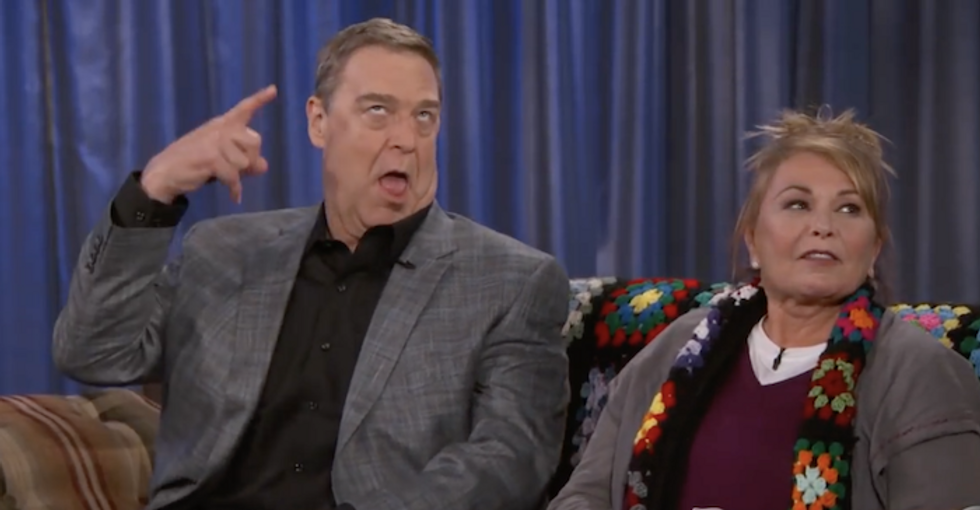 Both are as animated as ever.(Jimmy Kimmel Live/YouTube)
Kimmel mentioned television critics were "very excited" about the character of Roseanne Conner being a Trump supporter, which informs the family dynamic in the reboot.
In addition to the Conners, Barr explained most American families experience various forms of divisiveness and that "everybody's p*ssed off at each other for one thing or the other."
When asked if her own family was mad at her for her being a Trump supporter, Barr responded, "Well, you know we've had some pro-Hillaries and pro-Trump, and there was a lot of fighting."
Tension escalated when Kimmel brought up Barr's friendship with the Democratic candidate in the 2016 presidential election. "Weren't you and Hillary Clinton friends at one point?" After an awkward pause, she confirmed that to be true and turned to Goodman and muttered, "Why is he asking me this?"
The host reminded her "You accused her of being a murderer on Twitter, didn't you?" Feigning ignorance, she denied the accusation, but then confirmed she deleted that tweet.
Meanwhile, Goodman put face to palm.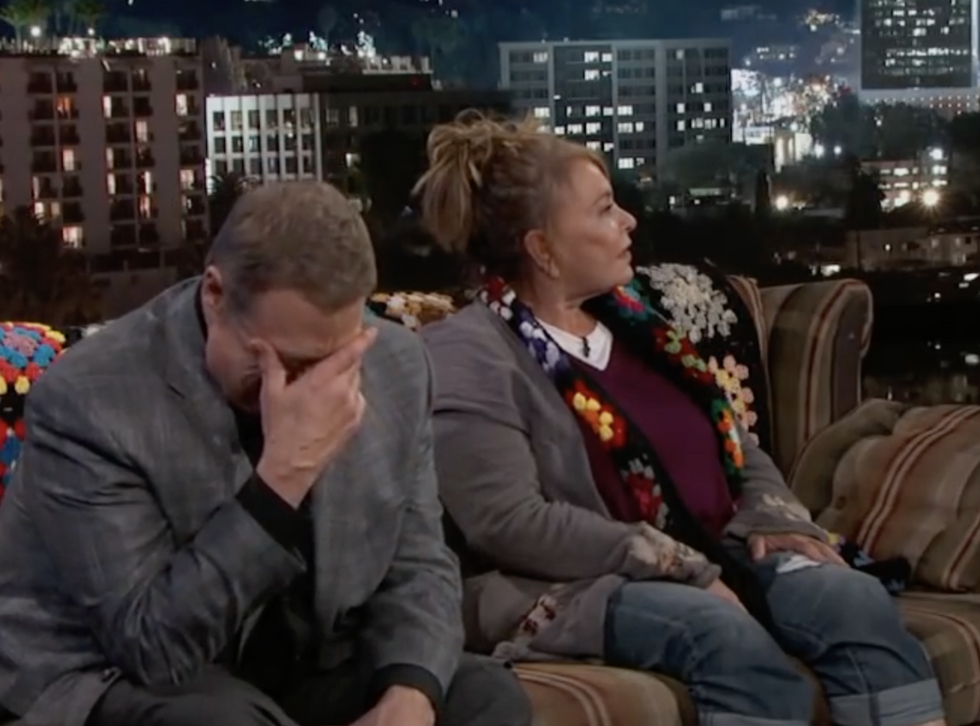 This is going really well.(Jimmy Kimmel Live/YouTube)
"I had some disagreement with her foreign policy," admitted Barr. "Did you agree with her foreign policy?"
"Never mind her foreign policy," Kimmel said. "How about 'Captain Whacko' we got running the country here? I'm shocked because you're a socially liberal person in general."
Then Barr gave the talk show host an earful.

I'm still the same, you all moved. You all went so f***ng far out, you lost everybody. I mean seriously. A lot of your audience, and including me, I just wanna say this, Jimmy. A lot of us, no matter who we voted for, we don't wanna see our president fail. 'Cause we don't want Pence. Are you f****ng kidding me? You want Pence for the freakin' president?

When Kimmel shook his head in opposition, Barr fired back, "Well then zip that f****ng lip!"
Roseanne Barr, the queen of controversy and sardonic wit, is back, and she's as fiery as ever.

People respected her fearless transparency and ability to speak unabashedly.

But not everyone was on board with her loud perspective.
The Roseanne reunion will air on March 27 on ABC with a one hour special and will resume in its regular Tuesday slot beginning April 3 at 8 p.m. ET/PT.

H/T - YouTube, Twitter, EW, ET