Ah, the holiday season! A time for joy, a time for warmth, a time for peace on Earth and goodwill toward men, except for those who have the unmitigated temerity to speak another language in a department store! *sings "Chestnuts Roasting on an Open Fire"*
---
That was the scene, anyway, at a Macy's in the Dallas area during this holiday season. In a video shared to Twitter by user @rickyy_____, a customer was seen having a bit of a meltdown as two employees sold him a purse. What set him off? The women did not have a box available that would fit his purchase, and spoke Arabic to each other while discussing where to direct him to find one. Yuletide cheer at its finest!
The video, in which the man insists the women should speak English and calls everyone challenging him "a bunch of Democrats," quickly went viral.
User @rickyy_____ has since protected his account, but the New York Post has part of the video featured on its site: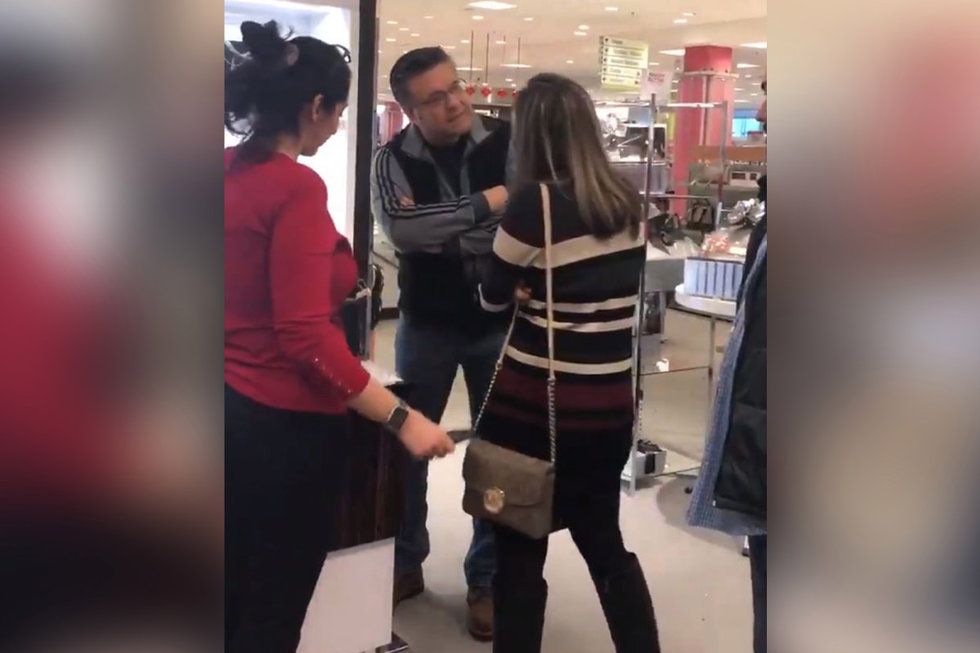 A second excerpt has also been posted elsewhere on Twitter:

The incident erupted over the most mundane of issues: the unavailability of a gift box that fits the purse. In the second excerpt, a fellow customer is heard saying, "Ladies, he doesn't have one dollar to buy a gift box!" and "Give him a dollar!" Another customer exclaims, "Oh man, for real?! Is that what the issue is?!" The angry man replies, "No it isn't!" before continuing:
"All you Arabs and all you Democrats! Why don't you go back where you came from!"
Of course, most Democrats come from *checks notes* right here in America, including Dallas, and it's possible to be fluent in a second language even if you were born here, but something tells me fact-checking this guy is probably a fool's errand.
This is, after all, a man who's most heated reaction came when one of his fellow customer's called him a "snowflake." "F--k you," the man erupted.
As you might expect, Twitter was heated about the man's tantrum:
asdfasd
A spokesperson for Macy's told Yahoo Lifestyle:
"We believe our Macy's employees and customers should be treated with dignity, respect and kindness. We aim to create a welcoming environment, and we apologize for what occurred in our store. We are investigating this incident."