We all fell in love with a girl named Maria, so why wasn't she invited to the party?
Musical theatre buffs just died a little bit inside because of that corny lyrical reference but just breathe your way through that.
Musical metaphors—while awful—are forgivable compared to the slight actress Rachel Zegler was dealt after her game-changing turn in the role of Maria in West Side Story.
Despite being one of the stars of one of the night's most nominated films—Steven Spielberg's reimagining of West Side Story is up for a total of seven awards at the 94th Academy Awards—Rachel Zegler, who fans adored as Maria, was not invited.
Rachel confirmed the rumors of her snub to her fans quietly—not with a press statement or social media post—but by responding to a comment.
Here's a screenshot of it.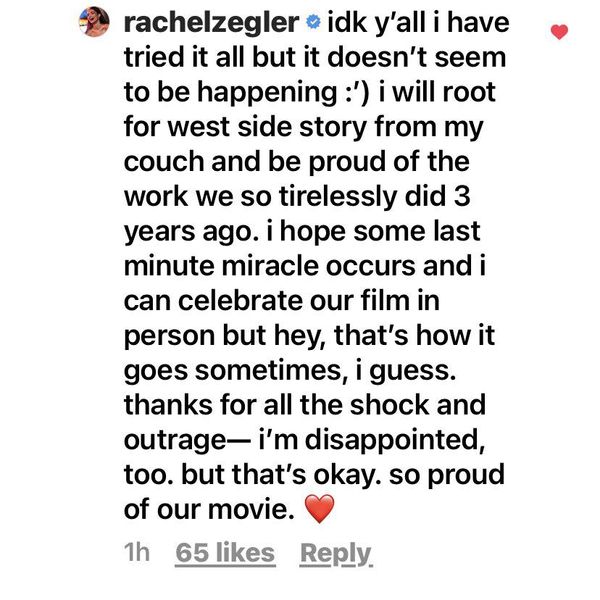 @prlatina44/Twitter
It read:

"Idk y'all, I have tried it all, but it doesn't seem to be happening :') I will root for 'West Side Story' from my couch and be proud of the work we so tirelessly did three years ago."
"I hope some last minute miracle occurs and I can celebrate our film in person, but hey, that's how it goes sometimes, I guess."
"Thanks for all the shock and outrage – I'm disappointed too."
"But that's okay. So proud of our movie."
This made zero sense to people.

As confusing as the choice not to invite Zegler is, it's not the only thing about this year's Oscars people are struggling with.

Besides adjustments for reduced capacity, the Academy Awards are making a few other changes in an attempt to "shake things up" a bit. This year's list of presenters features names like Tony Hawk and DJ Khaled—both of whom people argued were way less relevant than Rachel Zegler.
Also, this year's Oscars will feature about a third less awards presented during the live show. The awards will still be given—the winners just won't get to do the whole walk, speech, applause on live TV thing.
Instead, their wins will be taped an hour earlier and "peppered in" throughout the broadcast.
The awards that won't get that moment are mostly technical ones, which is another interesting choice given the current tensions, protests, and strikes over industry mistreatment of film crews.
Zegler expressed her gratitude to the fans rallying around her.
According to one outlet, Zegler could still go if someone gave her a guest ticket, if Disney gives one of their tickets to her or if the Academy itself gave her one.