Donald Trump has again been caught attempting to use his presidency for personal gain. This time, it has come to light that he attempted to pressure an ambassador into working to get the British Open golf tournament held at Trump's private resort in Scotland.
Rachel Maddow has laid into this particular incident pretty hard, but it's possible many of her viewers do not understand why.
So before we continue to discuss her rant, let's lay out a few more facts.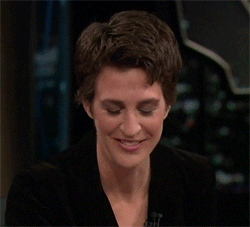 rachel maddow GIFGiphy
In February 2018, Trump asked the American ambassador to Britain to see if the British government could help to steer and encourage the British Open golf tournament to the Trump Turnberry golf resort in Scotland. Multiple witnesses were on-hand and confirm this request.

This is not the first time we have seen Trump's golf resorts come up in the news or even the first time we have seen this golf resort come up. Earlier in the year it was discovered that the Pentagon was sending troops to stay at Trump Turnberry when they had layovers at Glasgow airport.
He also urged Pence to stay at his resort in Ireland.
Most of Trump's branded hotels and buildings are not directly owned by him and are just paying for the use of the Trump name, but the golf resorts are a different matter. The Trumps directly and fully own many of them and their profits account for about 33% of Trump's wealth.
As Maddow and many other experts have pointed out in the past, this creates a direct financial gain and benefit for Trump - not even a roundabout one. This is directly into your pocket kind of profit and is widely considered unethical. In certain situations even illegal.
The Ambassador Trump asked is one installed not for his experience or education, but because he was a wealthy donor.
According to the New York Times:
"He is known mainly for the nickname Woody and his ownership of the New York Jets, a perennially struggling N.F.L. franchise. His transition to leading a large embassy was bumpy."
"Woody" has since gone about causing a stir in the UK by commenting on female employees bodies and questioning whether potential employees were Jewish... and by actually following through with Trump's request and pushing up the idea of holding the British Open at Trump Turnberry.

He did this despite his deputy, experienced long-time civil servant and former Ambassador to Senegal under Obama Lewis A. Lukens, advising him not to. Lukens explained that it was an unethical use of the presidency for financial gain and not likely to go over well with the British government.
Lukens was right; it did not go over well. After "Woody" brought the idea up to Scottish secretary of state things got tense.
According to Norman L. Eisen, who served as President Barack Obama's special counsel for ethics, the move is considered "diplomatic malpractice." It may not be illegal, but it's wildly unpopular and proves that interests are personal, not for the people.
Lukens spoke up to superiors and was subsequently forced out of his position, paying the consequences for the incident and resulting scandal (as well as speaking up) while Ambassador "Woody" remains in place.
According to Maddow, this is a pattern we should all be tired of seeing by now.
Trump Pushed Diplomat To Boost Golf Club At Expense Of US Stature: NYT | Rachel Maddow | MSNBCwww.youtube.com
In a blistering seven-minute take down, Maddow lays out exactly how she feels about the situation - but she's not alone. Joining her is Mark Landler, London bureau chief for the New York Times.

The two go over details before Maddow lays into the pattern.
"I know what you're thinking, right? President Trump using his power as president, using the U.S. government to pressure a foreign government to do him a favor using the office of the presidency to benefit himself. Career civil servants forced from their posts after raising alarming alarms about what was happening. We have seen this version of the movie before, right? We have, the last time it ended with him being impeached."
She is quick to explain why the British Open scandal is different than his previous "quid pro quo uh oh."
It's important to understand where the distinctions lie between the two.

"When President Trump was pressuring the Ukrainian government, using the powers of the U.S. government to pressure the Ukrainian government to give him dirt on Joe Biden that he could use in the election, he was pushing that foreign government for a political favor. What he appears to have been trying to get from the British government here was money, was a business favor for his business, was a basically a personal financial favor that would put money in his own pocket."
Those differences aside, though, both incidents seem almost farcical and childish.
They aren't elegant or subtle, they aren't masterfully thought out.
They're blatant and infantile as far as Maddow is concerned.

"I mean, like a — like a first grader's understanding of what corruption means: using the presidency, using the powers of the U.S. government, using the resources of the U.S. government to put money into the president's pocket, into the Trump family coffers — this is a recursive theme in this presidency."
As it turns out, lots of people on both sides of the pond (and around the world) agree with her.

It remains to be seen if Trump will face any consequences, but people aren't holding their breath waiting for it.