Noted media personality and "journalist" Piers Morgan has never shied away from sharing his opinions, and now he's taking a stand against...um...fatherhood? I guess? I'm honestly not sure what he's babbling about...but he is NOT backing down!
---
Morgan has never been a stranger to controversy--in fact he seems to court and relish in it--but this newest one is ridiculous.
Morgan mocked Daniel Craig's baby carrier: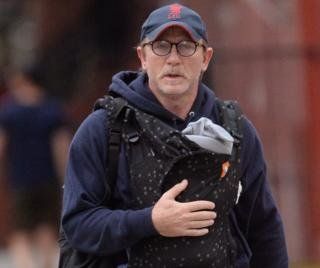 www.bbc.com
Actor Daniel Craig--James Bond himself--was recently photographed carrying his newborn daughter in a sling across his chest. You know, like you do, because it's easier than carrying a baby in your arms. It distributes the weight evenly and keeps your hands free. It's a simple convenience, much like putting groceries in a bag instead of mounding them in your arms and fumbling them to your car is, like, the generally accepted way of carrying groceries, because, like, physics exists.

Unless you're Piers Morgan, in which case, carrying a baby in a sling means you're a dumb ladyman and, probably, putting groceries in a bag means you're a weak-spined little schoolgirl with ringlets who likes to play with dollies or whatever idiotic genderized malarkey he's on about.
Oh 007.. not you as well?!!! #papoose #emasculatedBond https://t.co/cqWiCRCFt3

— Piers Morgan (@Piers Morgan)1539581503.0
He capped off his stupid tweet with the hashtags "emasculatedBond," which is idiotically sexist, and "papoose." He stopped short of calling Craig "Sacajawea" but I'm sure it was a close call.

Also, one has to wonder: what is the masculine way to carry a baby? Driving it around in a monster truck? Swinging it around like a billy club? Dribbling it like a basketball?
Anyway, the internet lit up with Piers Morgan drags, which is unsurprising since this is wildly stupid, even for Piers Morgan.
@piersmorgan Piers Morgan comes out in strong opposition towards… (checks notes) parents caring for their children

— Evilshai ✡ Frankensteinberger (@Evilshai ✡ Frankensteinberger)1539629433.0
Imagine believing carrying your own baby in public is emasculating https://t.co/DE30dCj8vb

— Kate Irby (@Kate Irby)1539633380.0
@piersmorgan I wear one for my 13-week-old baby; and I am a big, hairy male. You seem nervous about masculinity for some unknown reason.

— Stig Abell (@Stig Abell)1539634580.0
i'm not engaging with Piers Morgan but imagine being so insecure that you think a man carrying his own child in public is being emasculated

— In Nicoled Blood (@In Nicoled Blood)1539630647.0
ah yes, straight ladies who see a handsome man carrying a baby are prone to thinking "ugh, a beta" for sure

— In Nicoled Blood (@In Nicoled Blood)1539630774.0
@piersmorgan From a woman's perspective it's the most adoring, heartwarming sight - a man bonding with his child .… https://t.co/rMJIMxAPbT

— #slavedriversam (@#slavedriversam)1539590685.0
As far as I'm concerned any topic is closed as soon as Chris Evans puts in his two cents:
You really have to be so uncertain of your own masculinity to concern yourself with how another man carries his chi… https://t.co/MggU8bBd3s

— Chris Evans (@Chris Evans)1539654026.0
if you are wondering if you should post a pic of you, a man, carrying a baby, the answer is....please do

— In Nicoled Blood (@In Nicoled Blood)1539631520.0
@Nicole_Cliffe @alexandrianeas this is the most I'll ever look like Daniel Craig https://t.co/ydTjkuZDkV

— Scream Thielmaxe (@Scream Thielmaxe)1539635342.0
@Nicole_Cliffe taken mere moments before the Man Police confiscated my Man Card https://t.co/VuXSGB3c7Q

— what if Scott Dai, but too much? (@what if Scott Dai, but too much?)1539634581.0
@Nicole_Cliffe how will I live down the ignominy https://t.co/cvxGf56F9p

— Eric Mersmann (@Eric Mersmann)1539631052.0
@Nicole_Cliffe My husband always wears/carries our kids, he thinks this is fair since I birthed them. NO ONE TELL H… https://t.co/tS7xaT4kHw

— Leslie Settle (@Leslie Settle)1539634283.0
Anyway, for any of you fathers out there wondering what the right way is to provide basic care to your child, Piers did provide helpful instructions.
He's not carrying it, that's my point. He's using an emasculating papoose. James Bond would never use a papoose to… https://t.co/L3DV5FRBrb

— Piers Morgan (@Piers Morgan)1539633545.0
Oh. Okay then.