A video of an Indigenous man getting Tased by a park ranger at Petroglyph National Monument in New Mexico for going off the designated path sparked major online fury.
Darrell House, who is Navajo and Oneida as well as a Marine veteran, told KRQE he was walking through the Petroglyphs at the Piedra Mercado trail with his sister and dog, Geronimo. They went off-trail to avoid a large group of hikers they spotted up ahead in order to maintain social distancing.
A park ranger approached House from behind and advised him to get back on the trail, to which he complied. But when the park ranger asked for identification, House refused before eventually giving a false identity.
He was consequently tased repeatedly by the ranger.
The five-minute footage filmed by his horrified sister showed House being repeatedly tased while on the ground, crying for help and showing his hands as the park ranger demanded.

Warning: contains violence
The park ranger kept demanding for House to show his hands, even though both of his hands were already visibly out in front of him.

"I don't have anything. I apologize for going off the trail," House said as his sister screamed and pleaded for the ranger to stop.
With the taser still pointed at House, the ranger told him:

"You're being detained because you refused to identify yourself. If you resist, I will tase you."
The video ended showing a second officer handcuffing House.
House grew up on his tribe's reservation. He experienced no prior issues as a frequent visitor to the park to pray for the land and his ancestors.

He told NBC News:

"I didn't see a reason to give my identification. I don't need to tell people why I'm coming there to pray and give things in honor to the land. I don't need permission or consent. And I don't think he liked that very much."

According to KRQE, House and his dog Geronimo both got tased since he was holding the pet in his arms.

"he felt everything. I ended up dropping him when I fell."
After the incident, House could only come up with one reason for the stun gun attack.
"He wanted to show power, dominance, keep me in order. That's what authority figures are trained to do, to keep people like me in order. To make the 'Indian' look crazy, to make them look insane."
"Here, you will see a White man abuse his power," House wrote in his Instagram post with the video.
"Both men pulled tasers on me after the first 1 couldn't keep me down. This could have been a civil interaction. The law doesn't work for the Indigenous. The government doesn't give a sh*t about us. This was uncalled for."
"You see I'm clearly on the trail. I explained my reason for being off trail (which I shouldn't have too.) If anyone has the right to be off trail and wonder this land, it's the NATIVE INDIGENOUS COMMUNITY!"
"What hurt me the most was when my baby Geronimo felt the shock. Officer Mr. Graden (Guy who tased me and Geronimo) and Mr. Wineland (f'k boi)."
House said he felt it was not necessary to identify himself to the park ranger for doing "absolutely nothing wrong."
He described his lingering shock and emotional state since the incident.

"I'm traumatized. My left leg is numb and still bleeding. Geronimo is shaking and hasn't stopped. I'm shaking."
"You would think with George Floyd and Breonna Taylor with the Black Lives Matter Movement authorities would try to avoid having to pull a weapon out. Imagine I disarm him from the taser then what I get charged with assault or worse he grabs for his gun and ends me."
"These scenarios have been going through my head since this afternoon. I'm a son, I'm a brother, I'm a father. More importantly, I'm a human being."
"I'm good people, The Marines I served with would agree. The many people I've crossed paths with, you know me. This was the [cherry] on top of my 2020."
Of course the usual chorus of "if he just complied" was one reaction to the video.
But House stepped off the trail and immediately complied with the ranger's request. The demand for identification was the first non-compliance, but since House and his sister were compliant in returning to the trail, the ID demand is questionable for many.
Is every park goer who leaves the trail but returns to it once asked required to produce identification? Or is that demand reserved for only some park goers?
People expressed outrage over how the ranger handled the situation that could have ended with House and his sister complying with his request to return to the trail.

House was given three citations by the federal park ranger—interfering with agency function and resisting; going off the designated trail; and for giving false identification.

House also believed the park's rules asking visitors to remain on designated trails should not apply to Indigenous people when the purpose of the trail is to protect Indigenous sacred spaces. Freedom of religion in the 1st amendment and the American Indian Religious Freedom Act of 1978 protects Indigenous people's rights to practice their spiritual traditions.

While requesting House return to the trail, the ranger even stated the trails purpose was because the petroglyphs and surrounding area are sacred to Native Americans.
"We don't have a set time, we don't have set places, we don't have buildings, and we don't have things built to worship."
"Nature is what we've been worshiping ... and protecting it has always been our job."
"I am Native, you know. I have rights to this land. I have rights off the trail."
For many Indigenous the repeated tasing is a chilling reminder of the 2017 killing of Zachary Bear Heels by Omaha, Nebraska police officers.
Bear Heels was tased 12 times while he lay on the ground. He was later declared dead at a hospital.
Four of the officers involved in Bear Heels death were fired after an investigation, but the police union appealed and in 2020 three of the officers were reinstated with backpay.
According to national crime statistics, Native Americans—men and women—are more likely to die during encounters with law enforcement than any other ethnic or minority group.
Many of those deaths are the result of wellness checks—like Bear Heels—and not during the commission of any crime. Many of the remaining deaths occur during minor infractions like loitering or trespassing.
For Indigenous people, violence at the hands of law enforcement is an all too common occurrence.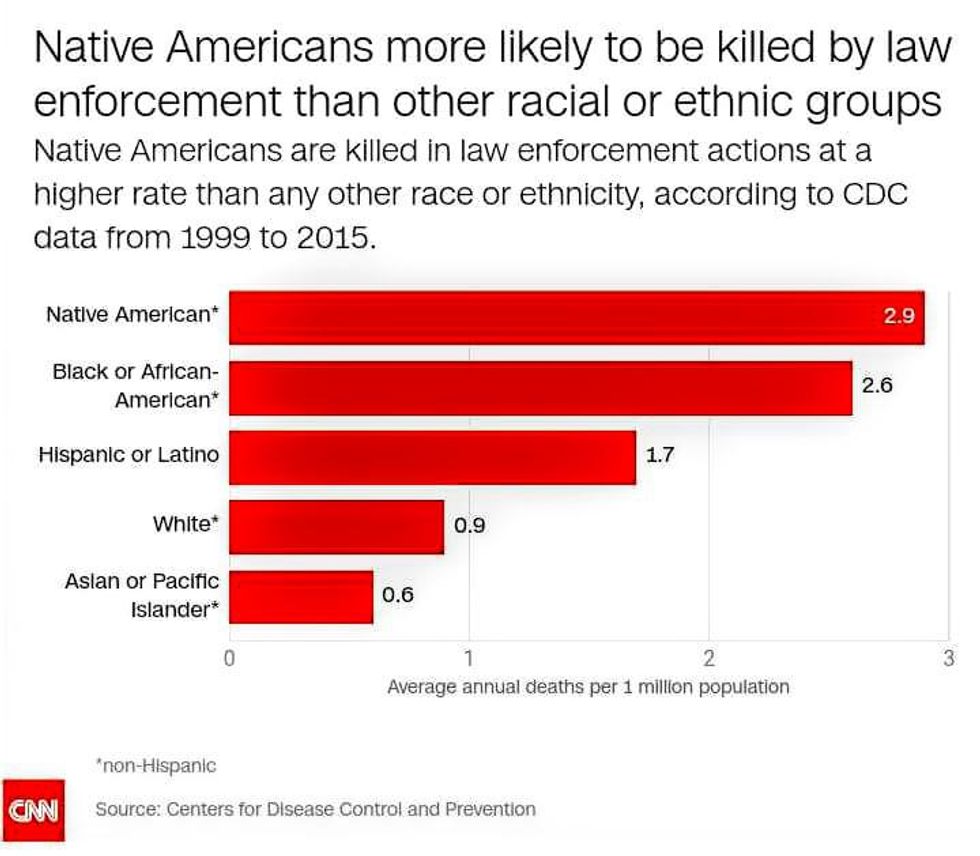 According to Vanessa Lacayo—a spokesperson for the National Park Service—the agency is conducting an investigation into the ranger's decision to demand ID and repeatedly tase House.

Lacayo said:
"We take any allegation of wrongdoing very seriously, and appreciate the public's patience as we gather the facts of this incident."
The national park issued the following statement in response to the incident.

"On December 27, a law enforcement park ranger contacted two visitors who were walking in a closed area off-trail, which is a violation of National Park Service regulations within Petroglyph National Monument."
"A video capturing part of their interaction and posted to social media has generated question and interest from the public."
"In accordance with National Park Service policy, this incident is under review and has been referred to the NPS Office of Professional Responsibility, our internal affairs unit, for a thorough investigation."
"While we work to gather the facts of this specific situation, we cannot speculate on the events leading up to what was captured on video. We take any allegation of wrongdoing very seriously, and appreciate the public's patience as we gather the facts of this incident."
"Full performance NPS law enforcement officers complete extensive law enforcement training programs along with many other Federal law enforcement agencies at the Federal Law Enforcement Training Center in Georgia, as well as on-the-job training in the NPS Field Training and Evaluation Program."
"Throughout their careers, officers complete required annual training to ensure skills proficiency and current knowledge of law enforcement issues."
"Additionally, NPS officers are required to undergo initial and ongoing specialized training to carry an electronic control device, commonly known as Tasers."