Academy Award-winning actress Gwyneth Paltrow recently gave insight on the topic of nepotism in Hollywood in an interview with American model Hailey Rhode Bieber on Wednesday's episode of Who's In My Bathroom?

Nepotism is when a person is granted access to a particular field solely by being related to someone famous or powerful within that industry.

Examples of nepotism in the entertainment industry have become more pronounced.
People are questioning an actor having an advantage and the fairness to actors who are not related to celebrities and trying to pursue a career in Tinseltown.
The phrase "Nepotism Baby"–or the diminutive, "Nepo Baby"–came to prominence after a recent article in the New York Times mentioned how viewers of Euphoria had their "ah-ha" moment when they realized the previously thought "self-made girl" Maude Apatow–despite her surname being a giveaway–was the child of actress Leslie Mann and director Judd Apatow.

Other nepotism-based discoveries became more widely known–including Stranger Things' Maya Hawke, whose birth parents are Uma Thurman and Ethan Hawke; and the Fifty Shades of Grey star, Dakota Johnson, the daughter of Melanie Griffith and Don Johnson.

Gwyneth Paltrow, the daughter of filmmaker Bruce Paltrow and actress Blythe Danner, sat down with fellow Nepo Baby, Hailey Rhode Bieber, who is the child of Stephen Baldwin, niece of Alec, Daniel, and William Baldwin, to discuss the touchy subject matter while making smoothies.
You can watch the full interview of Who's In My Bathroom? With Hailey Rhode Bieber, here.
When Bieber asked to hear the Goop founder's perspective on nepotism, Paltrow offered:
"I think it's fair [to say] that as the child of somebody, you get access that other people don't have, so the playing field is not level enough in that way."
"However, I really do feel that once your foot is in the door, which you unfairly got in, then you have to work almost twice as hard and be twice as good."
"Because people are ready to pull you down and say, 'you don't belong there' or 'you're only there because of your dad or your mom or whatever the case may be.'"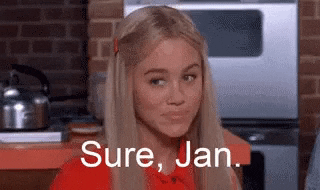 Giphy
The internet had thoughts.
However, Paltrow said aspiring actors shouldn't be discouraged because she believes nobody, "especially anybody that doesn't know you, " should have a "negative impact on your path or the decision that you make."

Bieber–who is a successful model having worked on ads for Guess, Ralph Lauren and Tommy Hilfiger–agreed with Paltrow's sentiment and replied:
"I needed to hear this today."
Paltrow wasn't the only high-profile celebrity to discuss the downsides of having a family connection to success.
Kendall Jenner, the daughter of daughter Kris Jenner and Caitlyn Jenner, rose to fame on the reality TV show, Keeping Up With the Kardashians.
As Paltrow mentioned, Jenner said she had to work harder to prove herself in the fashion industry as a model.
Speaking to Andy Cohen during the Keeping Up With the Kardashians reunion special last June, Jenner shared the privilege she enjoyed when starting her modeling career.

"It was like — I know it's kind of corny to say — but [it's] almost like destiny."
"I presented the cutest little modeling book to my mom when I was, like, 14. And then she did her Kris Jenner thing and made it all come to life."
When Cohen asked her if she had a response for those who've accused her of not "paying her dues," Jenner replied:

"Everyone around me, whether it's friends or family, knows how hard I worked and still work."
"I did everything that I was supposed to do and had to do to get to the position that I'm at now as a model."

She added:

"Of course I had a platform, and I never took that for granted. I always knew that that was there, but that almost made my job a little bit harder."
"Only because people probably didn't want to hire me because I was on a reality TV show."