Eco-friendly urinals have begun popping up on the streets of Paris that have locals making a big stink about it.
Design studio Faltazi designed the controversial Uritrottoir, which is a French mashup for the words: urinal and pavement.
But the garish red boxes doubling as planters are inciting protests from residents and nearby businesses in Central Paris.
---
Dezeen wrote about the four toilet boxes that have sprung up in an area of the metropolitan city notorious for public urination. The uritrttoir was the city's solution.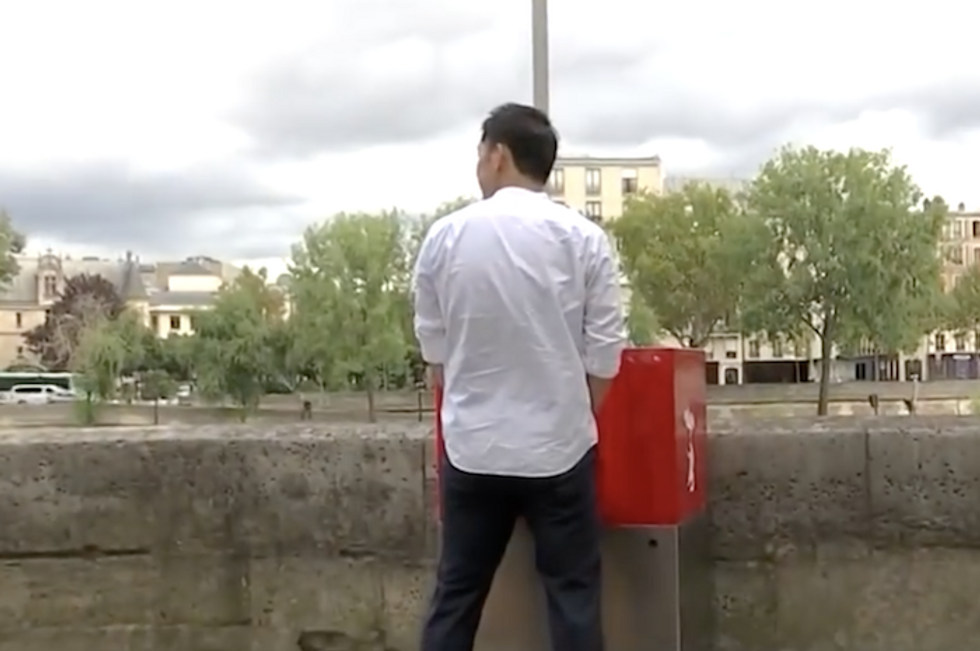 One of the pee boxes.(CNN/YouTube)
Faltazi erected one of their open-air urinals in Nantes, where the company is based. But it wasn't until the urinals made their appearance in a popular part of France, most notably, along the Seine's thoroughfare, Ile Saint-Louis, which is the neighboring island to Ile de la Cite on which stands the famed Notre Dame cathedral.
Rly Paris- open air urinals. I hear The French are quite "pissed" https://t.co/i0byjtLma8

— Joelle (@Joelle) 1534375577.0
Complaints began trickling in at the town hall regarding the commodes' "immodest" purpose and for its close proximity to an elementary school 20 metres (65.62 feet) away.
Not everyone is thrilled about Paris's new eco-friendly open-air urinals https://t.co/MCEfQKK9vF

— TIME (@TIME) 1534302905.0
@CBSNews Um just no...

— It'sTheEnvironmentStupid (@It'sTheEnvironmentStupid) 1534394766.0
An insufficient number of public restrooms could be a major catalyst for the pee box.
@TIME I'm telling you finding a restroom in Paris is more than a challenge. We were on the champs ellyse and went t… https://t.co/P4tK5VBda3

— Eldon Wriston (@Eldon Wriston) 1534304489.0
@mental_floss In Paris, l learned to assume every puddle was not water. It was disgusting and I'm from NYC!

— Bonnie Birns (@Bonnie Birns) 1534509345.0
Victor Massip, one of the designers attached to the project, explained that the urinals were meant to blend into its public surroundings and made to look like planter boxes.
"In order for Uritrottoirs to be accepted by residents, we had to imagine equipment that does not look like a urinal."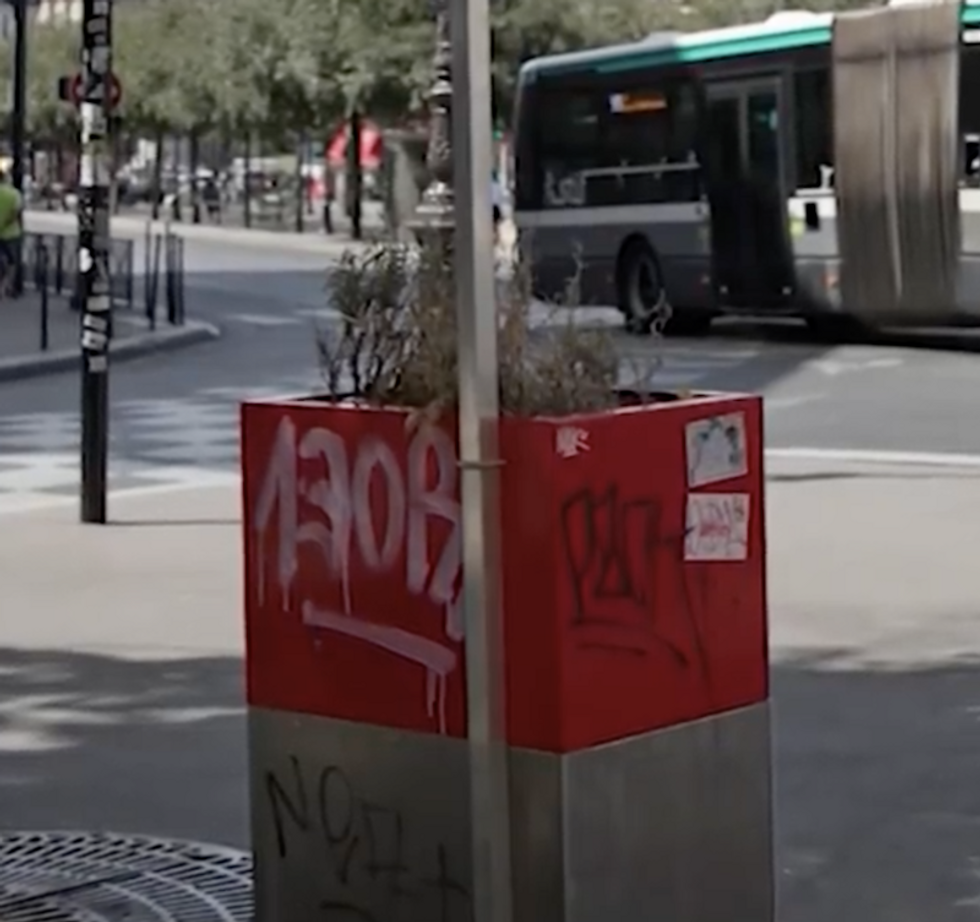 The graffiti isn't helping. (CNN/YouTube)
Unfortunately, the resulting design got lost in translation and didn't get the predicted amount of public approval.
CNN interviewed a local who offered his opinion on how the city is combating public urination.

"I think installing a urinal in Paris for those who don't respect their surroundings is a good idea. But in my opinion, this model isn't attractive at all. And where it's been set up is not appropriate at all."
@TIME When I thought of Paris, this never would have never crossed my mind...until now obviously.

— Kenneth Sheridan (@Kenneth Sheridan) 1534303694.0
Another local shared her disdain for the offensive uritrottoir.

"It is definitely a desirable and historic neighborhood, but seeing people urinating right in front of your door is not the nicest thing."
A 50-year-old art gallery owner was downright enraged and told The Guardian that the urinals were "horrible."
"We're told we have to accept this but this is absolutely unacceptable. It's destroying the legacy of the island. Can't people behave?"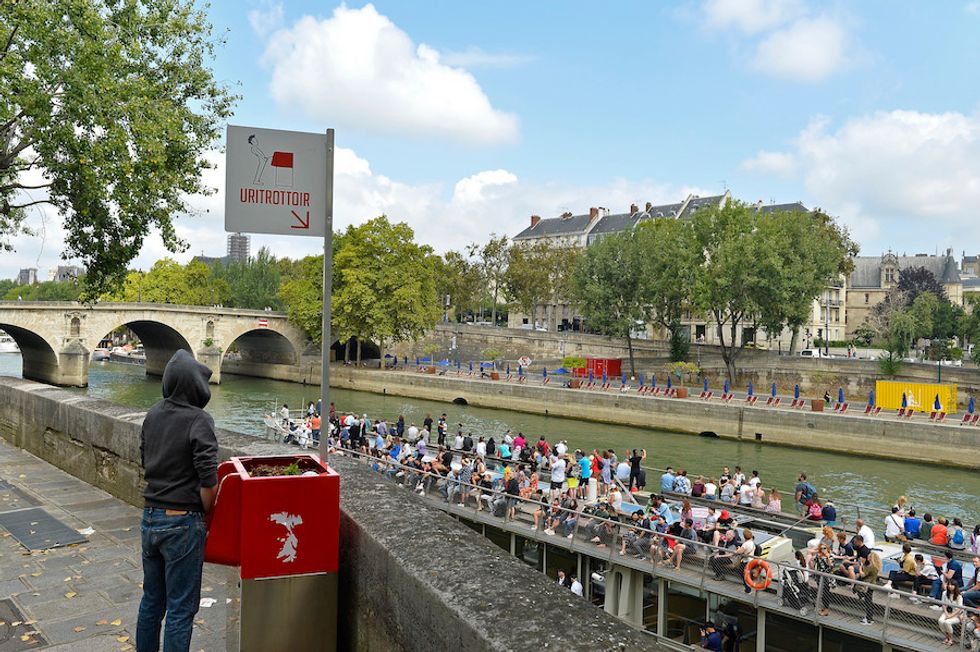 Peeing along the Seine River.(Aurelien Meunier/Getty Images)
So where does all the urine flow?
Near the bottom of each uritrottoir is a compartment filled with sawdust and wood chips. When the container reaches full capacity as indicated by its sensor, it is removed and taken to a composting site.

The mulched compost then returns to feed the planters above each unit. Green, but gross.
Dezeen provided figures on just how much urine stayed off the city's streets since the urinals made their prominent debut.

"The designers estimate that three urinals installed in Nantes collected 6,000 litres of urine over a period of six months, that would otherwise have ended up on the city streets."
While this may be convenient for men, what about women?

@TIME And this can solve problem for man overactive bladder only. How about for women?

— Natalie Tran (@Natalie Tran) 1534332243.0
@TIME Well that's not very female friendly? My vagina is not that tall.

— Joy (@Joy) 1534303103.0
Wowww so much for equal rights. What do they suggest women do? 😂https://t.co/gZeCNJ7zeG

— ADHD Mom (@ADHD Mom) 1534268013.0
Outspoken feminist Gwendoline Coipeault of the French group Femmes Solidaires admonished the initiative of catering to gender-specific predispositions.
"They have been installed on a sexist proposition: men cannot control themselves [from the bladder point of view] and so all of society has to adapt."
"The public space must be transformed to cause them minimum discomfort. It's absurd, no one needs to urinate in the street."
As a proponent for the urinals, local mayor Ariel Weil is fine with going with the flow. But he is willing to relocate them if necessary.
"If we don't do anything, then men are just going to pee in the streets. If it is really bothering people, we will find another location."
This seems to be the general consensus.
@mental_floss Keep it in your pants, France lol

— Regina Pink Lemonade 💕🍋🍹 (@Regina Pink Lemonade 💕🍋🍹) 1534482163.0
H/T - GettyImages1, GettyImages2, YouTube, TheGuardian