With anti-Asian crimes in the United States rising over the last year, Sakura Kokumai shared a video of a man harassing her for no reason and spoke about her experience.
Kokumai, 28, is an Olympic athlete and the first American to qualify for karate in the world-wide event. She was training in Grijalva Park, when a man randomly walks up to her and starts yelling at her.
The encounter was shared to Kokumai's Instagram account and with local news station KTLA 5.
U.S. Olympic athlete targeted in racist rant at Orange park where she trainswww.youtube.com
Kokumai said that it was a normal day at the park, where she has been training for the upcoming Olympic Games in Tokyo. However, when the man in the video walked up and started yelling random things at her, things became tense.
Kokumai said:
"He was basically just yelling stuff like, 'Don't talk behind my back. Why are you looking at my car?'. Things like that that made me notice it could be something a little bit, I don't know, off. So, I let it be."
The athlete said despite understanding the man didn't seem to be in control of himself, she was still scared.
"Obviously I was scared. I think in the video you can see I was kind of laughing but at that moment, you really don't know what to do."
The whole event was strange and weird to Kokumai, but when he said racial slurs as he got in his car to leave, the reason behind his outburst became clear.
After sharing the incident to her Instagram account, many sympathized with the athlete for the harrowing experience.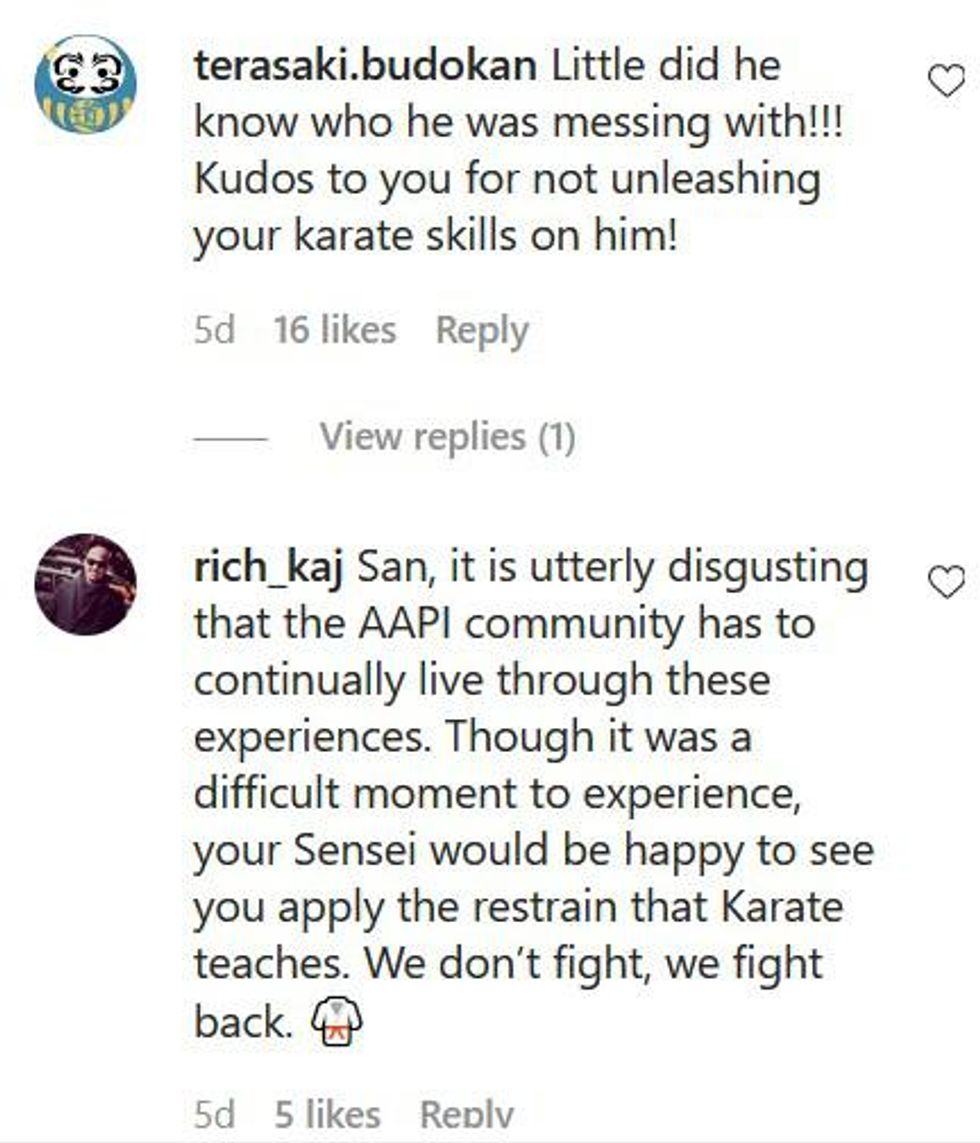 sakurakokumaikarate / Instagram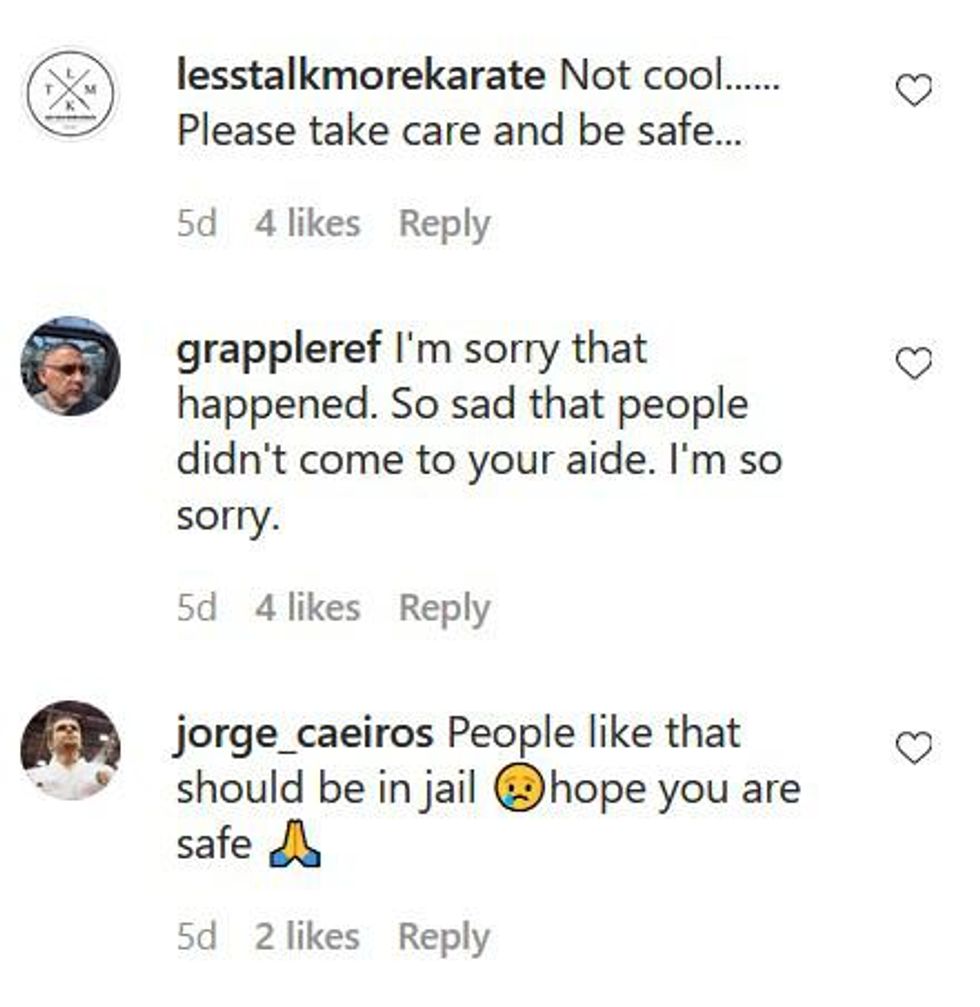 sakurakokumaikarate / Instagram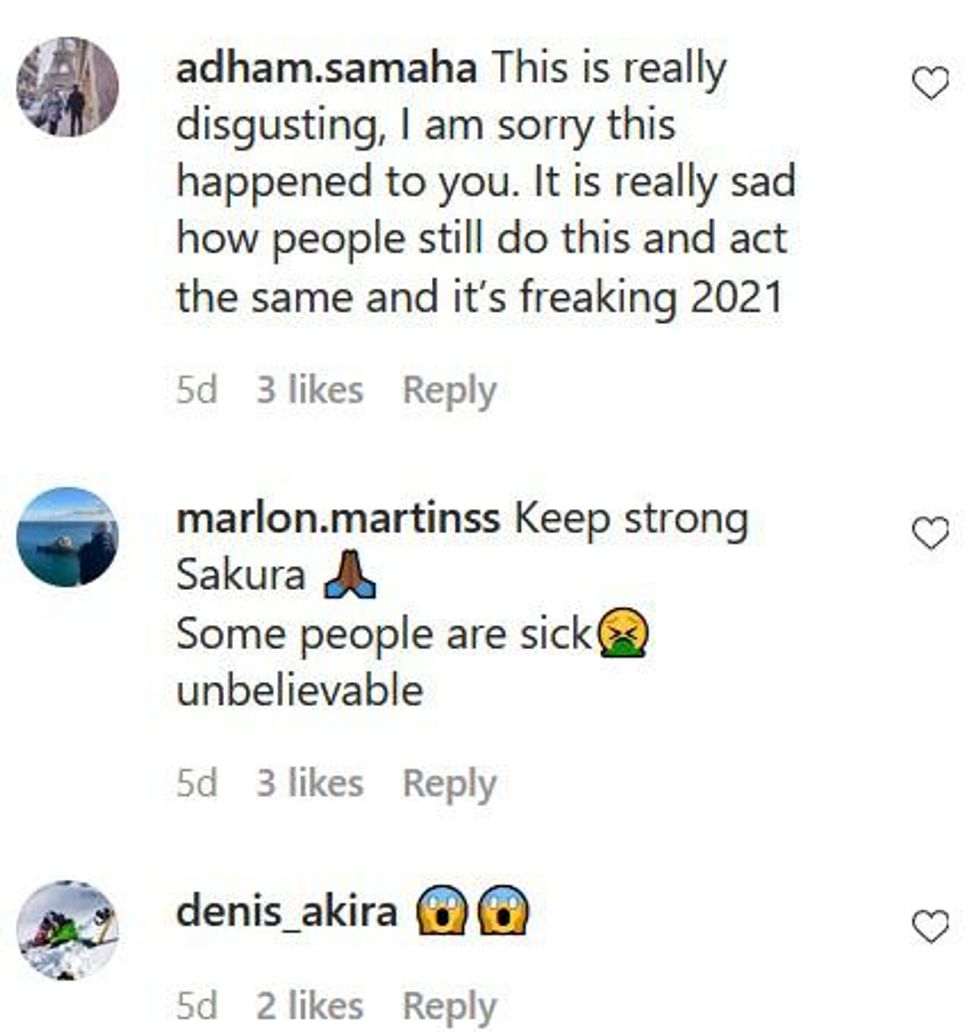 sakurakokumaikarate / Instagram
Kokumai, who is Japanese American, says the man said something about her being Chinese as he got in his car to drive away.
She said:
"The only two words I picked up were 'Chinese' and 'sashimi' which have no connection at all."
She also said that she was aware of the wave of anti-Asian hate in the country, but she didn't think it would happen in such a public place as a park.
The other park goers didn't do anything while the man was verbally abusing her, which to Kokumai was the scariest part.
"One lady did come up towards the end, asking if I was OK, but until then, as he was walking up, yelling, there were people but they kind of kept to themselves the entire time."
"I thought, what if this was my grandma or my mom? That scares me."
It was this thought that made her share this incident publicly.
The spread of hate crimes against Asians has been on the rise since former President Donald Trump targeted them with racist rhetoric. This was done to put the blame for the pandemic on China, and distract from his administration's failure to respond to the health crisis.
Now, high profile attacks are happening far too often, and people are getting injured or even killed. The rise in anti-Asian hate crimes has many in the community scared to leave their houses, including the parents of famous actor Daniel Dae Kim.
However, with incidents like what happened to Kokumai taking place so publicly and people around her not stepping in, it leaves many people still afraid for themselves.
This is why people are being called on to speak out when this happens.
Kokumai wasn't injured in this incident, which is very lucky. Many other people's encounters with racism can end in hospitalization.
At this time, the Olympic athlete has not reported the incident to the police, and is still processing what happened.