As if he were asking for the storm, Kevin Edger—who bills himself as an opinionated political and weather enthusiast—was dished out a major deluge.
Edger retweeted a report from the BBC about a nurse who said she skips meals occasionally to afford to feed her kids. He added his unqualified criticism of the working mom.

In his tweet, Edger wrote:
"Yet you can buy a big bag of dried pasta, that would feed a family, for about £0.50p [$0.65]…."
"If you shop and cook properly, you can eat healthy meals really cheaply."
Then to further denigrate the woman featured in the BBC report that focused on the cost of living, the working poor and food insecurity, Edger added:
"I would love to see how she spends her salary..."
His comments were widely ridiculed for their arrogant tone and for completely missing the point of the BBC report.
Also coming to the working mom's defense was Jack Monroe, a noted cookbook author and expert in eating affordably. Monroe provided Edger with the nutritional facts of his plain pasta suggestion.
Monroe responded:
"Hi Kevin, THE literal expert on budget cooking here who has spent the last decade on the front line of food poverty in this country."
"500g bag of budget pasta, 29p."
"That's 5 meals of 100g plain pasta, no butter, no salt, no sauce, no nutrition, and a whole 155 calories a meal!"
She continued:
"That's only 456 calories a day, but hey, it's not like nursing is physically demanding, on your feet all day, shift work, is it?"
"Operating at a deficit of 1,544 calories a day is perfectly sustainable in your head, right?"
"I sure hope so, because I've got a challenge for you pal!"
She then challenged Edger to follow his own suggestion.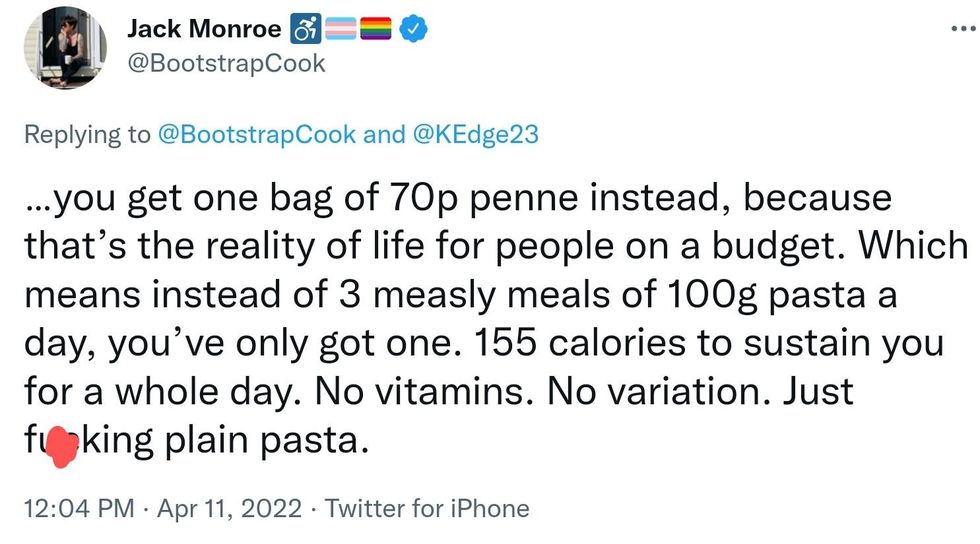 @BootstrapCook/Twitter
Monroe added of the people who agreed with Edger's hot take on food poverty:
"All these absolute wet wipes in your replies saying how EASY it is to cook healthy meals on a budget - pals I've been waiting ten years now for someone else to come along and help take some of the weight off my shoulders here, and yet here I am, working 100+ hours a week…"
"...helping people like Rebecca day after day, while people like you sit in your comfy lives telling us all how you'd be so much better at being poor than we are."
"SO DO IT THEN."
"Show us all how it's done and I look FORWARD to your bestselling cookbook on the subject. Best of luck! 😌"
Her tweet brought attention to the conversation, getting over 40,000 likes.

In response, Edger limited who can comment on his expert opinions.

@KEdge23/Twitter
Before that, one person replied:
"I hope none of these people criticizing our nurse's plight are ever in need of care from a frontline health workers exhausted from poor diet and too tired to give them the care they need."
"Our key workers should not have to stress about how to put a basic meal on the table."
Another person commented:
"The more important question Is why is he angry at the Nurse and not angry at the fact that she has to skip meals or, as he says, should just eat pasta."
Someone else noted:

"He doesn't have any concern about feeding those in food poverty in the great way you do Ms Monroe."
"He is simply a gadfly wishing to make trouble (while being utterly clueless regarding the facts about nutrition)."
Another person wrote:
"This really isn't about food or budgeting. It's about denial of poverty by defining is in terms of peoples deficiencies."
"Social Darwinism, you get to the place in society you deserve, your worth is your wealth."
"Toxic blaming scapegoating."
Edger has yet to reply to Monroe or agree to her challenge.