We all know the risks in ordering from a less than reputable retailer online. There's always a gamble in how close the order will come to what we actually get in our package.
Do you order something two sizes larger than you think you need? Will the quality be up to snuff for the price you pay?
Kelsey Dawn Williamson had a more hilarious concern when she received her order.
---
I never knew Frog and Toad were such big fans of late '80s gangsta rap.
Her original post reads,
"What I ordered VS what I received.
I fucking love China. I cannot stop screaming. WHO DOES THIS."
Williamson ordered a white shirt for her daughter, Salem, depicting the characters Frog and Toad riding a bike. It's a very cute scene from a classic children's book.
However, despite not showing it in the order page, the shirt arrived with a little extra design. Under the picture appear the words "F*** THE POLICE."
It's absolutely hilarious, if inappropriate for a toddler. (Fortunately, said toddler cannot read yet.)

Facebook.com

Facebook.com

Facebook.com
Williamson ordered the shirt from AliExpress, an online retailer based in Hangzhou, China, that hosts other small businesses. The shirt only cost about $5, so it's understandable that she would take a chance on the order.
"Salem probably has 50-plus different little boutique outfits from my favorite store on AliExpress,"

said Williamson.
While three-year-old Salem doesn't necessarily agree with the shirt's sentiment and its view of law enforcement, Williamson still can't stop laughing about the situation.
"I literally did not know how to react so I just took a few moments to stare at it and try to process,"

Williamson said.
"Of all the things they could have added, why that? On a children's-size shirt?" she asked.

It's pretty funny, with others wondering where they can get their own.

Facebook.com

Facebook.com

Facebook.com
Williamson never expected her post to go so widely viral. This has unfortunately brought some negative attention.
Some commenters have made some insulting statements about Salem, asking why someone would let their toddler wear such a shirt. Comments that have since been deleted also questioned the young girl's weight.
Williamson has shot back at these haters, saying,
"Editing because I've seen some nasty attitudes: SALEM IS 3 AND CAN'T READ.
I DID NOT BUY THIS. THIS IS WHAT I WAS SENT.
NO, SHE WONT WEAR IT IN PUBLIC.
"Why would you take a picture??" YOU WOULD TOO, DONT BE A LIAR."
We'd absolutely take a picture.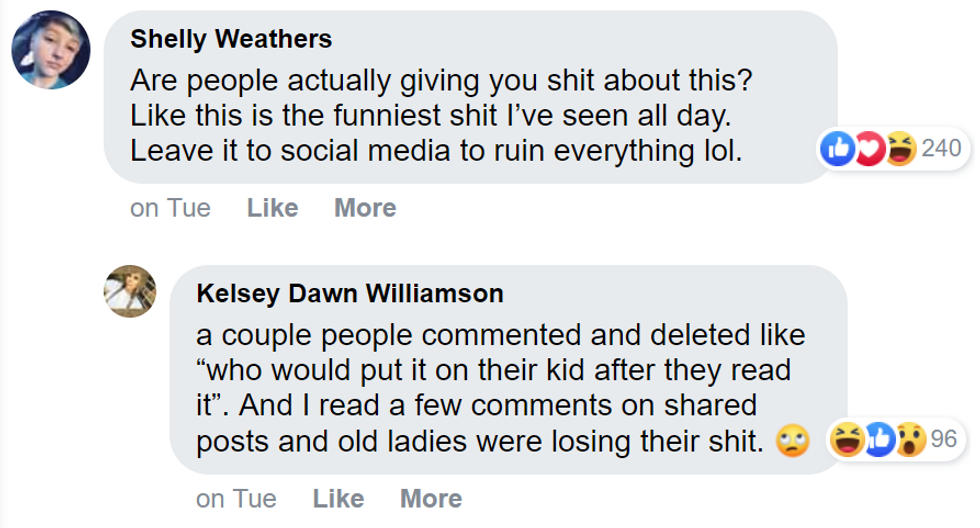 Facebook.com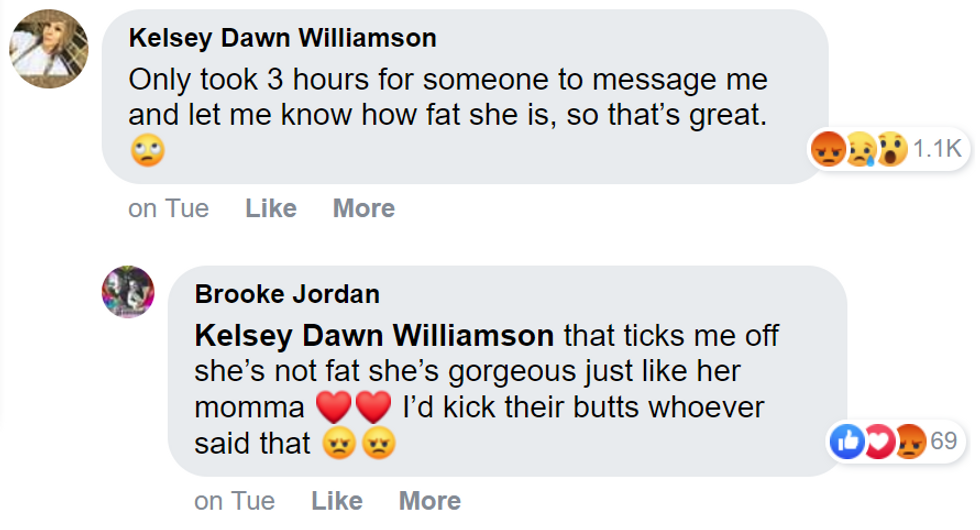 Facebook.com

Facebook.com
Despite the controversy, Williamson has said she is keeping the shirt. It will go into storage so she can show Salem when she's older.
All this should be a valuable lesson about online shopping. No, not "Be careful about what you order." I was thinking more along the lines of "Even a $5 shirt can spark joy."