A mother from Orange County, California was infuriated after discovering that her family photo had been used for a face mask advertisement without her permission.
Sara Ancich and her family had taken a professional photo for a holiday card eight years ago.
---
Last week, the same photo appeared in an ad claiming that all members of the family except the youngest son had died from the global viral pandemic.
You can watch the news report of the misappropriated photo here.

Ancich told KCAL 9 news:

"Who would have the audacity to clearly not know a family and type that they had died?"
"It's on the forefront of everybody's mind in the news and everything and how quickly it is taking lives. It could so, so clearly be true to people."
The ad—which was taken down on Monday—erroneously stated that the family ignored social distancing guidelines and consequently contracted the virus after attending a church service with 176 people in the middle of the pandemic.
Interestingly, the footage used of the church interior was that of Westminster Abbey at an entirely different time.

You can clearly see in the ad Prince Charles and his wife, Camilla, Duchess of Cornwall attending the service.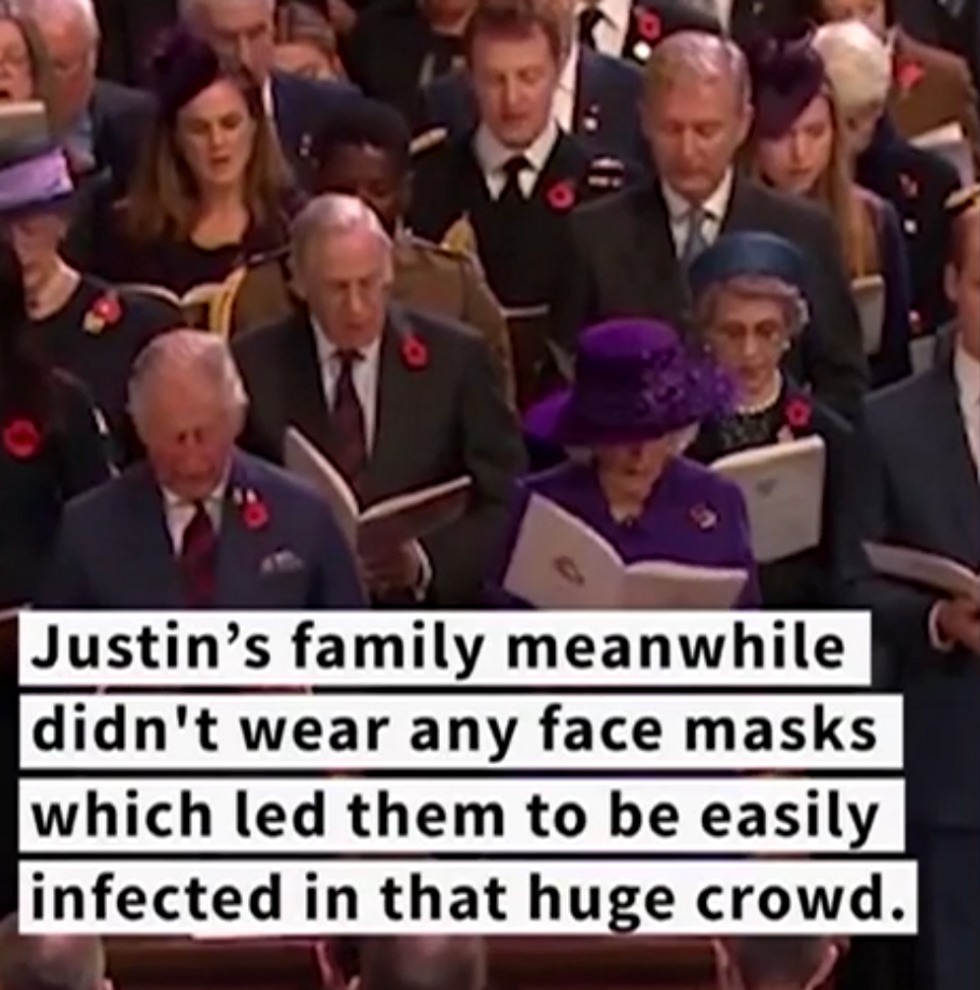 CBS Los Angeles/YouTube
The accompanying text with Ancich's photo read:

"Youngest son from a family of 5 is the sole survivor from the deadly pandemic after wearing a CDC approved respirator."
An image of an unidentified smiling boy was depicted as the family member who "narrowly escaped death."
Ancich—whose youngest son is 16-year-old Ryan—said:
"The boy that supposedly portrayed our youngest son, we don't know who that boy is."
The ad is purportedly one of several on Facebook that are being investigated that have the same script featuring a "sole survivor" scenario using the "FilterMax" branding.
CNN was unable to determine which company was behind the ad, but found that numerous businesses used the name "FilterMax"—which describes the product as one that:
"deploys dual filtration valve technology with a 5-layer protection filter, which effectively blocks out 99.9% of bacteria, dust, smog, and pollen from entering your lungs."
Facebook clarified that the FilterMax ad did not run as paid distribution.

Many concerned friends and family members reached out to Ancich to find out if the story regarding her family was true.
Ancich said she hadn't posted the family portrait on social media for years.
But a reverse image Google search revealed the picture— taken by photographer Rich Lander—had been featured on his website and on Pinterest boards as an example of family Christmas photos.
She reported the video to Facebook, but it continued appearing in her feed.

"It was upsetting. It's violating. I don't know how I could have prevented this, or I would have."
Facebook said they are cracking down on businesses eliciting fear of the pandemic by removing all ads having to do with hand sanitizer, face masks, wipes and virus tests.

A spokesman for Facebook said:
"We apologize to the family impacted by the video."
"We also continue working to stop people from exploiting this crisis for financial gain by banning the sale of masks and other products that are linked to predatory behavior."
The book Legal Guide to Social Media: Rights and Risks for Businesses and Entrepreneurs is available here.