A school in Mississippi is under fire for an 8th grade writing assignment. The history class asked students to write a "slave letter" which caused outrage and arguments.
The class in Purvis Middle School asked students to write a letter from the perspective of a slave back home to their family, and explain what their life is like and how they pass the time when they aren't working.
The assignment was brought to wider attention by Black Lives Matter Mississippi.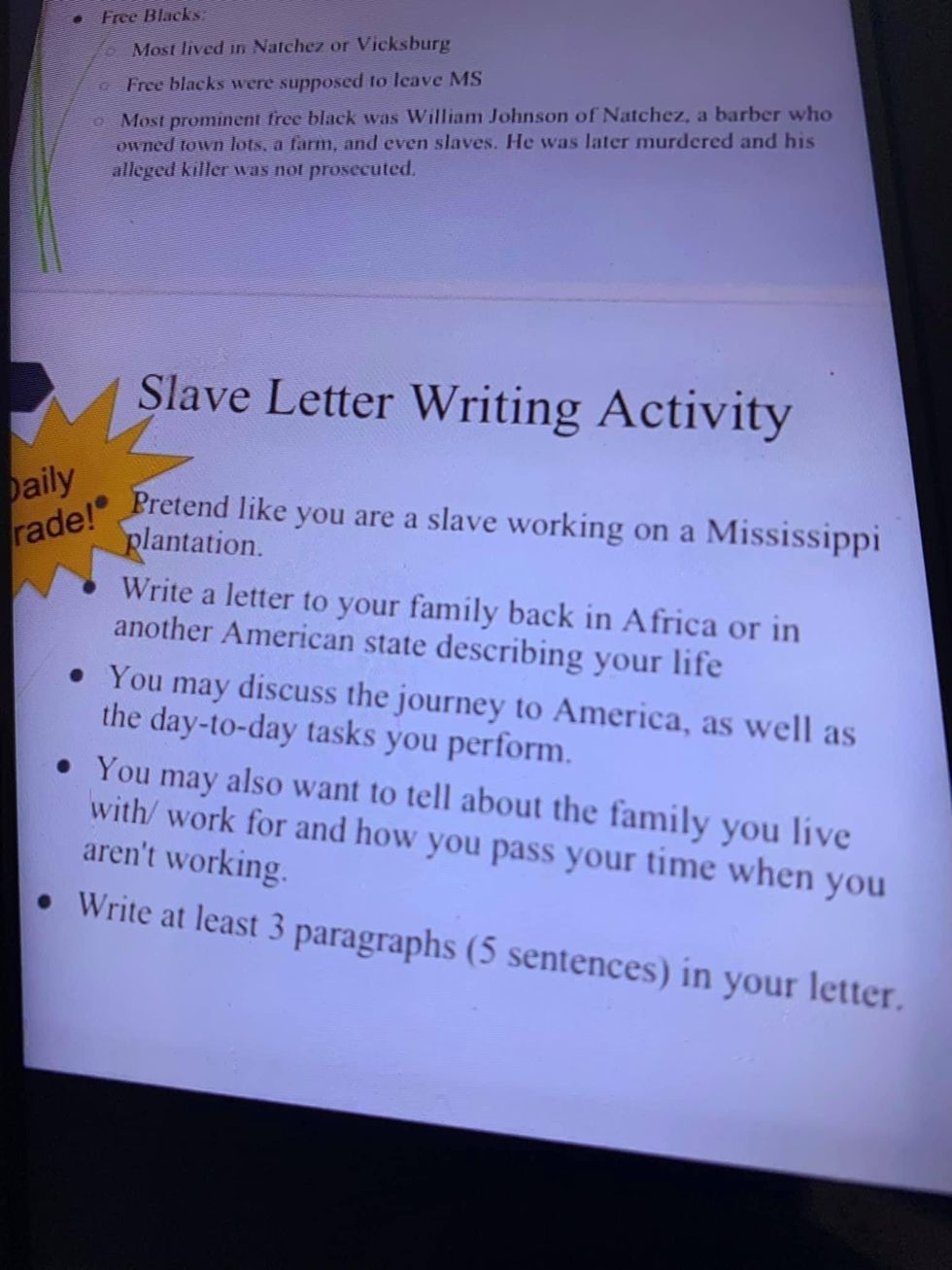 @BLivesMatterMS / Twitter
The 8th grade history assignment asked students to imagine they were a slave on a plantation. They were then tasked with writing a letter back home to their family, either in Africa or another American state.

The assignment involved telling their imaginary family about the "journey to America," the daily tasks performed and how they passed the time.
The assignment was criticized for making light of the torture and indignities Black people endured as part of slavery.
Dr. Steven Hampton, Superintendent of Lamar County School District, confirmed that the assignment was given to students earlier this week. It was meant to help students understand the "atrocities and negatives of slavery."

He told WDAM News:
"[The point] was to show our students just how horrible slavery was and to gain empathy for what it was like to be a slave."
The principal of Purvis Middle School sent an email to parents to explain the situation and apologize. He said the image of the slide was taken out of context.
From TheDaily Beast:
"A person could read just the assignment and draw a very unrealistic view of the true tragedies that occurred. That was not intended."
"However, intent does not excuse anything. There is no excuse to downplay a practice that (even after abolished) spurs unjust laws, unfair economic practices, inhumane treatment, and suppression of a people."
As news of the assignment spread across the internet, people were in agreement it was problematic, but not everyone agreed necessarily on why.

While the assignment was at least partially defended as a way to empathize with the horrors the people in slavery endured, it was understood this assignment was not the best way to do that.
However, a less charitable reading of the assignment compares it to one from a popular Christian history textbook called Omnibus III: Reformation to the Present. The book's author, Douglas Wilson, once hosted a 2004 conference where he defended the practice of slavery during its time in the South.
The Omnibus includes an eerily similar "Slave Letter" assignment like the one in this article, but also had a companion assignment. In this other assignment, students were tasked with writing a letter as a slave owner, and explain how their family treats slaves well.
It's easy to see why the public aren't a fan of this assignment being taught in schools.
The irony is that it was at one point illegal in Mississippi to teach a slave to write. https://t.co/v3zU8moPt0

— Louis Schuh (@Louis Schuh) 1614820857.0
Purvis Middle School said the teacher was addressed about the assignment and further discussion with the administration is taking place.

It's sadly not unreasonable for people to be prepared for the worst when discussing racism in former slave states. Last month, a Florida teacher was caught claiming slaves weren't whipped by White people and the n-word just meant "ignorant."