Stranger Things and Enola Holmes actress Millie Bobby Brown recently sat for a polygraph test with Vanity Fair.
Some pretty juicy tidbits were revealed—including fellow Stranger Things actor Finn Wolfhard is a "lousy kisser".
You can see the interview here:
Millie Bobby Brown Takes a Lie Detector Test | Vanity Fairyoutu.be
In addition to asking about who she thought made the best Sherlock Holmes between Henry Cavill, Benedict Cumberbatch and Robert Downey Jr—she chose her costar Cavill—questions quickly moved to her Stranger Things costars.
The interviewer first asked about her close friendship with costar Noah Schnapp, including about a rather unfortunate hairstyle.
"Would a best friend let someone have this haircut?"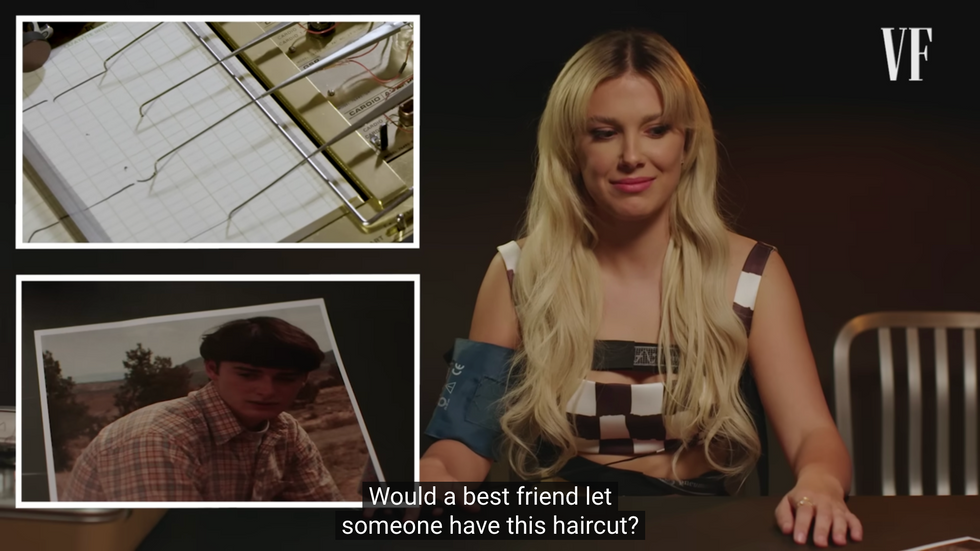 Vanity Fair/YouTube
Brown simply responded:
"He put himself in that position."
When pressed, Brown said:
"I think he looks great."
The polygraph operator then declared:
"That's a lie."
A bit later, the interviewer said:
"You exclaimed 'kissing sucks' after your first kiss with Finn Wolfhard."
Brown confirmed this was true.
"Is Finn just a lousy kisser?"
Without missing a beat, Brown nodded and replied:
"He is."
The polygraph operator then confirmed:
"She's telling the truth. He's a lousy kisser."
The interviewer then asked:
"So he hasn't gotten better?"
"Not with me, no."
The interviewer wasn't going to let it go there, though.
"Have you told him this?"
Brown said she hadn't, and the interviewer followed with:
"He's gonna find out."
Brown just replied, mercilessly:
"That's okay."
Twitter users had a lot to say about the interview.
There is no set release date for Stranger Things 5th and final season.
Brown's latest project with the aforementioned Henry Cavill, Enola Holmes 2, is available to watch on Netflix now, though.