Bring out the tissues. This proud mom is opening up about her experience giving birth since her partner couldn't be there because of the pandemic.
---
Lauren King is self-isolating with five-week-old Michael, but is excited to share her first days as a mom with her partner Mike Juarez through video. Juarez is a US Marine Corp Sergeant stationed thousands of miles away, but that won't stop him from getting to know his son.
Juarez had planned to be by King's side as she gave birth on March 26, but with flights cancelled he has no idea when he will see his son in person.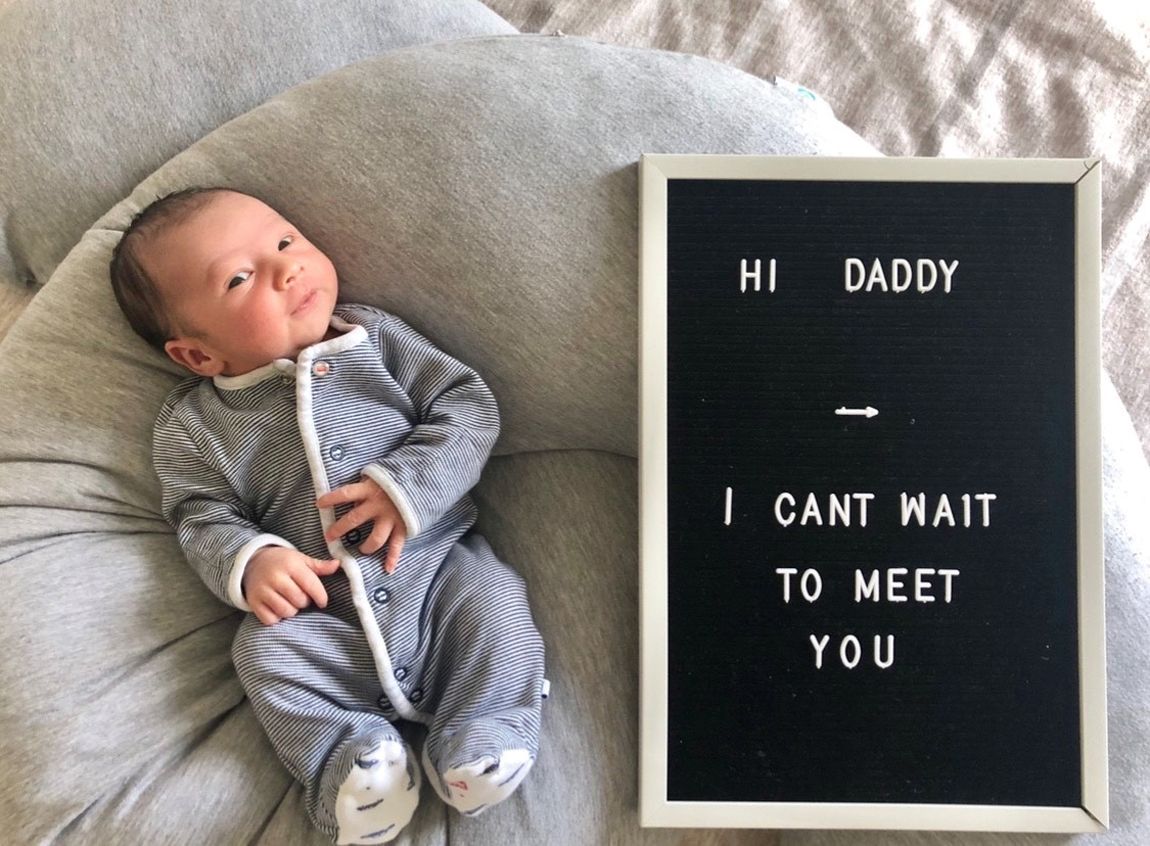 Baby Michael (PA Real Life/Collect)
"I just keep telling myself every day that passes is a day closer to him meeting his boy," King said. "The hardest part is not knowing when."
"Baby Michael is five weeks old and he's changed so much in that time. He's already grown out of his first little vest but, because we're self-isolating to keep safe, no one has met him yet."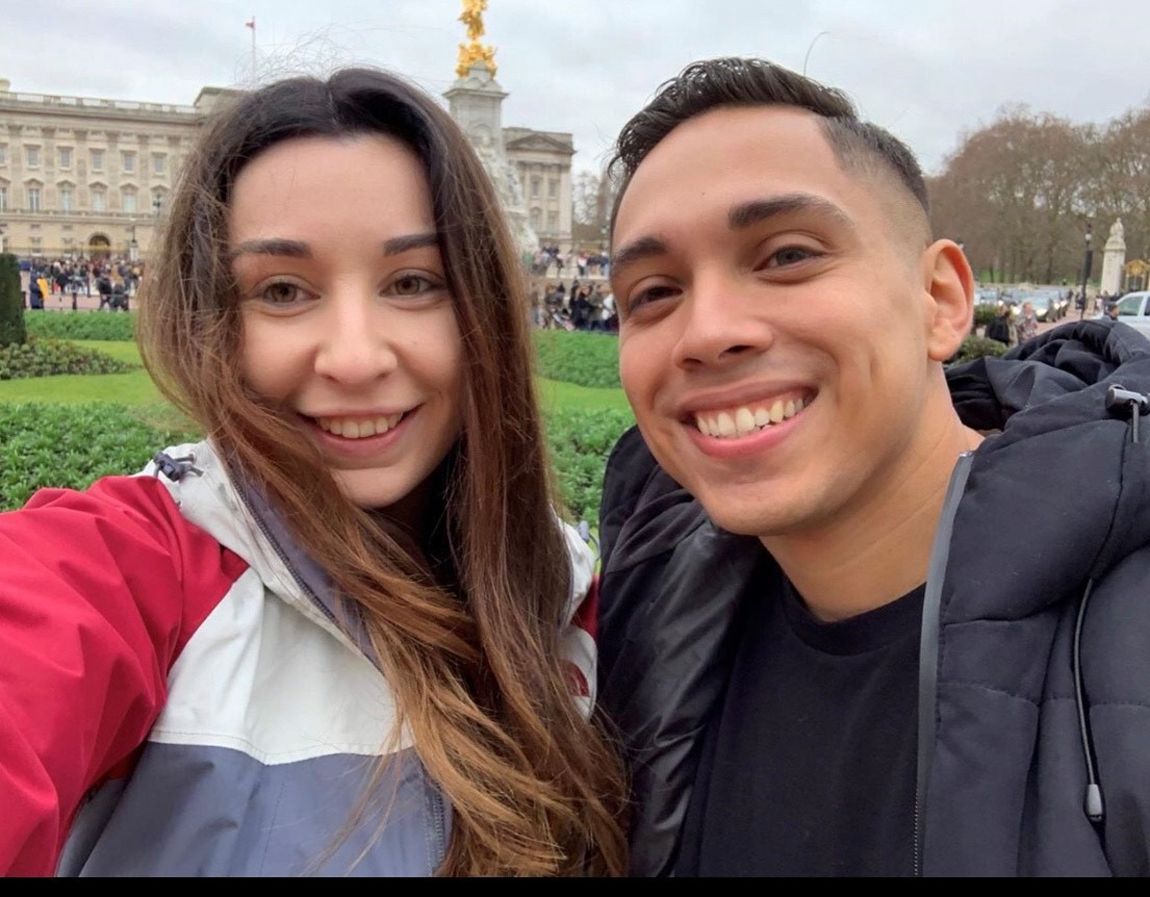 Lauren and Mike on holiday before the birth (PA Real Life/Collect)
"Luckily, my best friend Emma was my birthing partner and she filmed the moment Michael was born, which was so special," she continued.
"But it wasn't the same as Mike – who was excited about being a dad from the moment we knew we were expecting – actually being there in person."
"My heart broke for him when he was told he couldn't come home in time."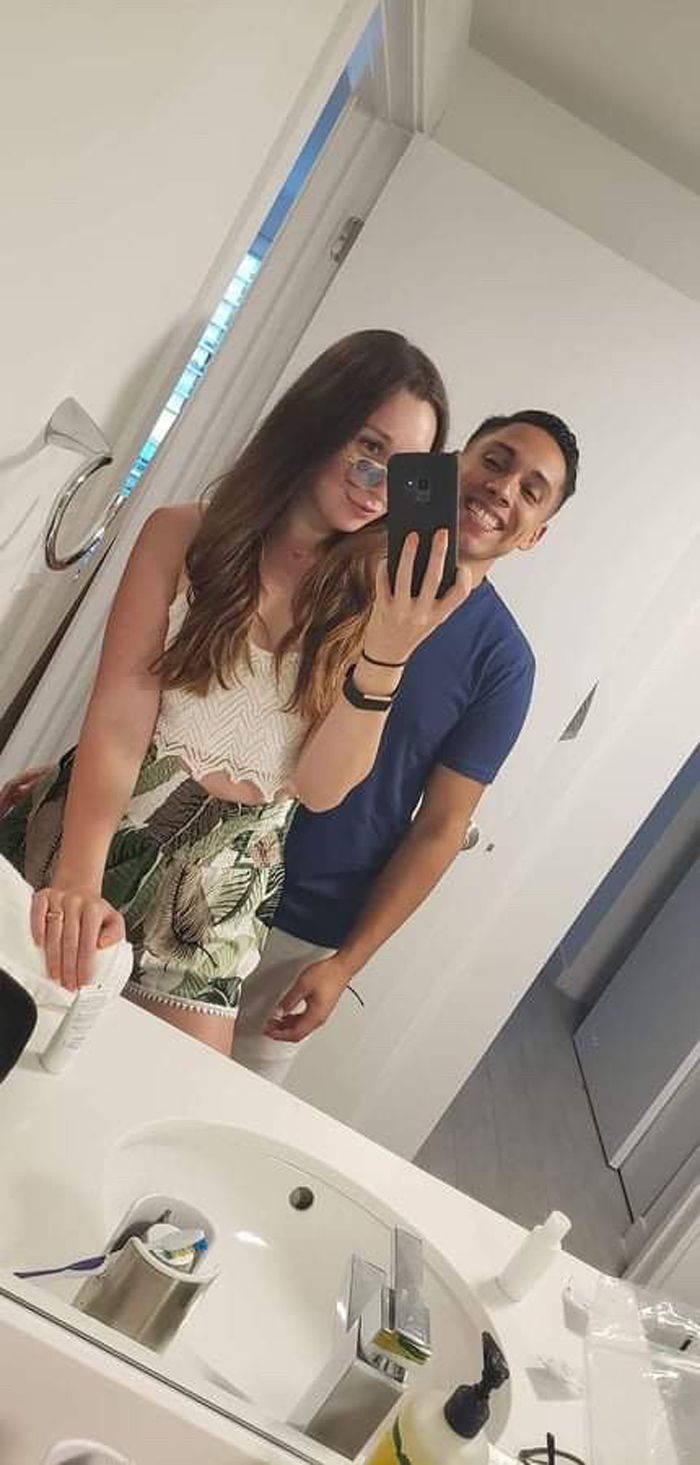 Lauren and Mike in Cyprus (PA Real Life/Collect)
Michael was not planned, but the couple was delighted when they discovered they were expecting.
At six months pregnant, King moved back to Ilkeston so she could be with her family. Juarez planned to fly back to join her the day before the birth.
But three weeks beforehand, he was told flights from his location had been cancelled because of the pandemic.
"It was heartbreaking," King said.
"Because he is our first child, I was so desperate for Mike to be there. It's something you really want to experience with your partner."
"I was in shock at first. I thought, 'There's no way he is not going to be here.' We had a lot of tearful conversations and I was holding onto the hope that something would work out, but it quickly became clear that things weren't going to change and he wouldn't be able to make it."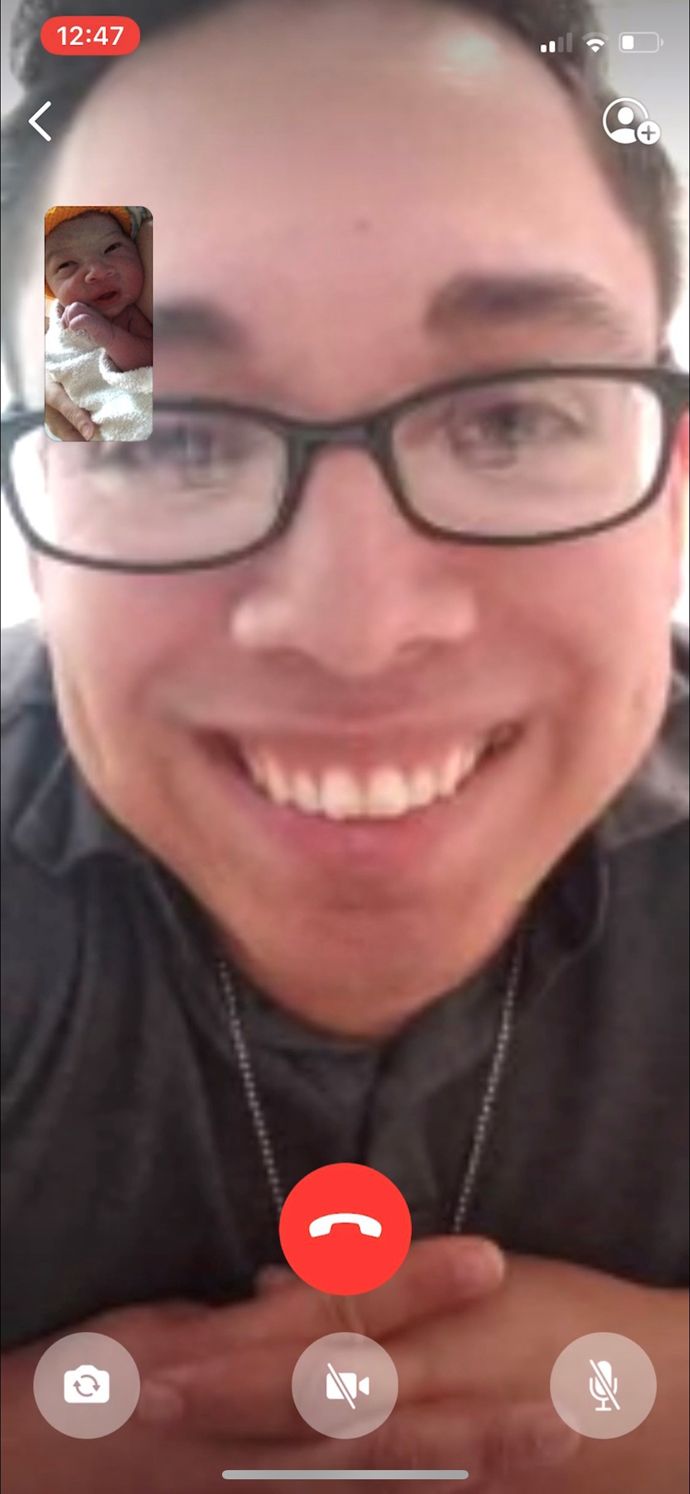 Mike meeting his baby for the first time (PA Real Life/Collect)
This was the first of many unforeseen aspects of having a baby under lockdown.
In the run up to the birth, rather than going to the hospital, her check-ups were held at her local clinic.
"I was quite anxious and because pregnant women are classed as vulnerable, I was self-isolating for the three weeks leading up to the birth," she recalled.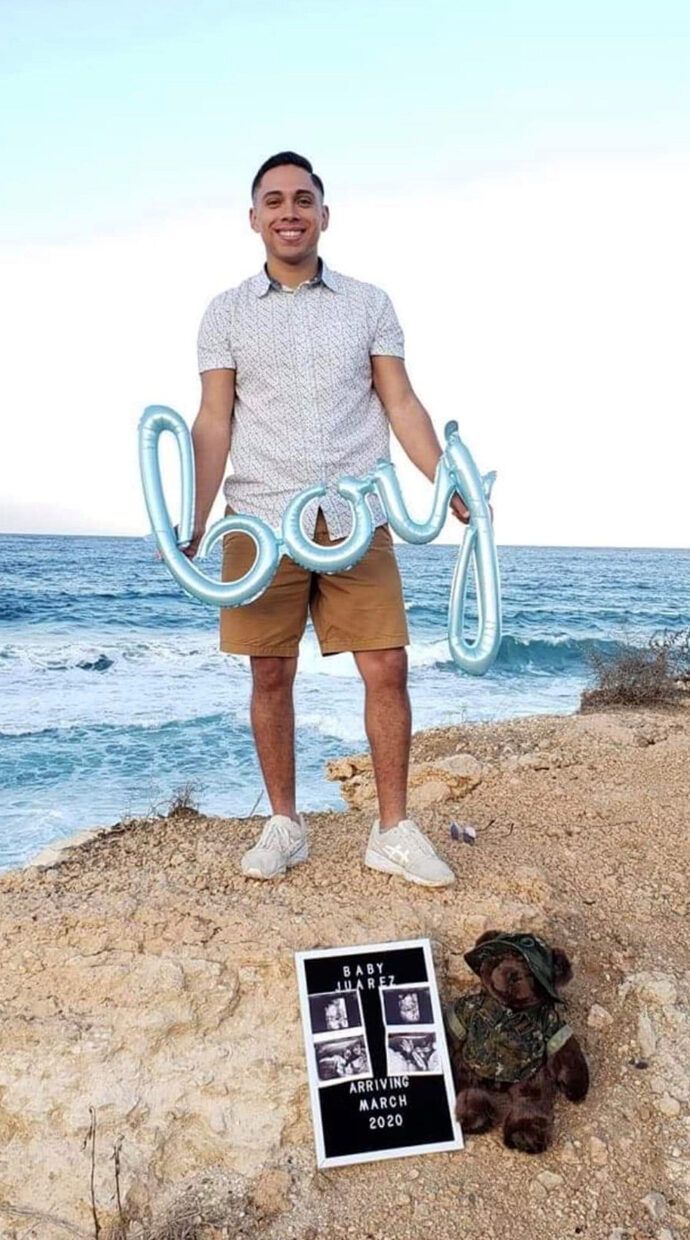 Mike excited to be a dad (PA Real Life/Collect)
"My mom would drop food off for me and leave it at the end of my drive, so we would have a quick chat, then I'd be on my own again," she continued.
When her water broke, King drove herself to Royal Derby Hospital 12 miles away, only to be sent home to wait for her contractions to start.
"It suddenly all felt real and the fact that Mike was not going to be there really hit me," she recalled.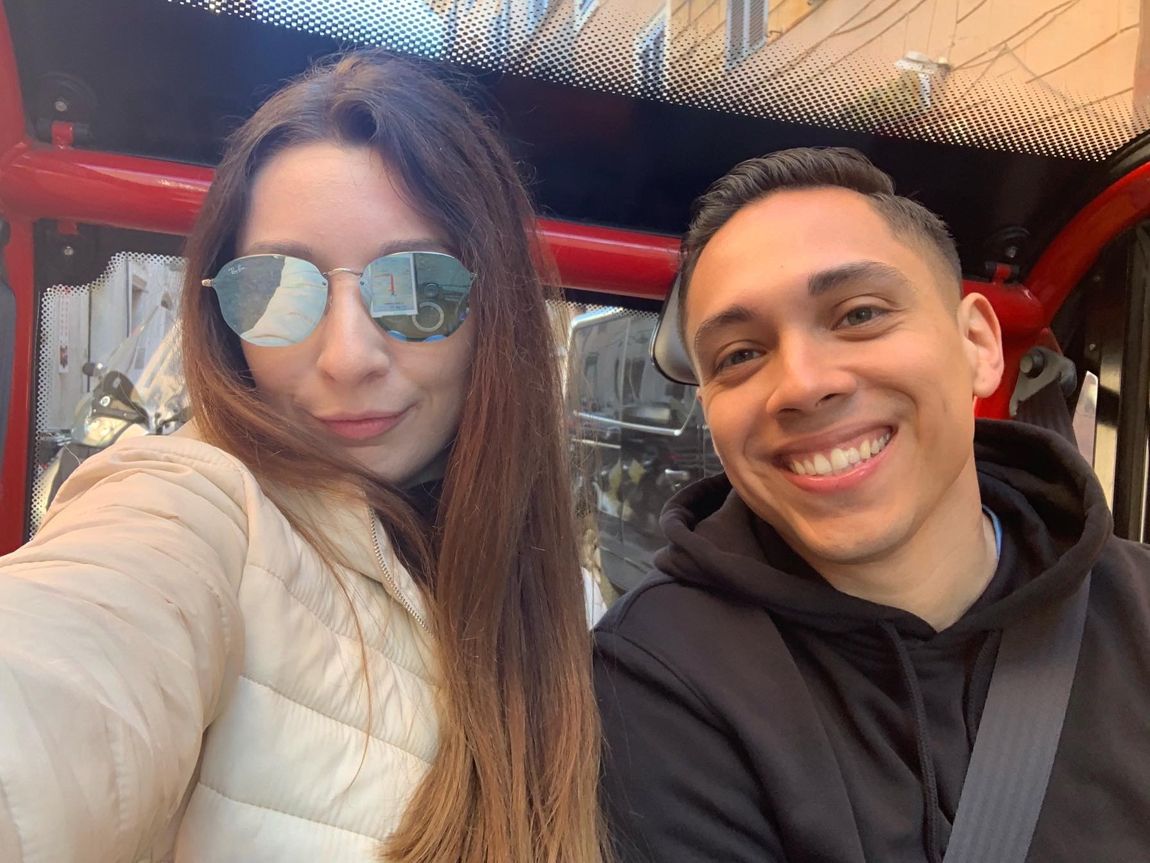 Lauren and Mike (PA Real Life/Collect)
"I was very conscious that I was on my own. It felt quite overwhelming," she said.
King used the breathing and relaxation techniques she advocated on the Freya app.
Techniques of hypnobirthing expert Siobhan Miller, who founded the Positive Birth Company, throughout her pregnancy, to stay calm.
Then on March 26 her contractions started and King's mom Jacqui gave her a lift. She had to drop her off in the parking lot since she was not allowed in the hospital.
"The staff kept saying, 'We're so sorry this is the way it has to be.' They were all wearing masks and aprons and doing the best they could," she said.
"I'd told Mike and his senior management made sure he could access wi-fi, so at least he could watch."
"It was bittersweet, because he was there, but not in person. He could see everything, but was not able to help me or hold my hand."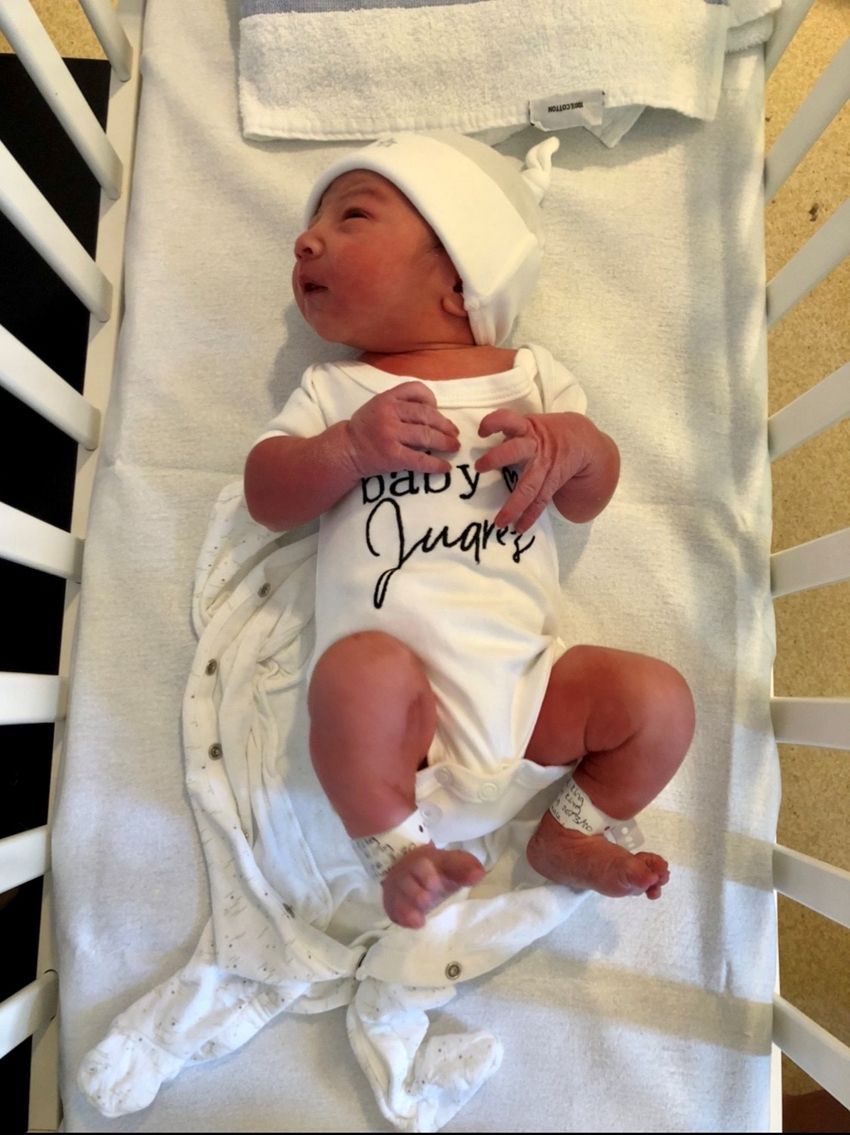 Baby Michael (PA Real Life/Collect)
Her birth partner, Emma Wright, was not allowed in until she was about to give birth. King was on her own during most of her labor, using a birthing pool to help with the pain.
"The midwife was not able to keep coming in and out as they would normally, so I was by myself for about two hours," she recalled.
"As the contractions ramped up, I could not hold the phone or have a conversation with Mike, so he was texting me and sending me YouTube videos on how to try and turn back-to-back babies, as the back of the baby's head was against my spine."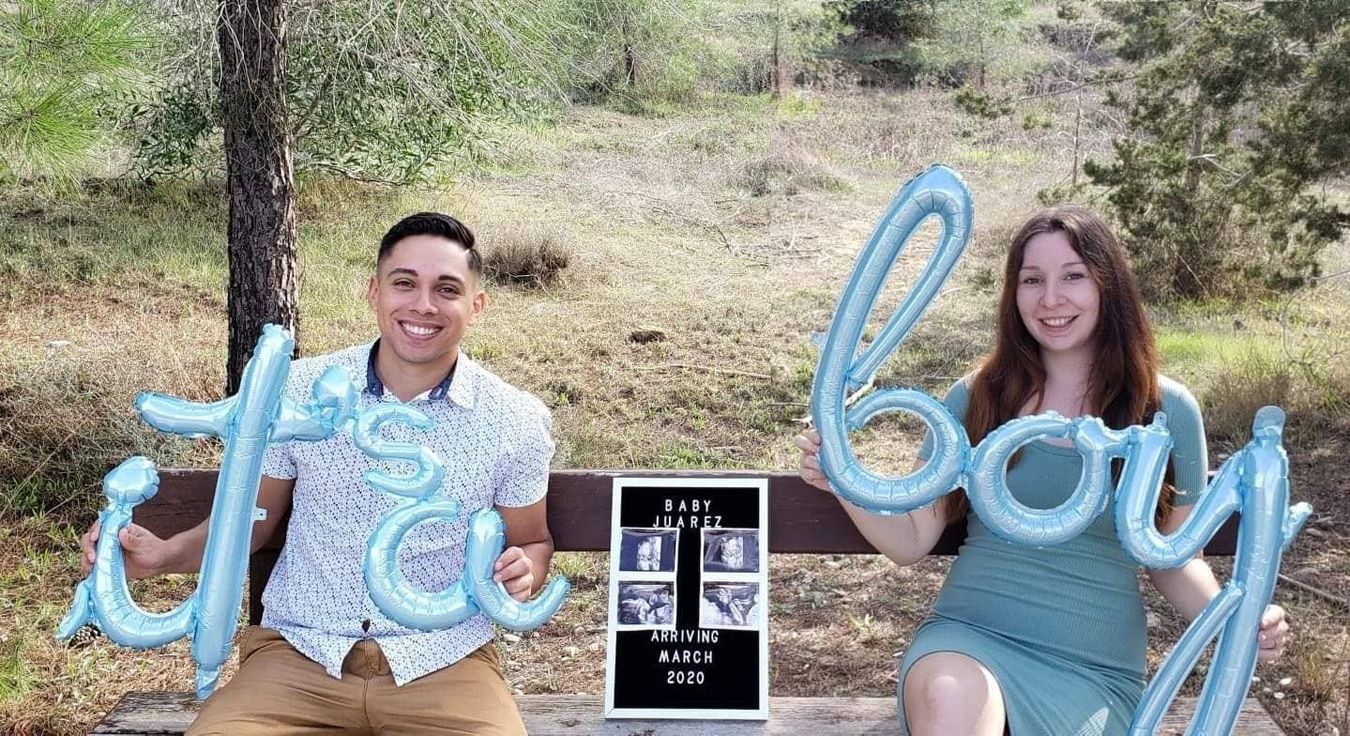 Lauren and Mike announcing the birth (PA Real Life/Collect)
"Because of this, my heart rate went up and I had to be moved to a ward," she continued.
"When I was 9cm dilated, my friend was allowed to come in. I was so relieved to see her, because you get to a point where you are like, 'I can't do this,' but she was amazing and really calmed me down."
With expert timing, Wright was also able to film baby Michael as he arrived.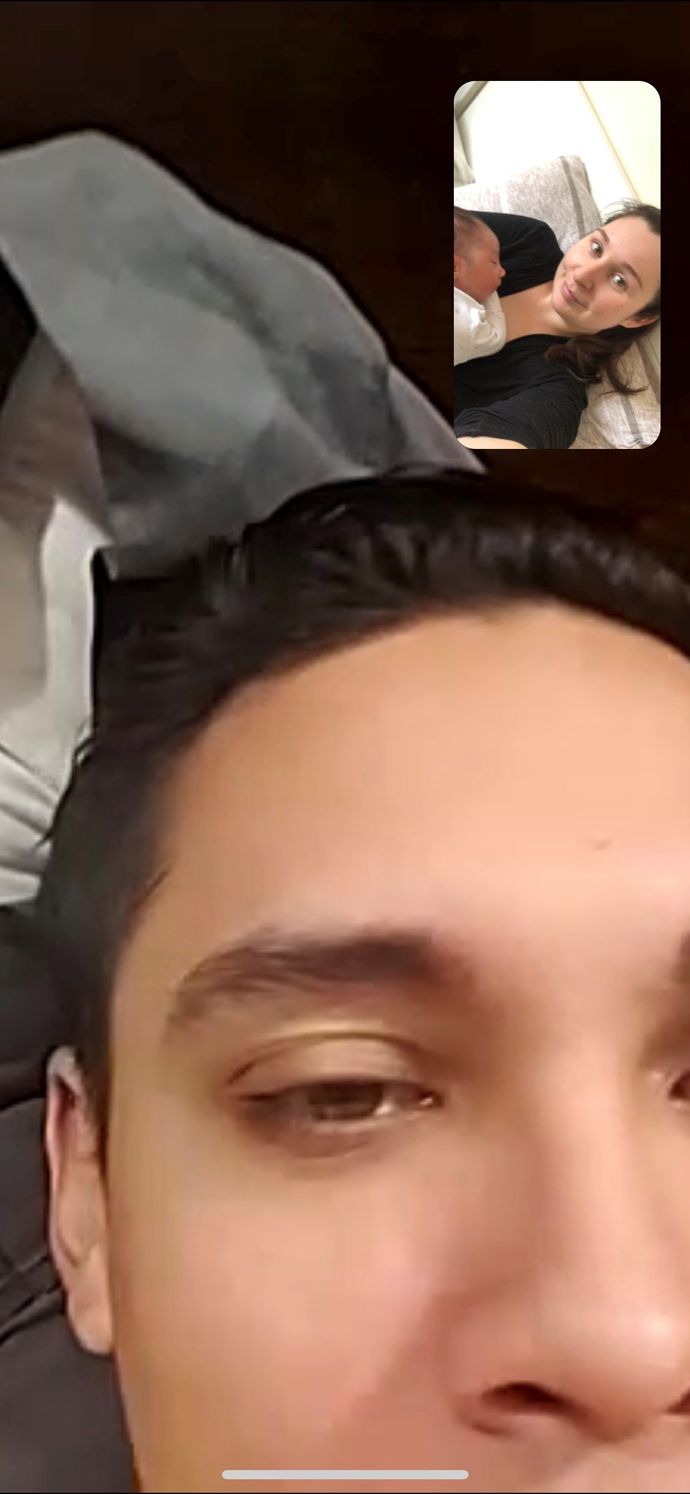 Lauren and Mike facetiming (PA Real Life/Collect)
"It was a very emotional moment. I don't know how I would have coped if Mike had not been able to see it," King said.
"We were apart for a lot of the pregnancy, but he flew home to surprise me for the baby shower in February, so that was wonderful."
"I wanted to make sure Mike was watching the birth and I have such a vivid memory of it. It was really special."
Now, they can rewatch the video whenever.
"I watched the video back and it made me cry, just seeing Mike and realizing how much it meant to him," she recalled.
She believes learning hypnobirthing techniques helped her to get through labour without any pain relief and have a natural birth.
The next day, King's mom was able to drive her home, but had to meet her outside the hospital.
Lauren and Mike facetiming (PA Real Life/Collect)
"She was not able to come into the hospital, so I had to walk him to the car and carry him in my arms," she said.
"Then, when we got back home, she had to leave us at the door, because we had to self-isolate."
"I thought to myself, 'I've given birth without any pain medication, if I can do that, I can bring my son back into the house by myself."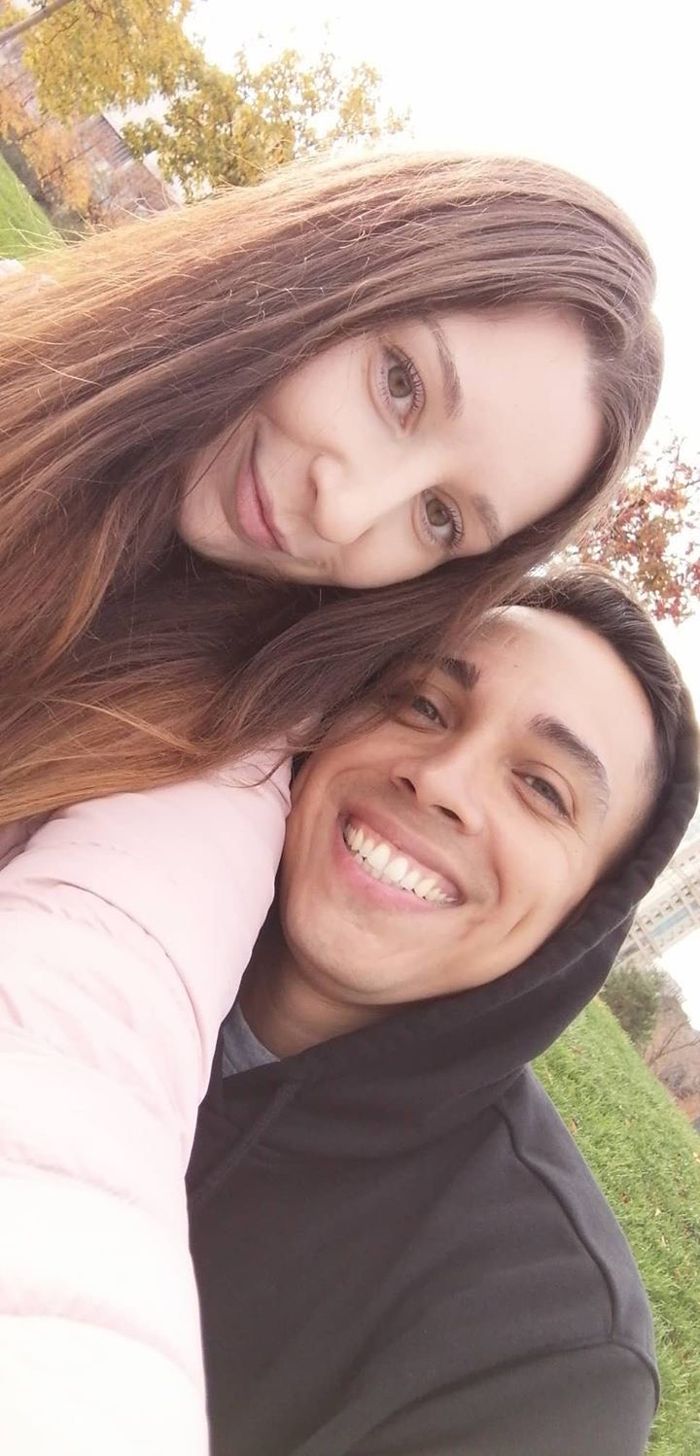 Lauren and Mike (PA Real Life/Collect)
King has been at home alone, with her mom continuing to drop off food for the past four weeks.

But, her experience of looking after newborns in her role as a nanny, has helped her to cope.
"I don't think I could have prepared for the sleepless nights and it's hard to find time to care for myself, but he's a very good baby," she said.
"From day one he was really alert and he's smiling already. I know people say it's wind but it's definitely a smile!"
Lauren is now desperate for the rest of her family to meet her bundle of joy.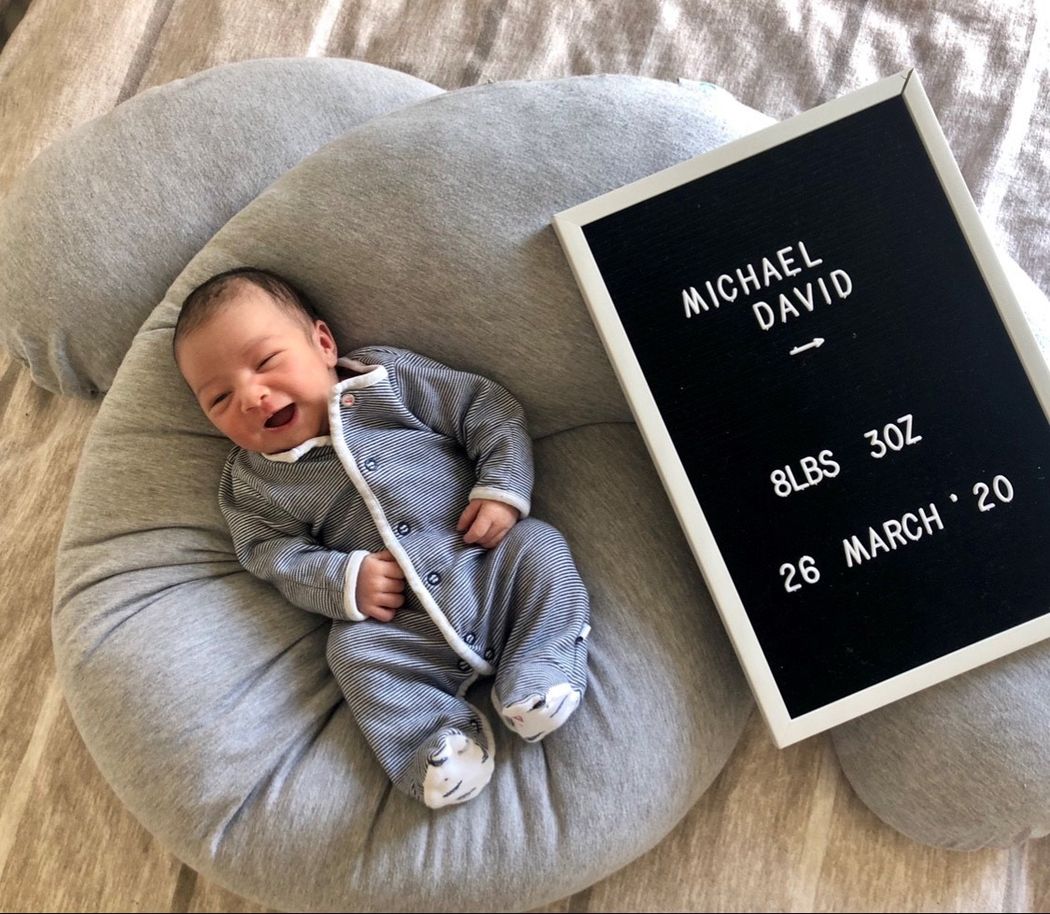 Baby Michael (PA Real Life/Collect)
"He has my grandfather David's middle name and my gran Pat has been knitting him so many things," she said.
"They are self-isolating, too, and are finding not being able to meet their great-grandson quite difficult, but every day that passes is a day closer to this being over."
Of course, the best moment will be when Michael's dad meets him properly for the first time.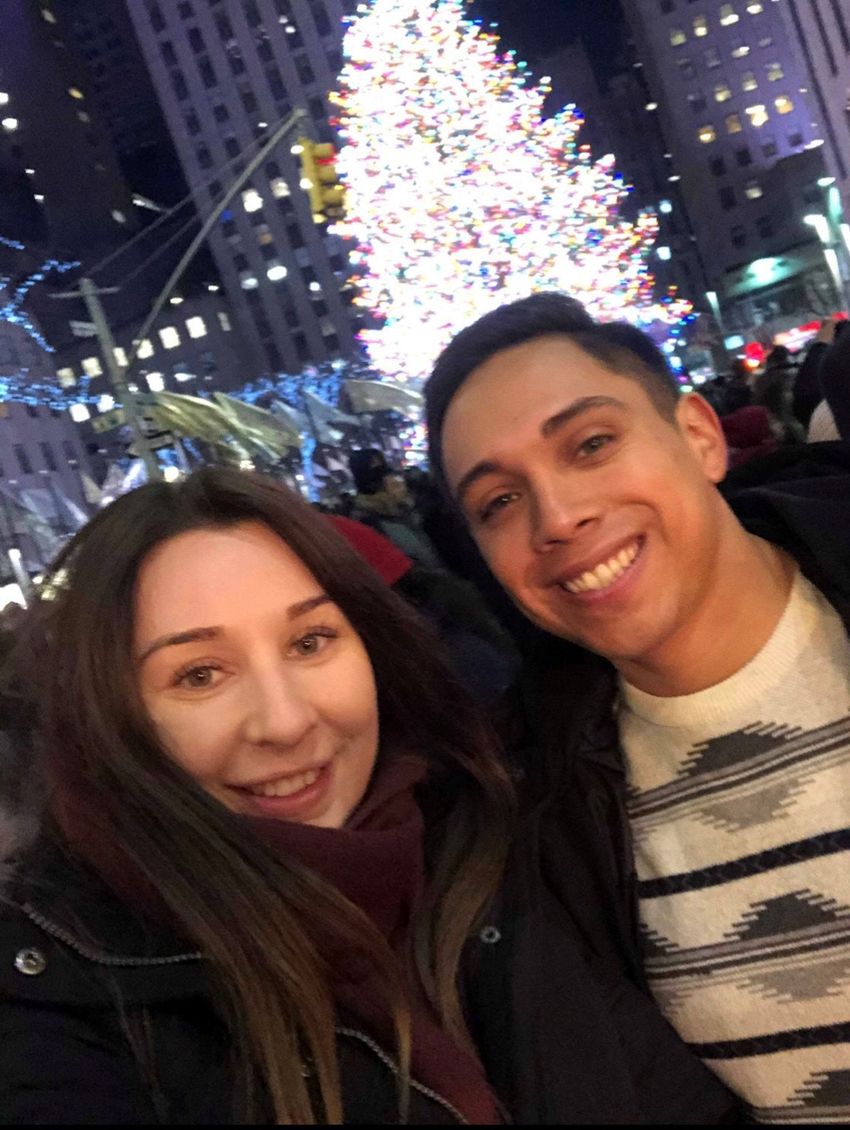 Lauren and Mike on holiday before the birth (PA Real Life/Collect)
"When I put Mike's voice over FaceTime he recognizes it," she said. "He knows it's his daddy. We FaceTime every morning and evening and I'm sending him pictures all the time."
"Usually, we have a date for when he gets leave, so I can count down the days and I know I will see him, but not this time. We just can't wait for our little family to be together."
But, despite all the difficulties, King cannot thank the NHS staff enough for helping her through her pregnancy and the birth.
"They were all fantastic. Nobody knew how bad it would get and they just kept saying how sorry they were," she said. "They really did make it a positive experience and were so calm and collected."
"Baby Michael was born on a Thursday and I was holding him at 8pm when I heard people outside clapping for the NHS."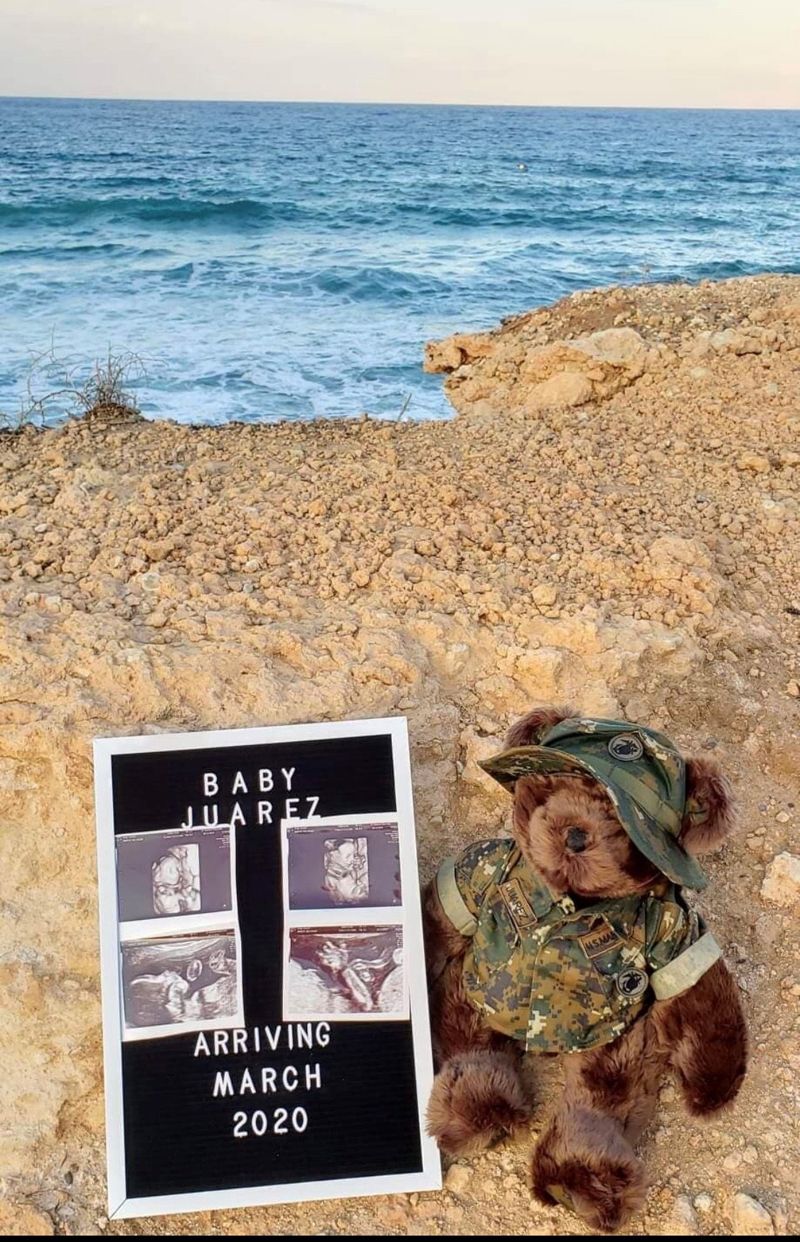 Announcing the pregnancy (PA Real Life/Collect)
"It was such a special moment. I looked at him in my arms and thought this crazy world is happening right now, but he's the best thing that's happened. It was so emotional," she continued.
"I'm so in love with my baby, he is the light in this awful situation. I have created a memory box for him and I've kept the letter we got from 10 Downing Street about Covid-19 to show him when he's older. I don't think he'll believe me otherwise!"
She is also hoping her story can help other expectant mothers who are afraid during this time.
"Now I want other new and expectant moms to be to know that, although it is a worrying time, you have got this and you will be okay," she added.
Now, Juarez is waiting for his chance to take over some of the childcare when he finally returns and give King a well-earned rest.
"Luckily, Emma Facetimed me at the best time," he said.
"I got to witness my little boy's head crowning and, within a few minutes, with a couple more pushes he was out. Seeing him go straight into his mama's arms brought me so much joy," he continued.
"Words can't express how proud I am of Lauren. I can't imagine how hard it was for her to do this on her own and I'm forever grateful for her blessing me with a beautiful family."
"I have no idea when I will be able to see Michael properly for the first time, with all the shutdowns, but I'm so anxious to meet him and give Lauren a much needed rest!"
The Positive Birth Company's founder Siobhan Miller, says her Freya app can be used as a 'virtual birthing partner,' by storing women's birth preferences in case their partner cannot be there.
"There is a lot more anxiety for pregnant woman. Guidelines are changing all the time," Miller said.
"Some women who are signed up for home births are finding they have been suspended, birth centers have been shut down, appointments cancelled and there are worries over birth partners."
Pregnant women are particularly vulnerable during this time.
"Pregnant women are also placed in the vulnerable category which has created massive anxiety, so we are dealing with a lot more people coming to us worrying about everything," she said.
"But there are tools and techniques you can use to help ease anxiety and ensure you still have a positive experience."
For more information visit thepositivebirthcompany.co.uk