There are certain things we all felt should have always been illegal, because they're so gross.
---
But people were allowed to be the little nasties they wanted to be.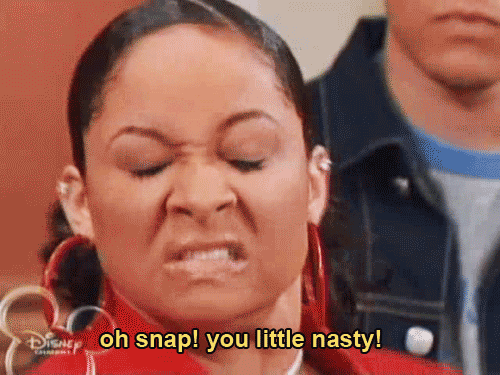 Giphy
But at last, we may see some justice in the world.
D'Adrien Anderson, a 24-year-old from outside of Houston, TX, will receive a 6-month and 30 day jail sentence. He will also be required to pay a $1,000 fine and $1,565 in restitution to Blue Bell Creameries.
In August, Anderson licked and put back a Blue Bell ice cream which caused the creamery to have to discard the entire freezer of ice cream.
Reportedly, this was part of a Twitter challenge called the "#icecreamchallenge."

NOT AGAIN!! Another person accused of licking ice cream THIS TIME IN LOUISIANA, has been arrested. According to the… https://t.co/QxqAwMOrXZ

— Scottie Hunter WAFB (@Scottie Hunter WAFB)1562540887.0
Shopping for ice cream without worries because I live in europe and we have strict hygiene laws 😌 #icecreamchallenge https://t.co/8Zr9XXn6Si

— Salma (@Salma)1563225040.0
What American supermarkets need most at this difficult time #icecreamchallenge https://t.co/2z2QBUaT27

— :) (@:))1563226323.0
Another reason Canada 🇨🇦 better! Sealed ice cream #icecreamchallenge https://t.co/bnzWuoijok

— ✭ КIЯК ✭ (@✭ КIЯК ✭)1562547949.0
bro i can't believe i did that🤪☠️😂 #icecreamchallenge https://t.co/uMLzZTwZQ4

— zoie🤍 (@zoie🤍)1563251962.0
People are so grossed out by this challenge that ice cream security has become a real thing.
1960s: " i bet there'll be flying cars and time machines in the future" 2019: #Trending #icecreamchallenge… https://t.co/ClfKDPDl5C

— shoto-㊙️ (@shoto-㊙️)1562776046.0
I just opened a tub of ice cream ... Can Americans explain this #icecreamchallenge issue to a Dutch person? Ours… https://t.co/erkOiSiIye

— Golem WoT (@Golem WoT)1562784222.0
Important msg for y'all #icecreamchallenge @romasuxx https://t.co/fGjM7VxvTh

— Hira (@Hira)1563215386.0
Now see what chall done did! #IceCreamChallenge https://t.co/yQRRpaVPKB

— Laticia ™ (@Laticia ™)1562607991.0
STOP 👏 LICKING 👏 MARKET 👏 ICE CREAM 👏 YOU 👏 DIDN'T 👏 BUY!!! #icecreamlicker #icecreamchallenge #bluebell https://t.co/E0H7hPvz31

— supykun・수피꾼 (@supykun・수피꾼)1562725757.0
Other people who have been caught executing the #icecreamchallenge have faced legal issues.
A woman from Lufkin, Texas was threatened with a 20-year jail sentence after being caught on camera and sharing her crime in a Walmart via Twitter.
What kinda psychopathic behavior is this?! https://t.co/T8AIdGpmuS

— Hummingbird (@Hummingbird)1561813341.0
@BlindDensetsu This would be a good time for white folks to call the cops.

— FyffeStar🇯🇲✨ (@FyffeStar🇯🇲✨)1561829805.0
@BlindDensetsu I hope she gets arrested for this.

— jellyfish (@jellyfish)1561820512.0
@BlindDensetsu Please find her and arrest her at least 5 years

— Isaih (@Isaih)1561831599.0
Maybe these folks could try Tide pods instead.
At least they'd only be a danger to themselves.
@BlindDensetsu Just why? https://t.co/xlo7BBTehY

— JJ (@JJ)1561820848.0