If you ever find yourself stressed out inside a fighter jet, thousands of feet in the air, it's important never to grasp at random levers in your fear.
Otherwise you might find yourself just as stressed, OUTSIDE the fighter jet, thousands of feet in the air.
---
A 64-year-old unnamed Frenchman learned this lesson the hard way during a surprise work outing. On the morning of the incident, he was surprised with a company trip to a nearby air force base.
Once there, the 64-year-old's fellow employees let him know they had arranged for him to take a ride in a Dassault Rafale B fighter jet.
Police later determined the man had never expressed any particular interest in riding in a fighter jet, and became visibly distraught when he found out he was about to do so.

Thanks to a special watch the man was wearing, police also determined that the 64-year-old's "heart was in full tachycardia," with a heart rate of 136 to 142, long before he entered the plane.

Demonstrating profound bravery, the man entered the jet despite his fear and rode along as the pilot performed a "three-plane training exercise."

In a moment of fear, as the plane began to gain altitude, the 64-year-old passenger wildly grasped at something to hold onto and accidentally grabbed at the ejector mechanism.

The mechanism was fully operational.
Moments later, the 64-year-old was plummeting towards the ground.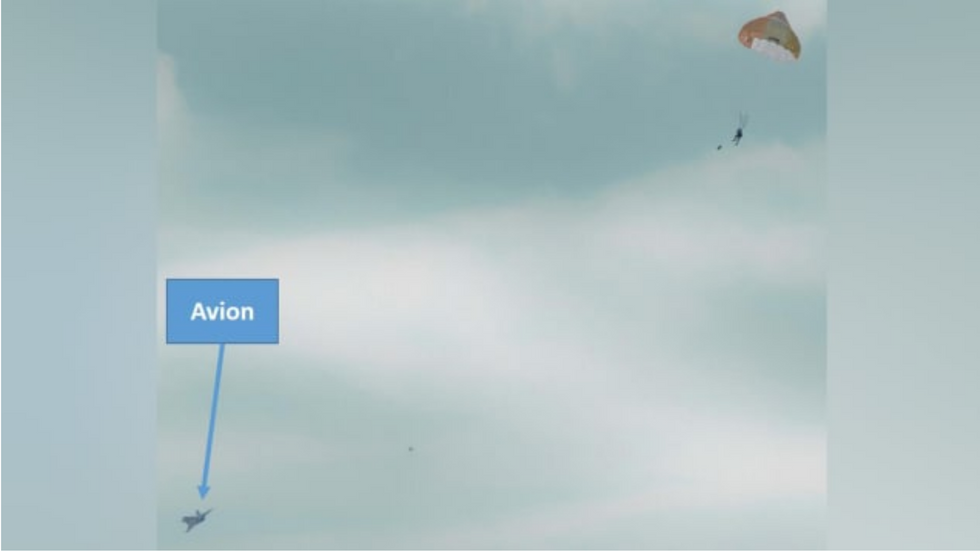 Bureau of Enquiry and Analysis for Civil Aviation Safety
Fortunately, the man's parachute deployed and he landed without major injury in a nearby field despite the fact that his helmet was not properly secured and flew off during his fall.

The pilot managed to remain in the aircraft and land it without incident, incurring only minor facial injuries after his temporary co-pilot was ejected.

The man is now recovering in a hospital, but Twitter will be talking about the incident for years to come.

This story should be giving a lot of people ideas for what NOT to give their loved ones on their birthdays this year.
Let's keep our feet on the ground unless you really do want to take a ride in a jet.