Last week, Lizzo managed to break the internet when she announced to millions of people she drunkenly sent a direct message to Captain America star Chris Evans.
In that announcement, which reached millions of viewers in the form of a viral TikTok post, the singer reminded us all that even superstar celebrities have sloppy nights that include the all-too common—and anxiety provoking—mixture of alcohol, a smartphone and people we have a crush on.
Lizzo's TikTok video, captioned with the wise advice to, "Don't drink and DM, kids...." showed not only did she slide into Captain America's DMs with a purely emoji-based message, but she did so when she and Evans don't even follow each other.
Thus, the whole thing was a major faux pas, and one Lizzo wasn't afraid to own in her comments during the video:
"The reason I'm upset about this one is because I know I'm not gonna be able to marry him. And honestly, it hurts me to the core.
"Because damn papi he a rare breed, no comparing."
When Lizzo posted the news, people lost it.


Viktoria/TikTok

Slim Pyt/TikTok

Cierra/TikTok

indigo/TikTok

Veronica Castro/TikTok
But, as if that bombshell wasn't enough, Lizzo posted a follow up TikTok with some news.

Chris Evans followed Lizzo and responded to her message.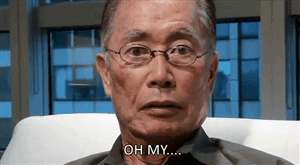 Giphy
His candor was lovely:

"No shame in a drunk DM...god knows I've done worse on this app lol"
Equally lovely was, of course, Lizzo's unrestrained joy.
Evans' response was not at all exaggeration.
In September, he captured the attention—and eyeballs—of people across the internet when he accidentally shared an Instagram story that included a scroll through the photos on his phone.
And yes, there was a d*ck pic in there.
People struggled not to get ahead of themselves upon seeing Evans' response.

jess keogh/TikTok

Jason V/TikTok

Caan S'er/TikTok
So next time you do something embarrassing on your phone, just take solace in knowing you've merely joined the ranks of Lizzo, Chris Evans, and countless others.