Actress Laverne Cox doesn't have time for Donald Trump's shenanigans, and she is letting the world know how she feels.
---
One of the stars of Netflix's hit showOrange Is The New Black, took to Twitter to defend the rights of transgender people who are coming under fire in the Trump administration. The New York Timesis reporting that transgender people are being pushed out of the movement for equality by rewriting what sexual identification means.
The Times says:
"Now the Department of Health and Human Services is spearheading an effort to establish a legal definition of sex under Title IX, the federal civil rights law that bans gender discrimination in education programs that receive government financial assistance, according to a memo obtained by The New York Times.
The department argued in its memo that key government agencies needed to adopt an explicit and uniform definition of gender as determined 'on a biological basis that is clear, grounded in science, objective and administrable.' The agency's proposed definition would define sex as either male or female, unchangeable, and determined by the genitals that a person is born with, according to a draft reviewed by The Times. Any dispute about one's sex would have to be clarified using genetic testing."
After seeing the report, Cox took to her Twitter account to let her voice be heard.
We must not give up the fight. But in the face of this affront on my existence and the existence of my community I… https://t.co/AQjYuHsJEh

— Laverne Cox (@Laverne Cox) 1540137679.0
In indigenous cultures all over the world gender existed beyond the binary and folks who we would call trans today… https://t.co/pfrNDzdfqe

— Laverne Cox (@Laverne Cox) 1540137968.0
Example of the brutality of colonialism. This latest administration effort to legislate trans folks out of existenc… https://t.co/3oxErcm3SD

— Laverne Cox (@Laverne Cox) 1540138146.0
us in this fight, to let our government know this is not who we are. We need the citizens of Massachusetts to… https://t.co/XNT3jsFtb2

— Laverne Cox (@Laverne Cox) 1540138408.0
This heartbreaking response is why it is so important to keep fighting for equality.
@Lavernecox When will people realize LGBT+ people are humans too? We have feelings, and deserve equal treatment. We… https://t.co/pxIlhSqfmh

— ⚰Marcy⚰ (@⚰Marcy⚰) 1540137914.0
Many folks pledged to stand and fight.
@Lavernecox I stand with you and will fight next to you. ❤️

— Dana Goldberg (@Dana Goldberg) 1540179150.0
@Lavernecox I'm cis gender. And European. So I can't vote on Nov 6th. But I stand with you. #TransIsBeatiful #TransRightsAreHumanRights

— Julie S | #Sense8Revolution (@Julie S | #Sense8Revolution) 1540138667.0
@Lavernecox @WiseWmnTogether It is the ultimate human right violation and we must not allow this HHS travesty to de… https://t.co/tSD7a8o6Pd

— Lee Hiller 😷 Masked & 💉Vaxxed 🌿 Vegan 💛🐝KHive (@Lee Hiller 😷 Masked & 💉Vaxxed 🌿 Vegan 💛🐝KHive) 1540170224.0
@Lavernecox This will not stand. We will not let it.

— Emotispawn (@Emotispawn) 1540159179.0
@Lavernecox Never back down! TY for this! All rise! #translove

— Raquel (@Raquel) 1540161744.0
@Lavernecox @ava Evil shall not prevail. . I stand with you

— CesceliNicole (@CesceliNicole) 1540177600.0
@Lavernecox @ava We're with you. ✊🏾✊🏿✊🏽✊🏻✊🏼

— Voting Rights Now (@Voting Rights Now) 1540171795.0
@Lavernecox We won't give up, we will continue to fight for the rights of our friends and family and strangers alik… https://t.co/Ky29Bqk6Sk

— Mrs.P she/her (@Mrs.P she/her) 1540138386.0
This fight is very real and scary for many.
And then this beautiful event came out of all the darkness. An announcement of support.
If you're a trans person who is running a crowdfund for any reason, reply to this thread and I will RT it. Cis peo… https://t.co/mgAQDIfvv6

— Katelyn Burns (@Katelyn Burns) 1540129758.0
This message put it all in perspective.
A follower with a locked account asked me to tweet her link, but she doesn't think anyone will donate. Prove her wr… https://t.co/H8sgwDyXjG

— Katelyn Burns (@Katelyn Burns) 1540131782.0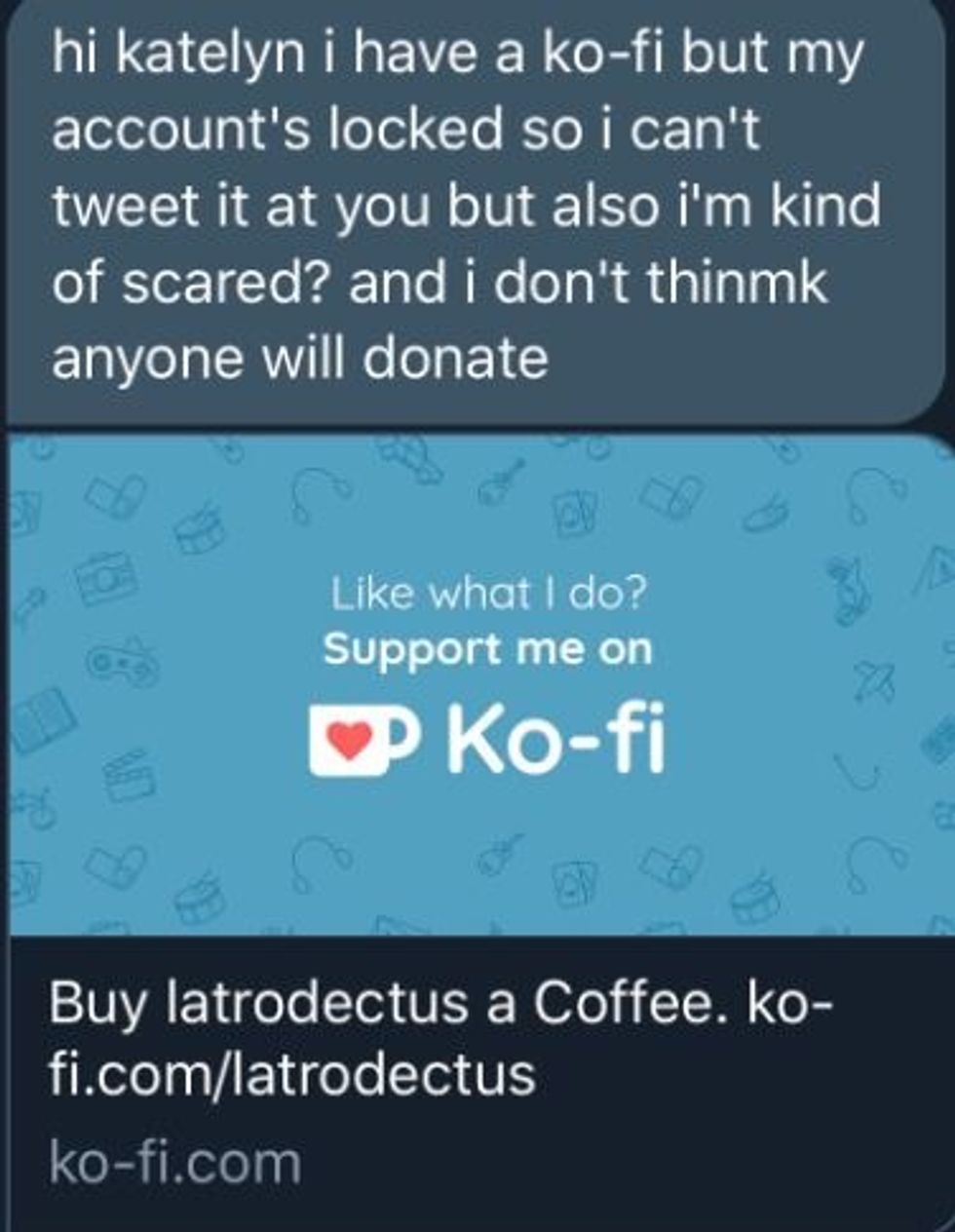 Twitter
Look what happened!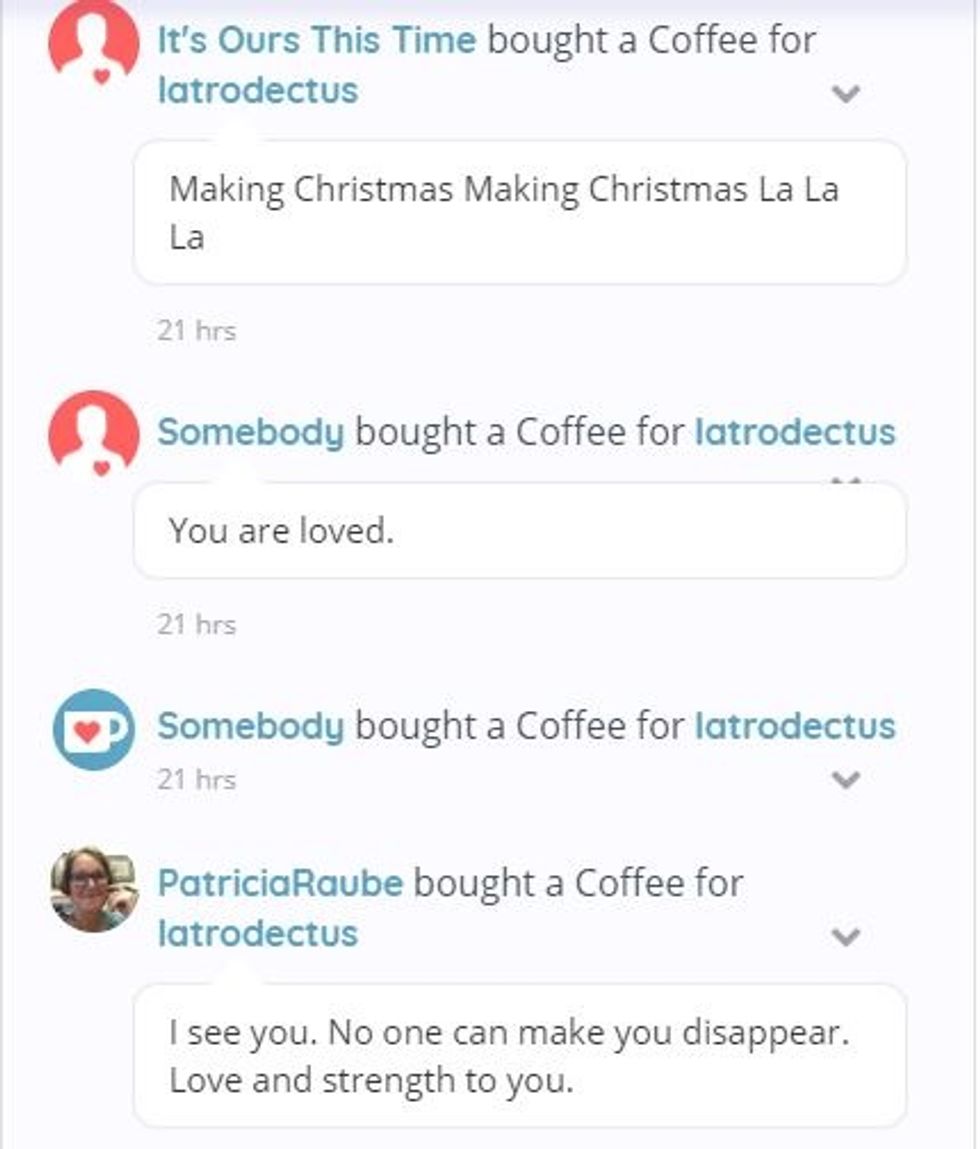 Ko-Fi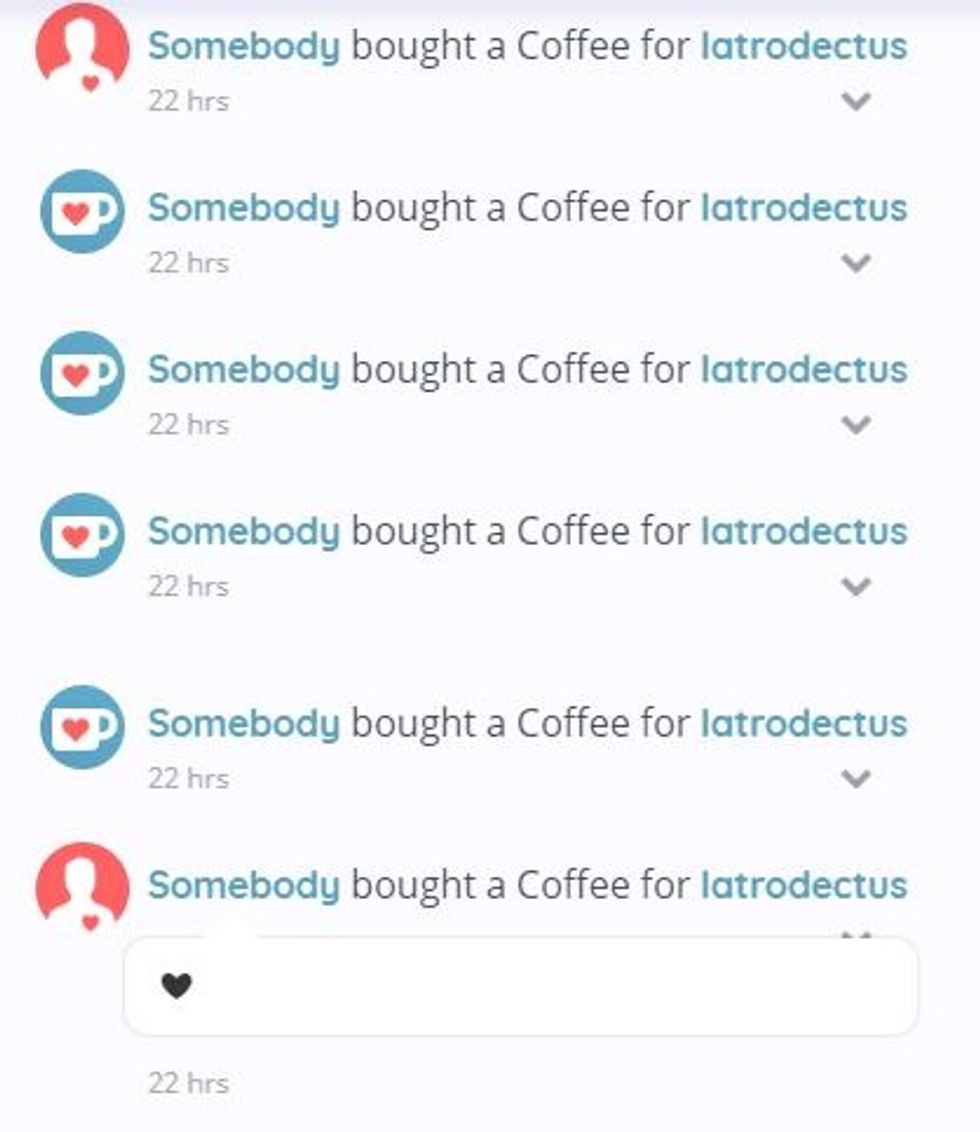 Ko-Fi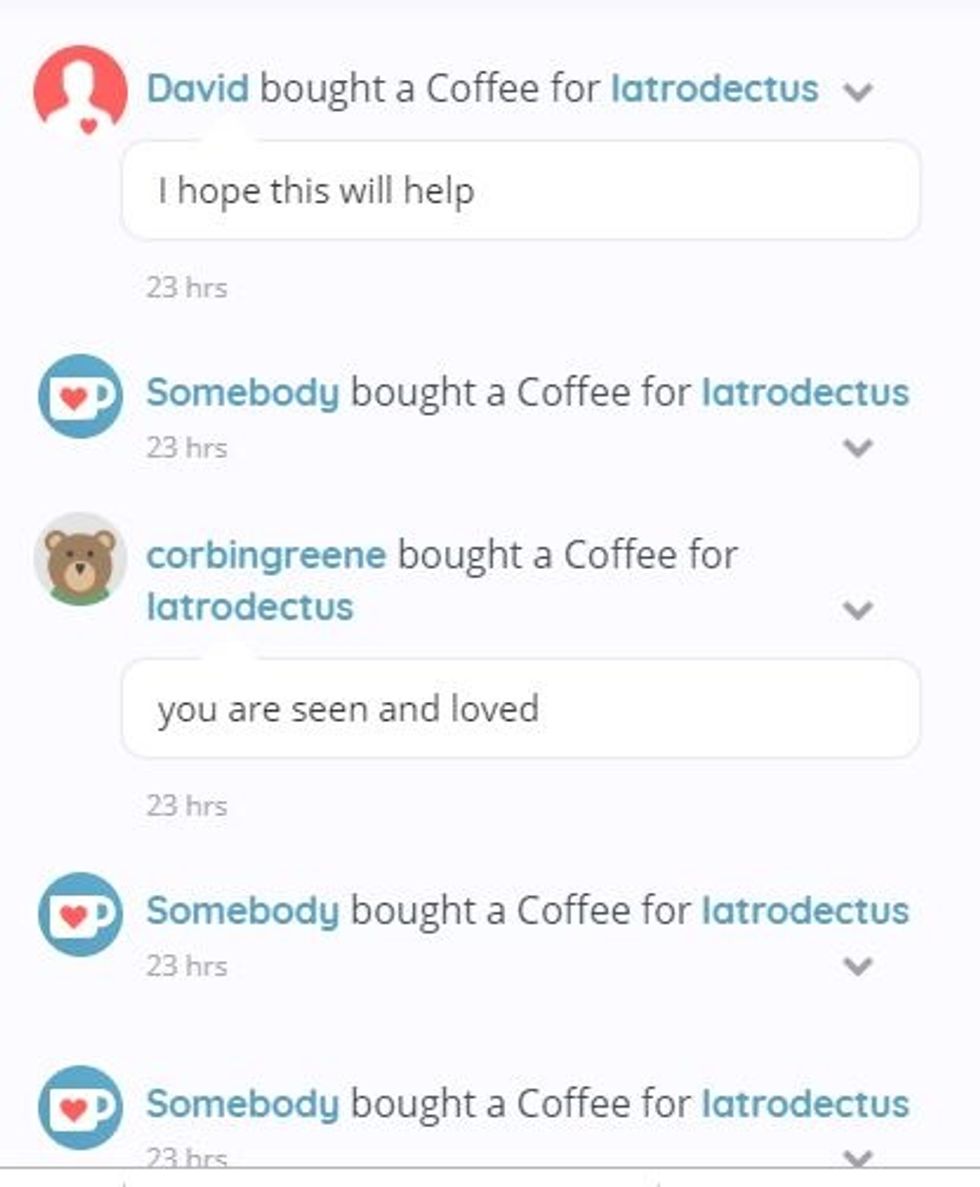 Ko-Fi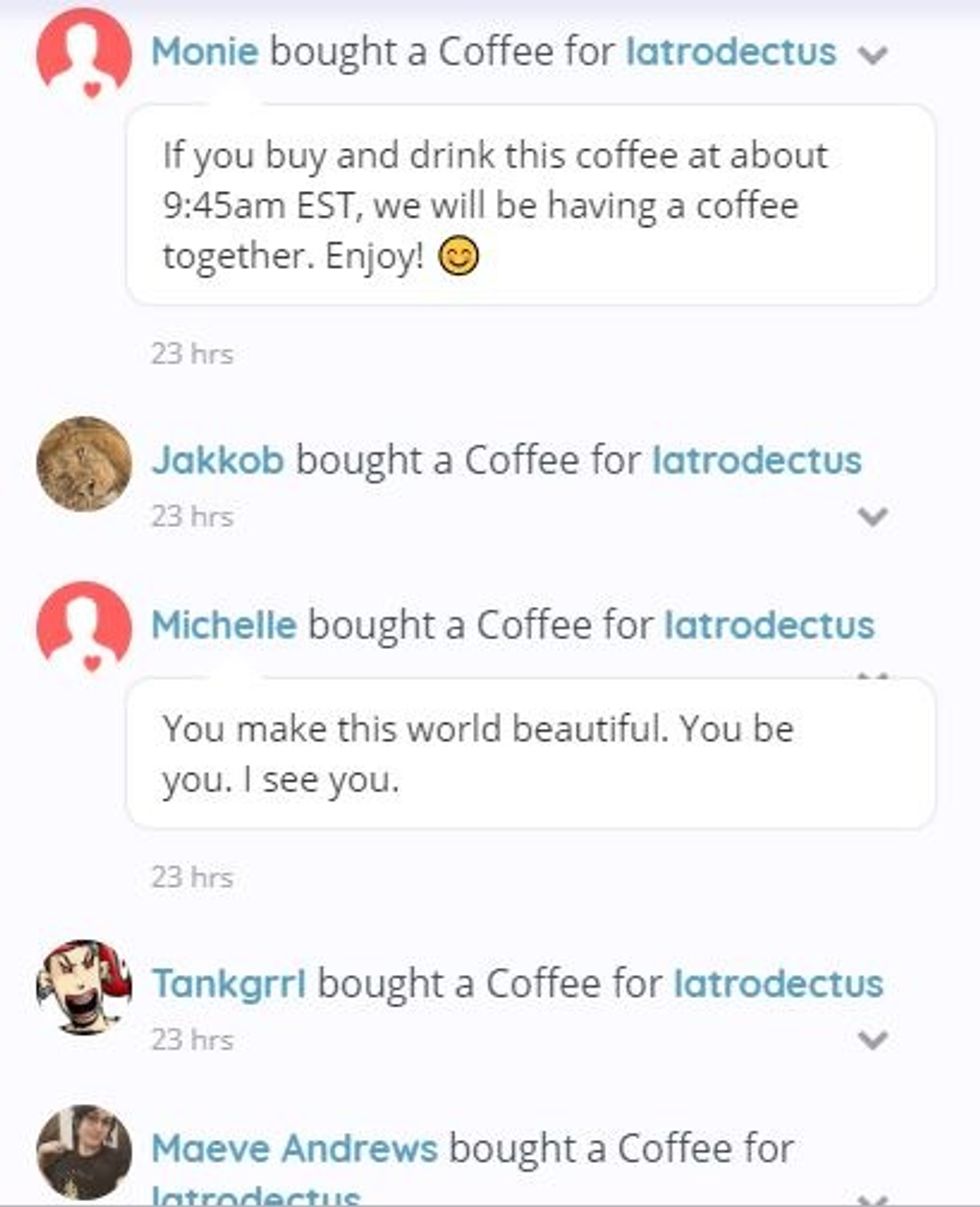 Ko-Fi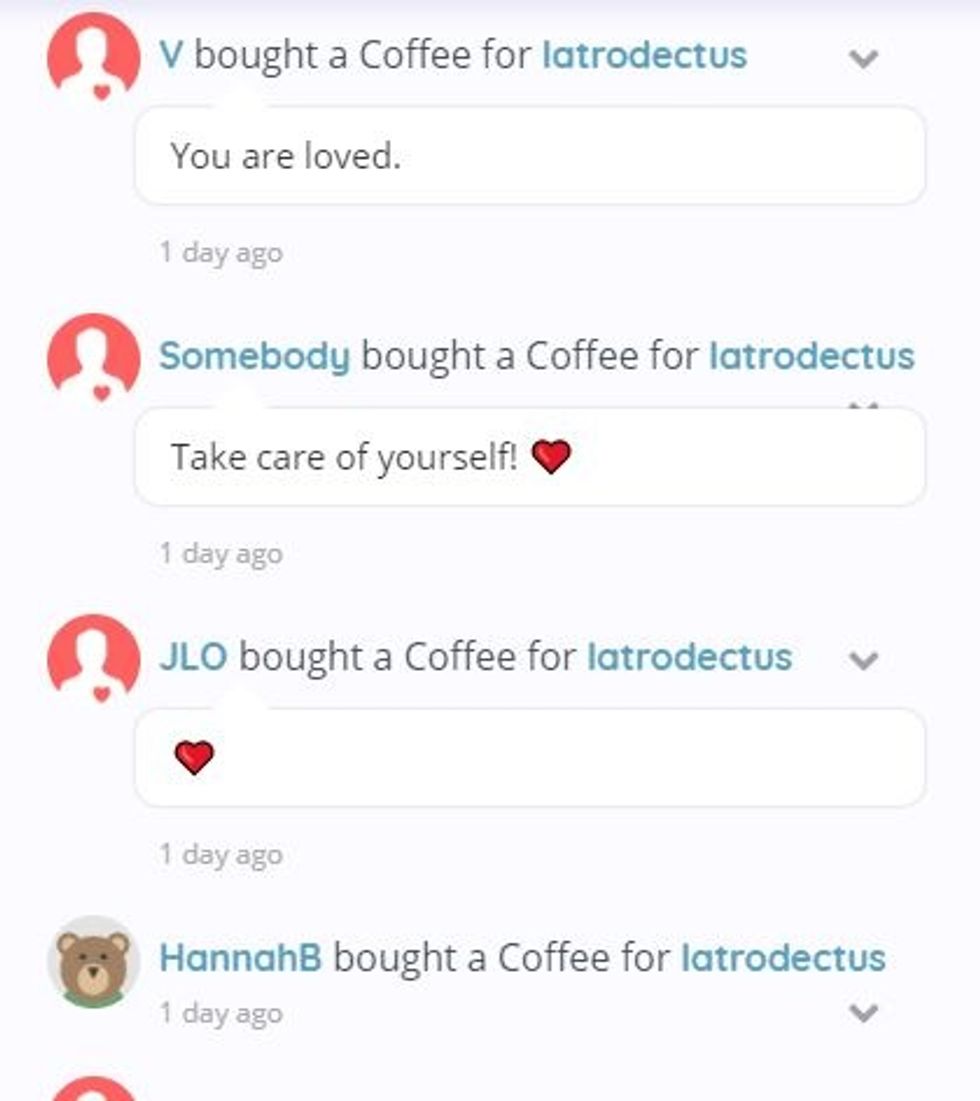 Ko-Fi
Love always wins!