This week in cute news: things got too adorable to handle when Kelly Clarkson's children asked Jason Momoa if he knows Princess Ariel.
The moment happened last week on Clarkson's talk show, The Kelly Clarkson Show.
---
The singer couldn't resist asking the Aquamanactor if her children could meet him when he stopped by as a guest on her show. He happily obliged.
What followed was the cutest meet and greet ever on daytime television.
Clarkson's children, daughter River and son Remy, are huge fans of Mamoa's Aquaman movie.
Kelly's Kids Ask Jason Momoa Their Burning 'Aquaman' Questionsyoutu.be
The children were starstruck in the presence of their hero.
Sitting between Clarkson and Momoa, Remy was speechless and River needed a reminder from mom on what she had wanted to ask the actor.
After Clarkson whispered in her ear, the little girl asked:

"Do you know the Little Mermaid?"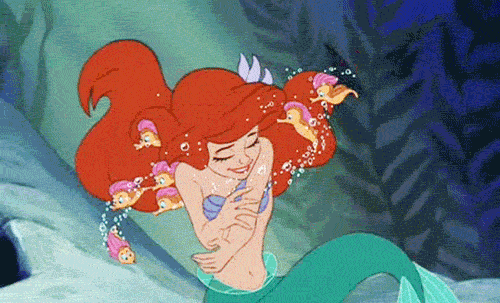 Giphy
The audience erupted into "awwws", and Momoa didn't miss a beat in his response.

"Ariel, yes. Ariel, she's very sweet. She's very nice."
He also had something to say to Remy, to the amusement of Clarkson.
"She's also a red head, so I'm going to teach you about red heads some day. They're very passionate people."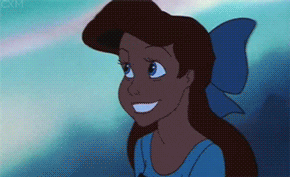 Giphy
Oh dear...
The kids also made a card for the breakout star from Game of Thrones and Stargate: Atlantis.
They also wanted to know where the DC superhero Aquaman went to the bathroom.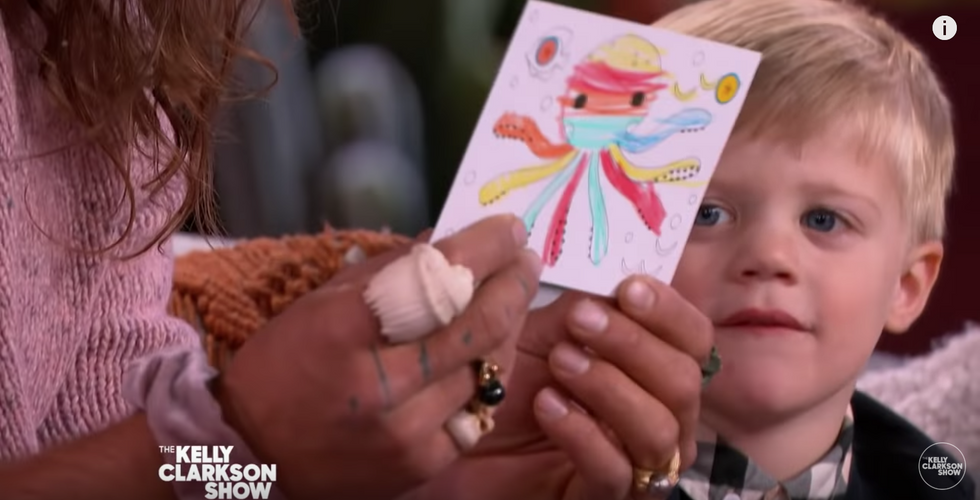 The Kelly Clarkson Show/YouTube
According to Momoa, Aquaman goes to the bathroom everywhere.
Remy encouraged her little brother to speak up to his hero.
Hey, you like Aquaman! You watch it! Come on.
He was still too shy to ask questions of his own, but he did give Momoa a big high five.
The kids' impromptu interview with Momoa made a splash online.

Youtube user Tina Mislivets commented:
"That may be the cutest dang 'interview' I have ever seen!!!"
Sasha Moore wrote:
"Omg my heart aches from the cuteness overload from these kids."
100jeichelle loved how River tried to help Remy:
"When her daughter tried to encourage her lil brother I had the biggest smile"
Cocoa Puffs loved watching Momoa interact with the kids:
"Awe he's so cute with the kids! Her kids are so cute"
People couldn't help but fall even more in love with Momoa.
Miss Tracey was one of many who already adored the actor:
"When you think you can't adore Jason Momoa more than you already do!"
A lot of people, like Lucinda Bean, loved his outfit choice:
"Ok, Jason Momoa is THE ONLY man on the planet that can wear a pink sweater and lavender pants AND STILL LOOK SEXY"
Julia Nicole somehow just discovered how amazing he is.
"Ok have I just been sleeping on Jason Momoa? Like I've never noticed how sexy he is."
The Kelly Clarkson show premiered in September this year, and has already been renewed for a second season.
CHEERS to Season 2! 🤗 🎉 #KellyClarksonShow https://t.co/c9rVg9t4wK

— The Kelly Clarkson Show (@The Kelly Clarkson Show) 1574120093.0
In a video posted on the show's Twitter account, she thanked viewers and fans for watching, and thanked her guests for coming onto the show.
"Thank ya'll so much for being a part of the show. The show would be nothing without all the guests, and the audience there, and the vibe. We really appreciate it."
Clarkson, a successful-singer songwriter, rose to fame after winning on the first season of American Idol. Her talk show has become a hit, with a 91% approval rating amongst Google users. The show's premiere episode was the highest rated new show debut in over seven years.

Fans are looking forward to new episodes.
@KellyClarksonTV Congrats my queen https://t.co/BoYagCaAxl

— 🌻ℋℯ𝓁ℯ𝓃𝒶🌻 (@🌻ℋℯ𝓁ℯ𝓃𝒶🌻) 1574120262.0
@KellyClarksonTV Congrats KC!!! So happy for you!!! We love coming home after work/school everyday and watching your show!!!❤️

— Anna (@Anna) 1574120696.0
@billboard @KellyClarksonTV @kellyclarkson Her show is actually very good. She is so animated and hilarious. 😊 A… https://t.co/CTZgaI95Te

— hesouttamylife (@hesouttamylife) 1574120938.0
You can watch The Kelly Clarkson Show weekdays on NBC.