Queer teen activist Olivia Julianna raised money for Texas Democrats after a Texas state Republican Representative body shamed her and mocked her for her "unnatural" sexual orientation.
Self described "Christian conservative liberty loving Texan" state Republican Representative Jonathan Stickland attacked Julianna publicly on Twitter.
Julianna called out Texas Republican Party Chairman Matt Rinaldi's hypocrisy for labeling Texas Democratic candidate Mike Collier a "far-left extremist" for supporting reproductive freedom.
The 19-year-old activist—who previously schooled Florida Republican Representative Matt Gaetz—pointed out Rinaldi wanted to abolish the FBI for finding top secret and classified documents at Mar-a-Lago.
You can see the tweet that triggered Stickland here:
Stickland quote tweeted Julianna with the very "Christian" "liberty loving" caption:
"This young woman should not be advocating for anyone to be judged by their looks."

Feeling the dig at Julianna's appearance wasn't enough, he added:
"Also she's crazy leftist."
Julianna responded shortly afterward.
Commenting directly on Stickland's post—instead of quote tweeting trying to escape notice, she wrote:
"Jonathan you can try to attack me for being a 'crazy leftist' but it doesn't take a crazy leftist to see this tweet for what it is—a pathetic attempt for you to keep relevance and distract from your disastrously laughable political career."
"Also fix your dye job…"
Julianna included a photo Stickland posted on his Twitter of very blond tips on dark roots.
Stickland insisted his hair is "all natural"
In another quote tweet to play to his followers instead of a direct reply, Stickland wrote:
"I don't dye my hair. It is all natural."
"Unlike your sexual orientation."
His homophobia not being enough of a dog whistle, Stickland went for more body-shaming and added White nationalist rhetoric, too.
"Leave Texas if you hate it so much."
"I'll pay for your two seats."
Stickland is White, while Julianna is Latina.
Julianna—who raised more than $2 million for reproductive rights off Matt Gaetz's insults and personal attacks against her—decided to use her social media to do good again.
She called on her followers to help her raise $50,000 for Texas Democrats, setting the stage for a substantial cash infusion in some of the most closely-watched congressional races in the country ahead of next month's midterm elections.
Julianna tweeted:
"Well folks, seems like we've got another GOP politician who thinks body shaming me is a good idea (mixed with some homophobia)— but this time he's from Texas.
"Last time we raised $2.2 million for abortion funds. Can we raise $50K for Texas Democrats????"
"Thanks [GOP state Representative Jonathan Stickland]"
The Gen Z for Change activist made sure to tag Stickland in her post.
Stickland later apologized to Republican Representative Larry Strickland for being caught in the crossfire over his homophobic and fatphobic attacks online.
When Scott Braddock tagged Julianna referring to Stickland's insults as "clashes," she replied:
"I wouldn't consider it 'clashing' more of 'grown man embarrassing himself publicly for the 1000th time'."
Stickland chimed in to try to call out Julianna for "hair shaming" and ageism for repeatedly referring to him as a "grown man.
He commented at 6:58pm:
"Hair shaming is wrong."
"So is ageism."
Julianna responded at 6:59pm—perhaps explaining why he quote tweets to hide his hot takes:
"So is being a homophobic jacka** and yet you do it anyways."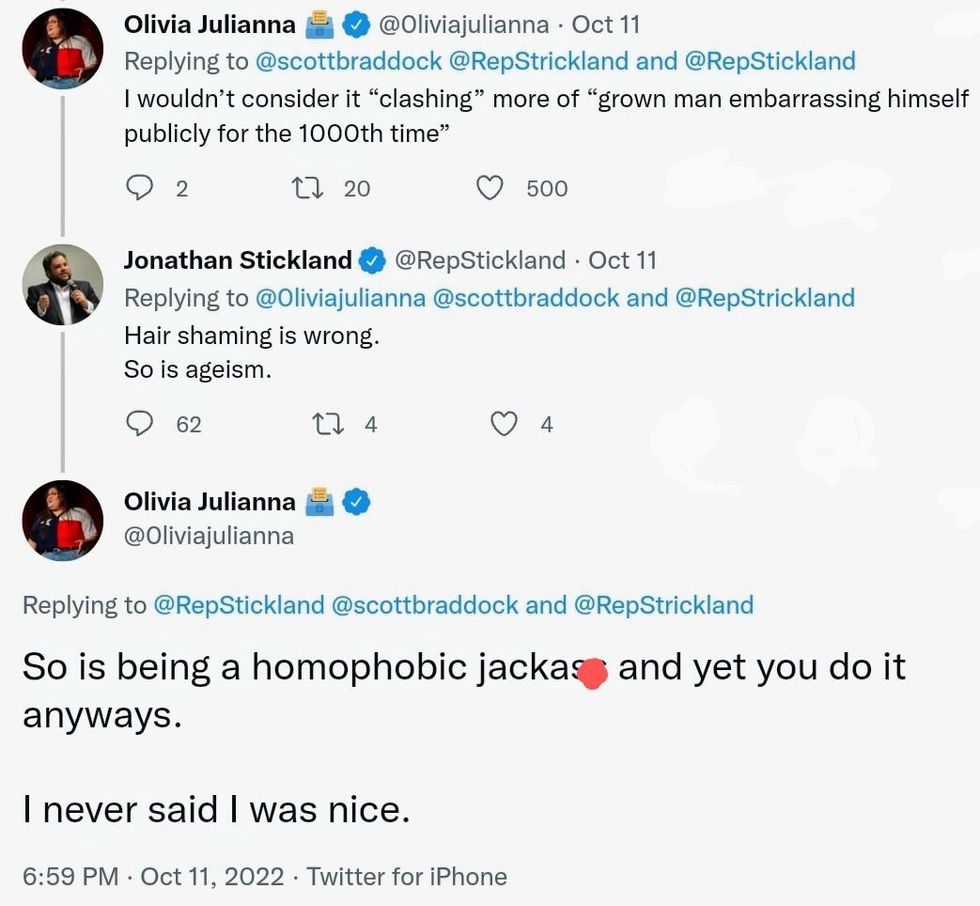 @0liviajulianna/Twitter
Reflecting on encounters with Republicans Gaetz, Stickland and others who made her body or sexuality their targets, Julianna tweeted:
"I'd like to know why there are so many grown men in elected offices or who have been in elected offices who think it's appropriate to comment on my body or sex life when I am quite literally a teenager."
"Y'all are weird as hell for that and I hope you get professional help. 🧠"
Then she added a "people in glass houses" tweet for Stickland.
Accompanied by a photo of the Republican state representative she wrote:
"Can't believe this is the man who body shamed me 💀💀💀"
"Aged like MILK 😭"
Julianna—one of the leading voices for the youth-led nonprofit Gen Z for Change—later announced she had raised more than $50,000 for Texas Democrats in response to "Another grown a** man" who "decided to body shame me online."
She said the money had gone to the campaigns of Democrats Beto O'Rourke, Mike Collier, and Rochelle Garza.
Julianna hoped to raise even more.
As of this writing, Julianna's fundraiser has raised more than $85,000, per ActBlue and Gen Z for Change.
Julianna made headlines nationwide over the summer after the aforementioned Matt Gaetz said women who "look like a thumb" shouldn't concern themselves with advocating for abortion rights.

She took him to task for saying that "odious... 5'2 350 pound women" rally for reproductive rights even though they're the ones who "nobody wants to impregnate." She noted she is 5'11"—and 6'4" in heels, which she wears "so the small men like you are reminded of your place."
Gaetz later responded by taking a screenshot of Julianna's Twitter profile picture and referring to her as "dander raised."
Gaetz's attack presented Julianna with an opportunity, and she announced she would be fundraising for Gen-Z for Change, which splits donations across abortion funds in all 50 states "where services are most needed."
In the end, she raised more than $2 million at a time when the nation was still reeling from the fresh news that the Supreme Court had overturned established precedent on reproductive rights.