Celebrated author J.K. Rowling just bestowed one of her devoted readers the gift of magic in the form of specially inscribed Harry Potter books and other special paraphernalia.
Rowling's generosity was in response to a heartfelt letter written by Kulsum, a 12-year-old student from the northern Indian state of Jammu and Kashmir, who was inspired by the author's life and achievements.
---
HELLO, WORLD. SO @jk_rowling SENT A HUGE GIFT BOX FOR KULSUM AND FRIENDS. HANDWRITTEN NOTE, INSCRIBED BOOK, AND THI… https://t.co/QHz2phTDer

— Sabbah Haji Baji (@Sabbah Haji Baji) 1529755864.0
The school's director, Sabbah Haji, shared the girl's essay on Twitter and tagged Rowling in the hopes the British author would be moved by the young girl's words.
Dear @jk_rowling. Kulsum, 12, a first generation English learner from the Himalayas would like to meet you someday.… https://t.co/iwXN8esP9Z

— Sabbah Haji Baji (@Sabbah Haji Baji) 1524759205.0
Not only did Rowling read the letter, she responded and asked for Kulsum's address so she could "send her something."
@imsabbah Please can you send me Kulsum's full name by DM? I'd love to send her something.

— J.K. Rowling (@J.K. Rowling) 1524764284.0
And the author delivered on her promise.
Here's Kulsum opening her gifts from JKR. #HajiPublicSchool https://t.co/FCGmAvBT76

— Sabbah Haji Baji (@Sabbah Haji Baji) 1529781097.0
The contents in the package included a personalized handwritten note along with other Potter merchandise for Kulsum. But Rowling sent other Potter goodies to Kulsum's classmates as well.

Twitter was charmed by Rowling's act of kindness.
@jk_rowling @imsabbah You are so good, @jk_rowling. This made my day, just reading this. I can only imagine how m… https://t.co/eonTLc3cMa

— Paula Bruno, PhD, LAc (@Paula Bruno, PhD, LAc) 1524764675.0
@imsabbah Great motivation for Kulsum and to all of your school and their special teacher. You yourself are such a great role model

— iModhu (@iModhu) 1529805402.0
@imsabbah God bless Kulsum and God bless those who have intent to change lives of others in a simple and subtle way

— Sarfaraz Bashir (@Sarfaraz Bashir) 1529797302.0
People were moved by the wonderful Twitter interaction and the surprise that made Kulsum's day.
@imsabbah That's really so great ....I just can feel that I am literally in tears ..... #xoxo This made me more stronger #Potterhead

— ɐʇıdɹɐ 💧 (@ɐʇıdɹɐ 💧) 1529948483.0
The benevolent scribe checked in and was relieved to hear her special delivery was a success. (Did she not enlist the services of the Owl Post?)
@enthahotness I'm so happy it got there! I was getting worried! Xxx

— J.K. Rowling (@J.K. Rowling) 1529757030.0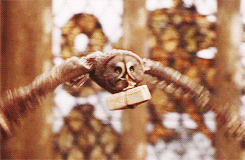 @jk_rowling @enthahotness You are such an amazing person. Not only inspirational and creative but classy. You have… https://t.co/MxUxBX1bC4

— R.J. Ghosh (@R.J. Ghosh) 1529937599.0
@jk_rowling @enthahotness THE WHEEL OF WRITING COMPLETES A FULL TURN . Splendid act of writing all the way- by MsRo… https://t.co/cZ3uR8Mk86

— Mamta Basu (@Mamta Basu) 1529949685.0
Such joy! That's Kulsum right up top, dark blue dupatta, with her equally gorgeous classmates. Picture by Miss… https://t.co/pDVXY7fhsA

— Sabbah Haji Baji (@Sabbah Haji Baji) 1524767664.0
@imsabbah @jk_rowling This is so gorgeous. It made me cry. The sincerity of the letter , the corrections and of cou… https://t.co/6gx4zhslpe

— savita sriram (@savita sriram) 1524790746.0
It's pretty well known that Rowling adores her fans and often makes their day by sending them special gifts.
Just recently, she responded to a single father who explained that reading Harry Potter together with his daughter brought them closer together.
@jk_rowling I'm a single parent, broke as can be, and reading the Harry Potter series together has become one of th… https://t.co/jYpmNON4CY

— Matt Burke (@Matt Burke) 1528394368.0
.@mattburkephoto The gifts you're giving your daughter are priceless and I'm truly honoured that Harry & co are pla… https://t.co/yQJBXRnXxi

— J.K. Rowling (@J.K. Rowling) 1528406287.0
Rowling proves that even muggles like herself are capable of great magic.

H/T - Twitter, IndianExpress