2019 has gone on forever.
So much has happened that it's hard to keep track of it all! Jimmy Kimmel, who's been joking about the news every night, knows this better than most and decided to highlight it during a year-end edition of his man-on-the-street segment "Lie Witness News."
---
In the segment, random people were approached on the sidewalk and asked to respond to made-up events from 2019. Many of them had some pretty fascinating insights!
Lie Witness News – 2019 Year End Edition youtu.be
In vivid detail, people remembered watching Donald Trump make friendship bracelets with the Taliban.

They recalled when North and South Korea reunited.
And when Kellyanne Conway re-opened the government with a bucket of McRibs.
To mark the end of a strange decade, Jimmy Kimmel's team interviewed a bunch of people about 2019 events that it ha… https://t.co/uAWJIICWCz

— B. Rich (@B. Rich)1577801356.0
For your daily does of entertainment, besides Mia's awesome humor, Lie Witness News! 2019 Was So Weird Jimmy Kimme… https://t.co/nSNTTaKnEb

— Jayden j (@Jayden j)1577796108.0
It was definitely a shock when Kanye West stole Greta Thurnberg's microphone at a climate change protest.
But at least we all have these cherished memories to look back on.
Lie Witness News on Jimmy Kimmel...smh...'bout right. Everyone is an expert and has an opinion on stuff they don't even know about.

— Kasey Bardin (@Kasey Bardin)1577767808.0
@JimmyKimmelLive @JimmyKimmelLive This is an indictment on a culture that has normalized insanity, where blind fait… https://t.co/Xx7ivI4Pmi

— Amy Shapiro (@Amy Shapiro)1577797626.0
@JimmyKimmelLive Was that true or did you set it up? Just kidding 😘

— FigVilleUSA (@FigVilleUSA)1577765518.0
@JimmyKimmelLive https://t.co/ZshCyirBgS

— Triplett (@Triplett)1577745955.0
If anyone doubts how long 2019 has been, they can always take a glance back at some of the year's other "Lie Witness News" segments.
Lie Witness News - Canada is America's 51st State www.youtube.com
Lie Witness News – Trump Watergate Edition www.youtube.com
Lie Witness News – Trump Signing the Declaration of Independence www.youtube.com
These laughs got us through many hard times in the year.
@amvetsupport @YouTube Wow! There certainly are some clueless Trump supporters. I'm sure though that there must hav… https://t.co/2JxvO6FsQw

— David Langer (@David Langer)1577678038.0
@amvetsupport Scary that these people actually vote.

— Mel P (@Mel P)1577677966.0
@amvetsupport @YouTube Unbelievable!

— Kimberly 🌊 (@Kimberly 🌊)1577680548.0
Happy 2020, everyone, may it be a little less crazy than we're used to!

And just remember, in the 20th century they were the Roaring 20s.
Can we recapture that again?
This hat to get you started is available here.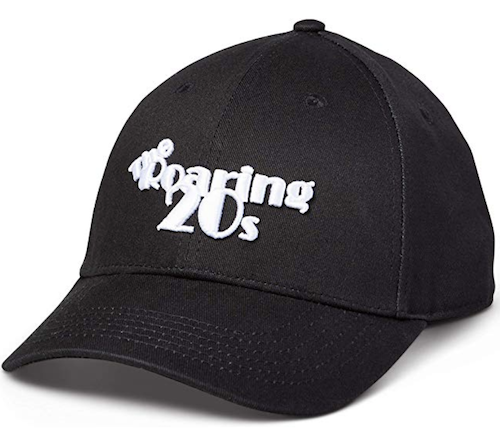 Amazon