Champaign, Illinois resident Ja'Naea Modest currently works at a nonprofit organization that helps people with mental and physical disabilities. But despite loving her job, the 33-year-old has ambitions to move, which requires making more money.
So during her lunch break, she discreetly attended a job fair to seek out other work opportunities. Unfortunately, her stealth plans didn't go so well when she was unknowingly caught on camera by the local news.
---
"So I didn't want my current job to know I was looking for another job," she posted on Facebook. "Why the damn news filmed me at the job fair. Smh"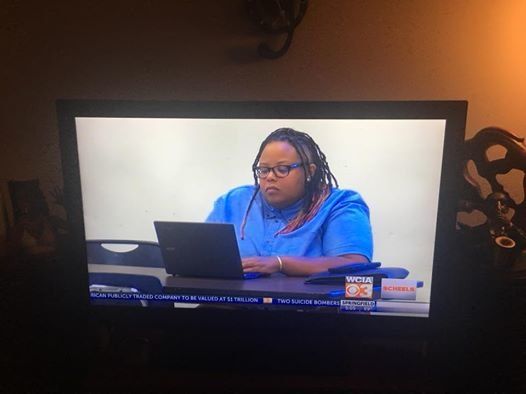 www.facebook.com
Modest, who is also a DJ, told Buzzfeed News she went to the job fair that took place at a middle school last Friday and filled out an application for a position.
I finished my shift that morning [and] during my break I hurried and went to change clothes, and went over to the job fair
I was focused on the application — I did not know [the local news] was there. I had no idea what was going on — I came back, changed my clothes, and did the rest of my shift.
Later that night, her friend's father recognized Modest on the local CBS news station WCIA 3. The friend's father paused the program and called her over for a confirmation. Sure enough, it was Modest, making her television debut for all to see what she was up to.
@kelseymarie_mc @sie_elzabeth @kaylacash1234 Hahah when b-roll ruins lives

— Anja (@Anja) 1533601886.0
She was initially incredulous upon hearing the news.

He jokes a lot ... and said, 'They have a nice picture of you on TV right now!' And I said, 'What are you talking about?' and he said, 'No, I'm dead serious,' and he pushes play, and there I am.
They did a whole story on the job fair and at some point they zoomed in on me doing the application
There was nowhere to hide at that point. So instead of being distressed, Modest owned up to her secret mission on Facebook.
@KariukiMachine @kalesalad Well if they didn't watch the news and find out her public post on Facebook probably tipped them off 😂

— MaryCatherine Finney (@MaryCatherine Finney) 1533597814.0
Her screen capture on Facebook has now gone viral with over 190 thousand likes, and people are in hysterics.
lmfaoooo Facebook been having me dying lately https://t.co/YY3mPAzUqz

— immigrant (@immigrant) 1533573285.0
@KariukiMachine @auxmondragon LMAOOOOOOOOO when I tell you this took my breath away... I'm dead I've suffocated

— Hopey (@Hopey) 1533589742.0
@KariukiMachine @GeneralMillz_ Now that's God saying "I'm tired of you complaining & playing around about leaving t… https://t.co/bvDSghzLaC

— Yung Geezer (@Yung Geezer) 1533580297.0
@KariukiMachine 🤣🤣🤣🤣 I am literally screaming rn

— Nayhoooooooooo (@Nayhoooooooooo) 1533582110.0
Timing is everything – as this Twitter user can attest to.
@KariukiMachine I once was waiting for an interview for another position in the firm (TV & film) when my direct emp… https://t.co/qw0BJnu5Q2

— SwankyPen (@SwankyPen) 1533609418.0
Someone helped a girl out.
@KariukiMachine @tontononski Say you're a volunteer counselor in your free time

— Handsumm (@Handsumm) 1533606510.0
Currently, Modest is keeping a low profile. Maybe her employers missed the broadcast? Not like that would matter now that her story is all over the Internet. She told Buzzfeed about being an invisible presence at work.
I'm not trying to see them — I'm avoiding everyone like the plague,
She admits that if a manager pulled her aside to confront her about looking for another job, she'd be cool with coming clean. But until that happens, she's "going with the flow."

In the meantime, Modest is embracing her social media presence to spread the word about a local shoe drive she and her friends are organizing.
She's hoping to collect donations that will go towards new school supplies as students in her area start heading back to school. Modest will be the DJ for the community day event in the park.