Randy Good—a candy store owner in Anderson, Indiana wrote a Facebook post that left many readers feeling uncomfortable and wondering if it was a job posting or a diatribe against women.

In his post many called out as a misogynistic rant, Good wrote:

"I've heard every excuse for not being able to perform here. Every excuse begins with 'can't' which translates to 'I don't want to."
"We've had the know it all, the complainer, whiner, lazy, manipulative, roamers, hiders, absent or late, liars, haters, clock watchers, willful, controller, passive aggressor, puker ( I'll explain in a moment) and worst of all combined, the splitters."
He went on to explain the characteristics of these so-called "splitters"—referring to his female employees.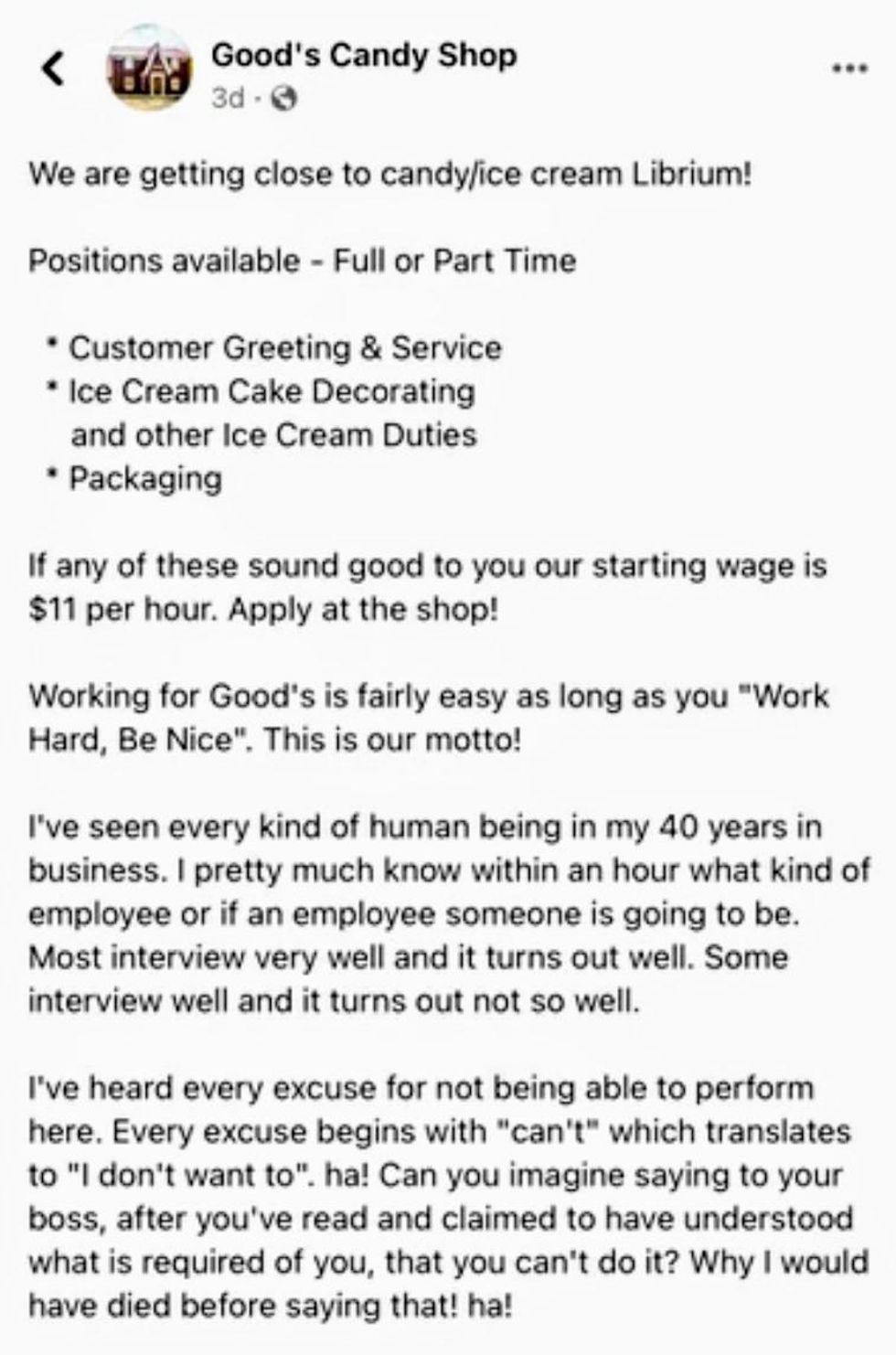 Good's Candy Shop/Facebook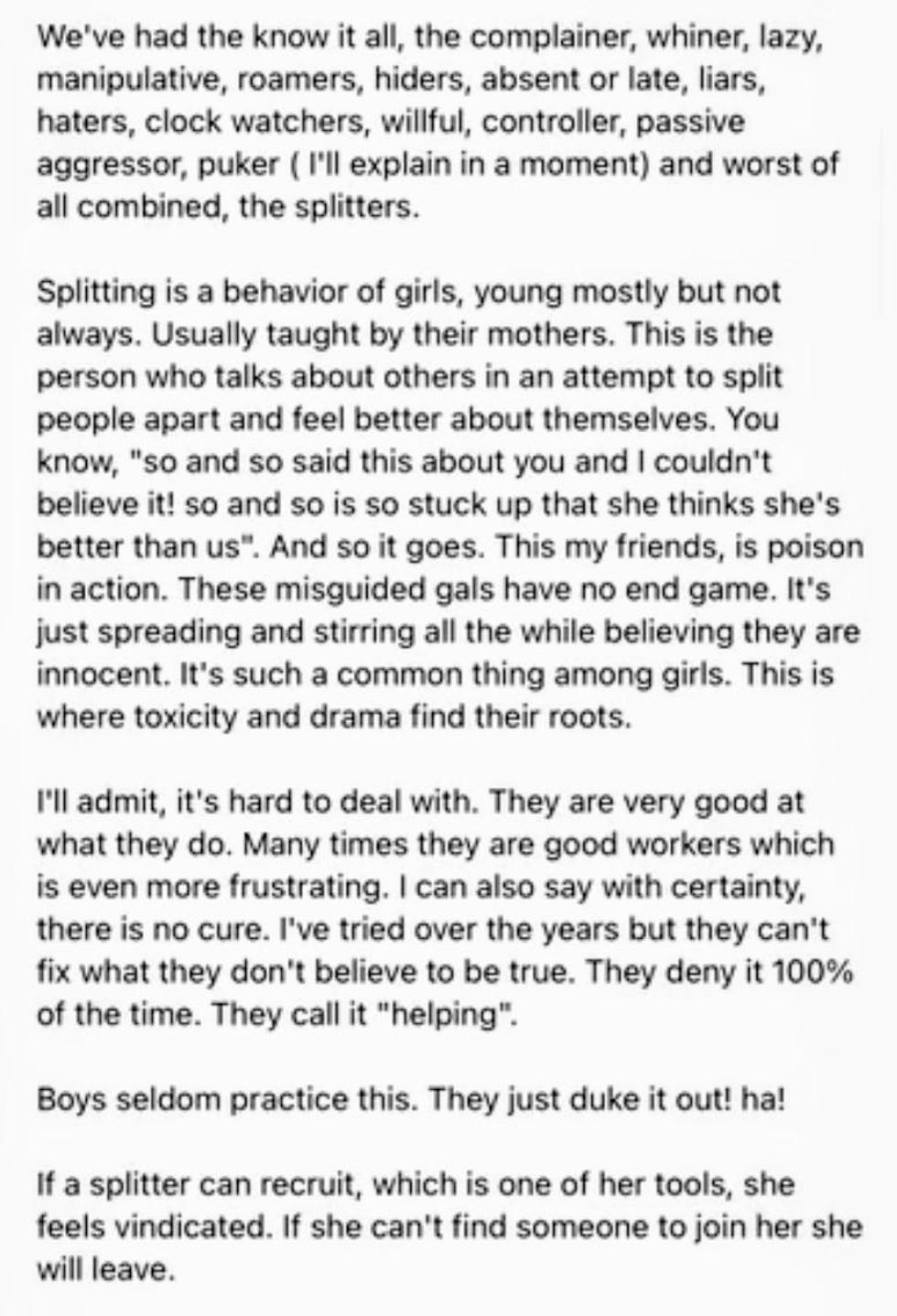 Good's Candy Shop/Facebook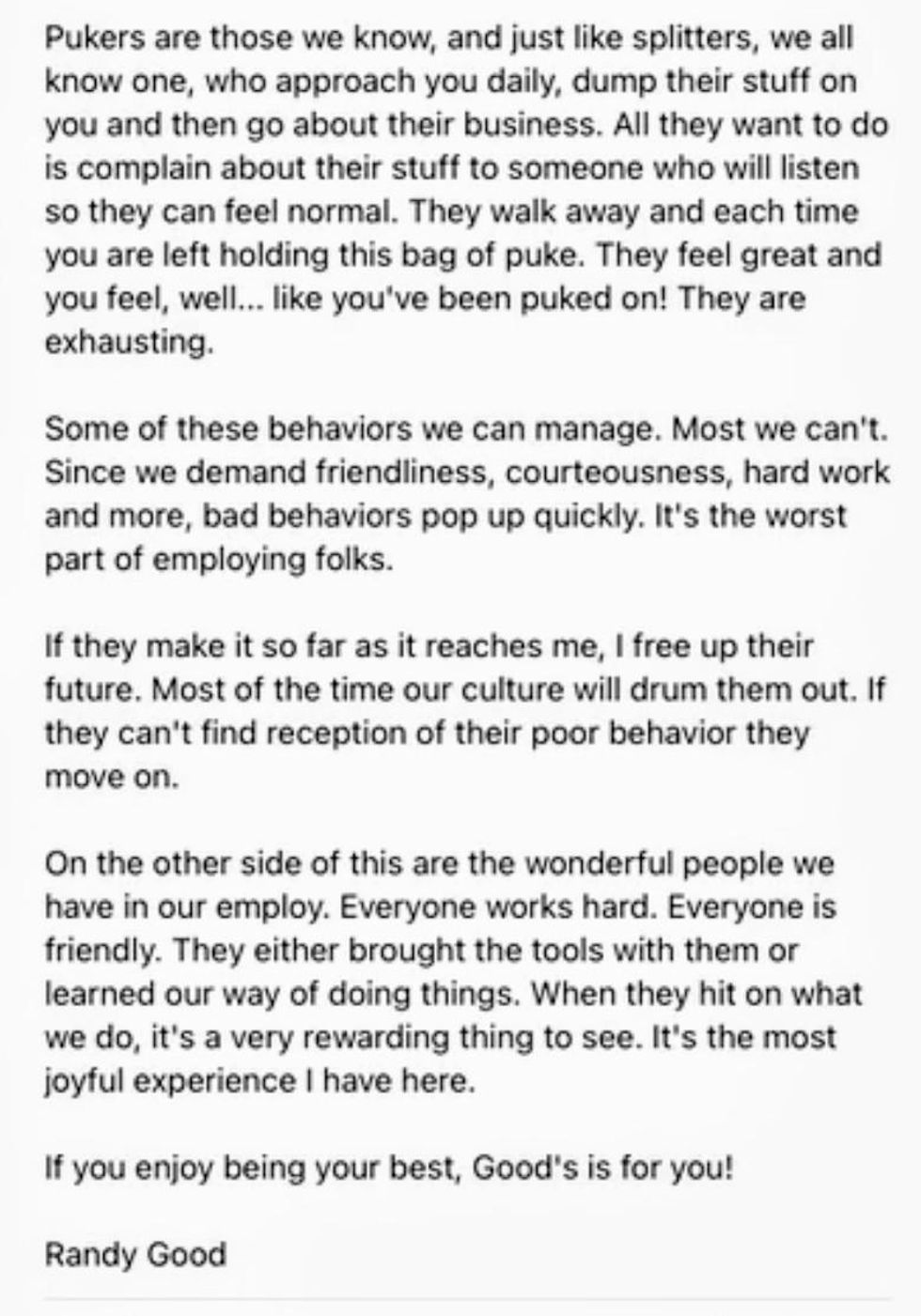 Good's Candy Shop/Facebook
Good said splitting was learned behavior gotten from their mothers.

"Splitting is a behavior of girls, young mostly but not always. Usually taught by their mothers. This is the person who talks about others in an attempt to split people apart and feel better about themselves."
"You know, 'so and so said this about you and I couldn't believe it! so and so is so stuck up that she thinks she's better than us.' And so it goes."
He posited the behavior was typical "among girls."

"This my friends, is poison in action. These misguided gals have no end game. It's just spreading and stirring all the while believing they are innocent. It's such a common thing among girls. This is where toxicity and drama find their roots."
During the pandemic, the Madison County Health Department said they received a lot of complaints about the candy shop regarding some employees and customers inside the store ignoring the state's mask mandate—which required patrons and workers to wear a face-covering indoors unless they are actively eating or drinking. An exception applied to those with a health disability preventing them from wearing one.


Good went on to say these "misguided girls" are "hard to deal with" and "there is no cure."

"I've tried over the years but they can't fix what they don't believe to be true. They deny it 100% of the time. They call it 'helping.'"
When it came to his complaints about his male employees, he claimed:
"Boys seldom practice this, they just duke it out. Ha!"
More than 20,000 people reacted to the post and 35,000 people left comments—with most of them being negative.
Good's Candy Shop/Facebook

Good's Candy Shop/Facebook

Good's Candy Shop/Facebook
Good's Candy Shop/Facebook

Good's Candy Shop/Facebook
Good's Candy Shop/Facebook
According to WISHTV, Fatima Rodriguez said Good's post was a dig at her work ethic.

"The ways that he was talking about how like, they were raised by their moms, and like how they're like this and that."
"Basically he's trying to hire people by talking bad about them, like, it doesn't even make sense and most of the time girls work there."
Jessie Davis, who claimed to be a licensed "mental health professional," weighed in with her thoughts about "splitting."

"Splitting is not done by girls or taught by mot .hers. Men do it too and it is a result of the type of dynamic and attachment style a child creates with caregivers - not gender specific."
"Please stick to your day job scooping ice cream instead of trying to do my job. It's none of your business what mental health issues your employees have but I can guarantee you add to them."
"I'm a doctor and over my dead body would I have ever worked for someone as unwell and manipulative as you. Stop using psycho babble you don't understand to justify your misogyny and poor management style."
Good later remarked the candy store's Facebook page had "quite the dust-up" and added he was "undeterred."

He wrote a follow-up, which read in part:
To those of you in town, county, state and even those I know, who've publicly attacked and slandered me........... I don't care. I can't afford to allow you into my thoughts, as I am in yours. Your statements are insignificant, just as you are to me and the shop. There's always the opportunity in my world where you can apologize though. I'm GOOD that way!
All I see from all the posters is their pain and unhappiness with themselves. They have to hurt to speak as they have. I find it fascinating behavior. One I wish to tell a story about one day. Tragedy plus time equals comedy! ha!!
"The name calling, slanderous comments and swearing have already gotten old. We are all bored."
Good declined to comment further when local stations reached out to him.