White House communications director Hope Hicks allegedly told the president that Trump Jr.'s emails with the Russians "will never get out" during a previously undisclosed conference call.
The New York Times reported that the former Trump team legal spokesperson, Mark Corallo, was concerned that Hicks was obstructing justice by informing Trump that the emails were safe. Corallo is planning to tell special counsel Robert Mueller about Hick's private conference call in an interview.
---
However, Hick's lawyer vehemently denied Corallo's allegations about the email comment. In a statement issued on Wednesday, attorney Robert P. Trout said:
As most reporters know, it's not my practice to comment in response to questions from the media. But this warrants a response. She never said that. And the idea that Hope Hicks ever suggested that emails or other documents would be concealed or destroyed is completely false.
A top Trump official worried about obstruction of justice as he listened to Hope Hicks' comments on a conference ca… https://t.co/9GZWpwyEqY

— Emily Flitter (@Emily Flitter) 1517456884.0
Corallo received an interview request from the special counsel last week and is expected to discuss the Air Force One meeting in which the White House staff prepared a response on behalf of Trump Jr. to the Trump Tower campaign meeting involving a Russian lawyer with ties to the Kremlin.
The Trump Tower meeting that took place in June 2016 is of particular interest to Mueller's team. The Times reported:
The statement, released in response to questions from The New York Times about the meeting, has become a focus of the inquiry by Robert S. Mueller III, the special counsel investigating Russian interference in the 2016 election. Prosecutors working for Mr. Mueller in recent months have questioned numerous White House officials about how the release came together — and about how directly Mr. Trump oversaw the process. Mr. Mueller's team recently notified Mr. Trump's lawyers that the Air Force One statement is one of about a dozen subjects that prosecutors want to discuss in a face-to-face interview of Mr. Trump that is still being negotiated.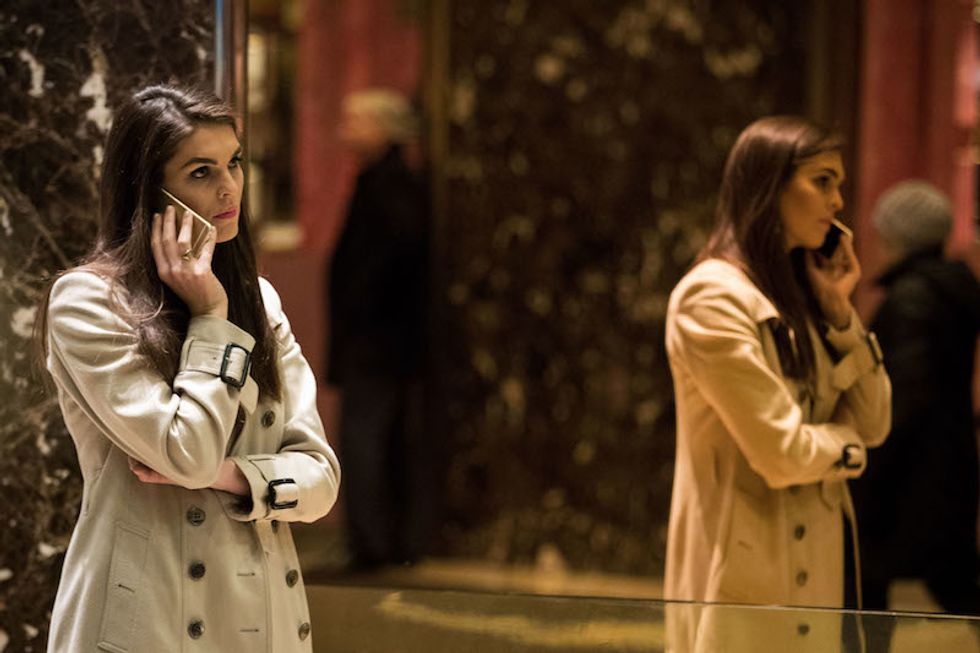 Hope Hicks in the lobby of the Trump Tower, December 12, 2016.(Drew Angerer/Getty Images)
Jared Kushner, and former Trump campaign chairman Paul Manafort attended the undisclosed meeting orchestrated by Trump Jr. to meet with the Russian lawyer who claimed to have damaging information on Hillary Clinton during the campaign.
Mueller's team is also interested in the Air Force One letter that was prepared on behalf of Trump Jr. But now, the special counsel is about to be informed about the protected email exchanges leading up to last year's Trump Tower meeting.
Hope Hicks was a close confidante of Donald Trump, but the 29-year-old could wind up being the administration's downfall.
If true, Hope Hicks would be in bigly trouble. Of course she could also flip, like former Trump associates Flynn &… https://t.co/mQ0eHIXZeN

— Ted Lieu (@Ted Lieu) 1517454214.0
@tedlieu Hope Hicks is not yet 30 years old. No way is she going to do time for Don Sr. or Jr. She's going to flip like Mary Lou Retton.

— Tony Meade (@Tony Meade) 1517454978.0
Okay, read the NYT piece. It's kind of a sad story, in a way. Feels like Hope Hicks has been working 24/7 for the m… https://t.co/pCZTTqV1mp

— Emily Nussbaum (@Emily Nussbaum) 1517455195.0
Corallo is scheduled for the interview with Mueller in the next couple of weeks, according to CNN.
People sounded off on Twitter over the news; however, this user wants to see justice being served.
@keithboykin I need to see people getting cuffed. This bombshells aren't doing anything for me anymore. https://t.co/nh1MS6rLgF

— Chukwuma 🇳🇬🇺🇸🌍 (@Chukwuma 🇳🇬🇺🇸🌍) 1517453399.0
@keithboykin Drip Drip Drip... Another year of this and Trump will have a Heart Attack. Mueller is putting the piec… https://t.co/FI8H0XgTra

— SEXUAL ASSAULTER/RUSSIA COLLUDER TRUMP (@SEXUAL ASSAULTER/RUSSIA COLLUDER TRUMP) 1517454097.0
I feel for Hope Hicks. She's not much older than my (beloved) daughter (who has better judgment than me). Hope's pa… https://t.co/LNmY02hat2

— Joan Walsh (@Joan Walsh) 1517457354.0
Some people aren't worried for Hicks at all.
@emilynussbaum Don't worry, she'll be able to ride the myth of white female fragility to a suspended sentence and a seat on The View.

— WMJ (@WMJ) 1517463811.0