This self-own actually happened and we're loving every minute of it.
---
The MIT Technology Review recently published an article titled, "The hipster effect: Why anti-conformists always end up looking the same" which explained why all hipsters end up looking like each other in their efforts to make a "counter-cultural statement."

And at the top of the article?
A photo illustration of a random hipster with copies of himself.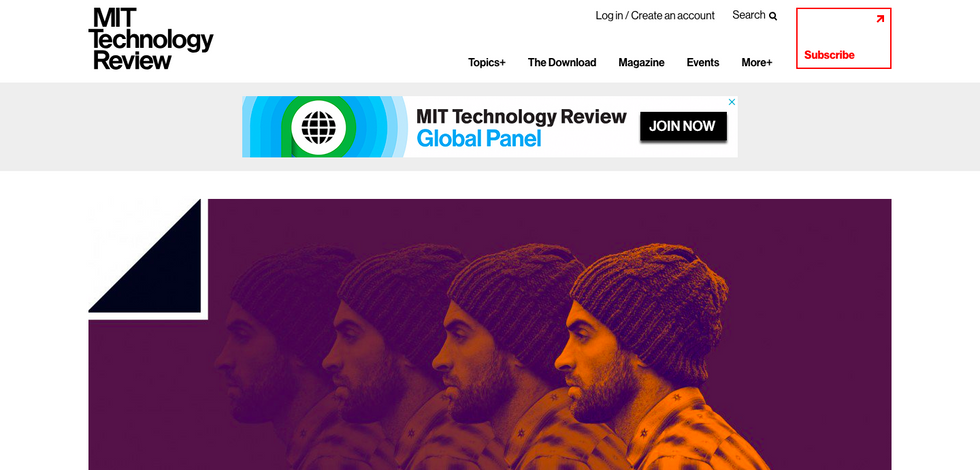 MIT Technology Review
Then the researchers received an angry email from a man who accused the publication of "slandering" him when he saw himself being used as the lead illustration for the article.
MIT Technology Review editor-in-chief Gideon Lichfield explained what happened in a thread to his followers.
It was an ordinary day... until:
We promptly got a furious email from a man who said he was the guy in the photo that ran with the story. He accused… https://t.co/POd4X7BOYB

— Gideon Lichfield (@Gideon Lichfield)1551820386.0
This happens:
Now, as far as I know, calling someone a hipster isn't slander, no matter how much they may hate it. Still, we woul… https://t.co/0z3Lvwafph

— Gideon Lichfield (@Gideon Lichfield)1551820527.0
The image does have restrictions—e.g., if you use it "in connection with a subject that would be unflattering or un… https://t.co/t9tbfF7LmY

— Gideon Lichfield (@Gideon Lichfield)1551820657.0
And then this:

We weren't implying that the model had an STD, only that he was a hipster. We didn't think this met the definition… https://t.co/D9wWXahIEp

— Gideon Lichfield (@Gideon Lichfield)1551820839.0
AND FINALLY:
Getty checked the model release, and gave us the news: The guy who complained wasn't even the guy in the picture. H… https://t.co/tkhNhqgWWg

— Gideon Lichfield (@Gideon Lichfield)1551821308.0
Yes, you read that 100 percent correctly.
That angry hipster we were just talking about?
That wasn't even him in the photo. He ended up proving the researchers right.
People thought it was hilarious... and let's face it, it was.
Hipster dude planned to sue a mag over a pic depicting a hipster dude, claims his pic was used without consent. Als… https://t.co/dtIjNN1lbn

— ashul (@ashul)1552044817.0
Hipster offended at his image being used in an article detailing phenomenon where those opposing mainstream conform… https://t.co/YUkmNPnpBS

— Flickalooya (@Flickalooya)1552112695.0
I love this story so much: 🔹Article written on why hipsters all look the same. 🔹Hipster gets angry and tries to su… https://t.co/LnF2uGr7fB

— Louis Graetz (@Louis Graetz)1552090529.0
Living in the depths of hipster-central Hackney, I can definitely see how this might happen: A man threatened to… https://t.co/cZpkMiHEKi

— Sara Stefanini (@Sara Stefanini)1552064736.0
Hey hipsters: when you're thinking about what to wear this weekend, think about this article. Hey hipster haters:… https://t.co/bA8203tgpK

— James Dunne (@James Dunne)1552080896.0
So ridiculous yet so poetic.
Oh, the irony!