In a viral video on TikTok, a toddler explained there's a certain kind of goat outside their house.
The child's mother, Sophie Smith, walked into the room where the toddler, Ivy, was standing on a plastic play oven next to the window.
The viral video with 6.8 million views showed the two-year-old smiling and pointing out the window saying:

"A f*cking goat outside."
There in fact was a goat casually snacking on leaves outside their suburban Christchurch, New Zealand home.
You can see the video here:
@ivyandsophiesmith

There's a fucking goat outside #viral #goat #kidsswearing #2yearold #funny
The mom—who managed to take out her phone in time to catch the interaction—replied:

"It's just a goat."
But the two year old insisted:
"No, it's a f*cking goat!"
Over 10 thousand people commented on the TikTok video, which originally was posted to Facebook and snapchat.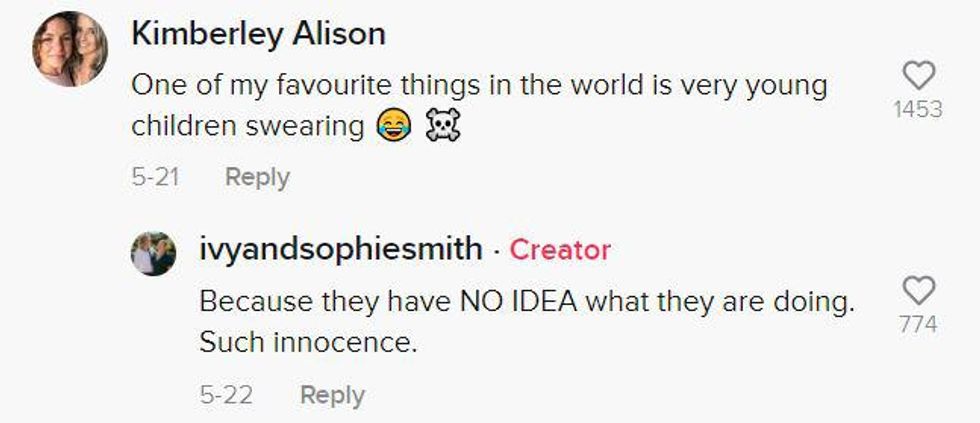 @kim_alison/TikTok

@melaniegagnon93/TikTok

@witchbitchbunny/TikTok

@3.live.crew/TikTok

@__justcallmecj__/TikTok

@sophiep1994/TikTok

@melindaberry48/TikTok
Stuff reported Smith's reaction to her video going viral.

The New Zealand mum said:
"I've had a lot of really positive comments from people who have said that it's just made their day and all they needed was a laugh, and that they're really appreciative that I shared it."
"Then I've also had quite a few hate comments of people saying really negative things."
"[Ivy's] two, she obviously doesn't know what it means."
"There's been a lot more good that has come out of this than bad, and going forth she is not using this language on a daily basis."
"If anybody says that they've never sworn before, have a goat come into your property and then tell me otherwise."
Regardless of the haters, we got a good laugh out of it and no harm was done.