Actor Mark Hamill, best known for his iconic role as Luke Skywalker in the Star Wars franchise, has wittily responded to former President Donald Trump's claim that he intends to present new evidence of election fraud next week with a perfect Star Wars reference.
Hamill's jab came after a grand jury in Georgia investigating Trump's attempts to overturn the 2020 election result handed up a criminal indictment that was widely expected to result in more charges for the ex-President.
Indeed, Trump and 18 of his associates—including his attorney Rudy Giuliani and former Chief of Staff Mark Meadows—have been charged under Georgia's anti-racketeering law, marking the fourth time Trump has been indicted this year.
In a post on Truth Social, Trump detailed his plans to present a "large, complex, detailed, but irrefutable" report during a press conference in Bedminster, New Jersey, next Monday, asserting that the report's results would lead to charges being dropped against him and others, and ultimately to a "complete exoneration."
He wrote:

"A Large, Complex, Detailed but Irrefutable REPORT on the Presidential Election Fraud which took place in Georgia is almost complete [and] will be presented by me at a major News Conference at 11:00 A.M. on Monday of next week in Bedminster, New Jersey."
"Based on the results of this CONCLUSIVE Report, all charges should be dropped against me [and] others — There will be a complete EXONERATION! They never went after those that Rigged the Election."
"They only went after those that fought to find the RIGGERS!"
You can see Trump's post below.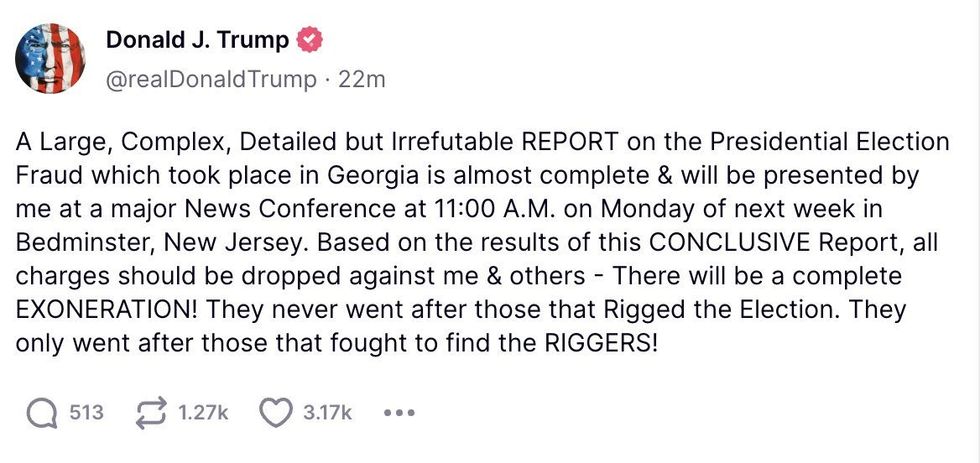 @realDonaldTrump/Truth Social
In response to Trump's claims, Mark Hamill humorously invoked the spirit of Star Wars in his retort, posting:
"May The Fourth Indictment Trigger A Large, Complex, Detailed But Irrefutable REPORT!"
Hamill's statement cleverly references "May the Fourth," a date informally celebrated by Star Wars fans worldwide as a nod to the iconic phrase "May the Force be with you."
You can see Hamill's post below.
Many appreciated Hamill's response and mocked Trump as a result.
Hamill, a prominent Trump critic, has previously mocked Trump in similar fashion.
Last year, Hamill called out Trump after the former president declared himself a "perfect physical specimen" in response to an FBI raid of his Mar-a-Lago estate that later resulted in his being charged with stealing classified documents.
Hamill later referred to himself as "a 30-yr-old, 6'2", multiple Oscar winner," a nod to Trump's previous statements in which he made no secret that he views himself as the peak of physical health, even if those claims do not hold up in reality.