When reality TV star Kourtney Kardashian followed in her famous sisters' footsteps and launched her own company, many people couldn't help but notice a similarity to a certain other celeb-led lifestyle brand.
Ever since the 2019 launch of Kardashian's wellness company, Poosh, the star has been accused of copying Gwyneth Paltrow's Goop.
The sites have similar-sounding nonsense names and offer similar content in the "be the best possible you--if you can afford it" vein.
But one person not having the rip-off narrative is Gwyneth Paltrow herself. After a fan asked her on Instagram if she's angry about Kardashian's plagiarism, Gwyneth shut them right down, chalking the controversy up to misogyny.
See a screenshot of Paltrow's response on her Instagram Story below.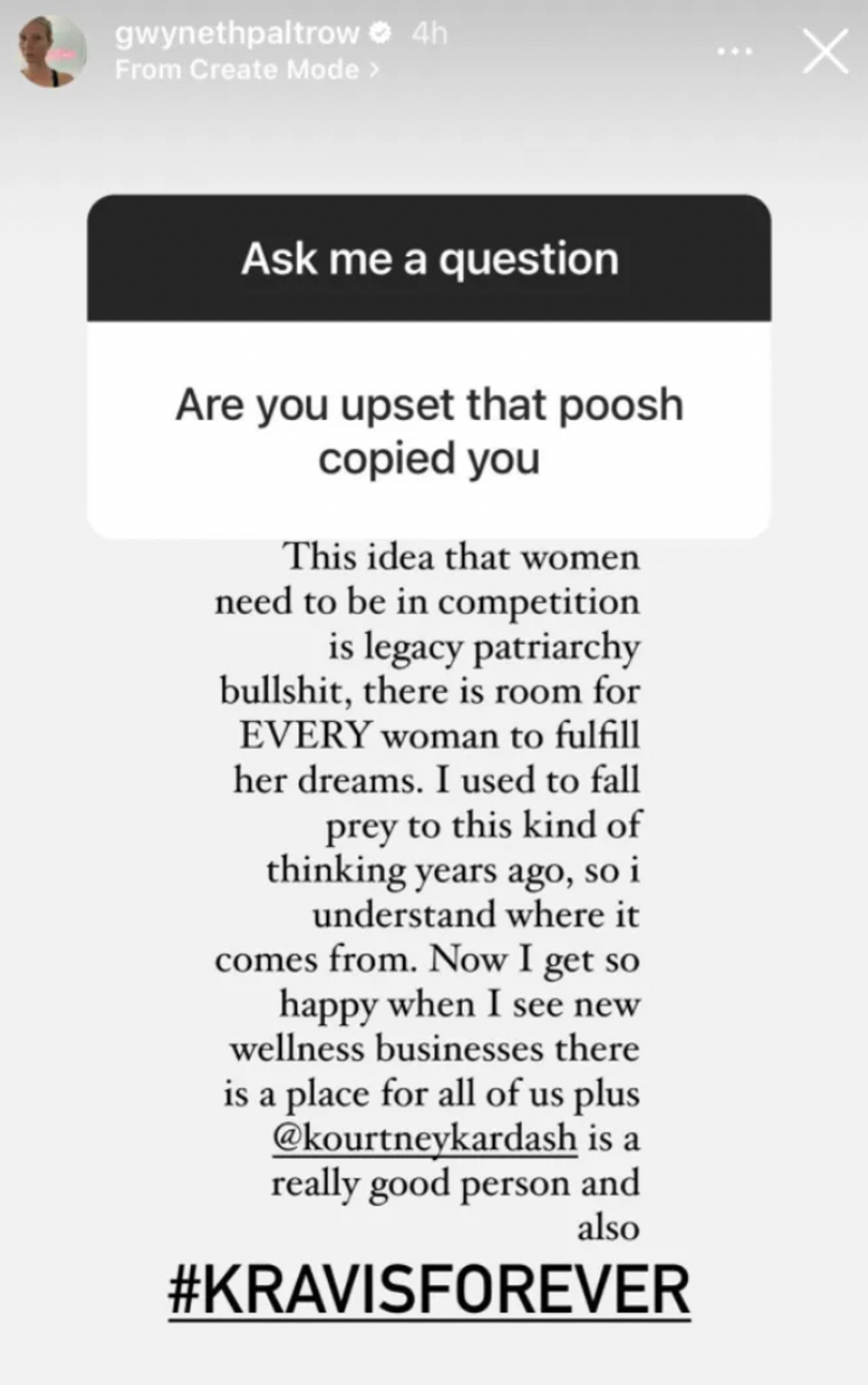 The fan asked:
"Are you upset that Poosh copied you?"
Presumably Paltrow received hundreds or even thousands of questions, so it's telling that she chose this as one of the ones to answer.
Making clear she doesn't buy into the narrative that Poosh is a Goop rip-off, Paltrow pointedly delved into our culture's tendency to want to pit women against each other at every chance we get. She wrote in response:
"This idea that women need to be in competition is legacy patriarchy bullshit; there is room for EVERY woman to fulfill her dreams."
"I used to fall prey to this kind of thinking years ago, so I understand where it comes from."
Paltrow went on to say that she's just happy for Kardashian's and other wellness influencers' successes, and praised the star as a "really good person."
"Now, I get so happy when I see new wellness businesses."
"There is a place for all of us, plus @kourtneykardash is a really good person"
Paltrow ended the post with "#KRAVISFOREVER," a reference to Kardashian's wedding to Blink-182 musician Travis Barker, which took place in Italy over the weekend.
Though Paltrow may have taken a circumspect view of Poosh, many on social media weren't on board with her sunny view of the situation.

Though most certainly shared Paltrow's shout-out to "KRAVISFOREVER"--the pair's wedding has far outstaged the imagined beef between Kourtney and Gwyneth, for better or worse.
Good on Paltrow for taking the high road!