Disruptive airline passengers being booted off of planes or causing flight delays has been happening at a seemingly alarming rate since travel restrictions were lifted following the pandemic.
Passengers having meltdowns or ranting about a fellow traveler who wasn't real made headlines in the past.
Now a Grammy-nominated singer giving an impromptu, unrequested performance struck a sour note with those on board a flight.
Bobbi Storm, a featured singer of the gospel music group Maverick City Music, was almost kicked off a Delta flight after she tried to sing a newly released song on the plane.
She was thrilled to announce her group's latest album, "The Maverick Way," was nominated for Best Gospel Album, which elicited some applause.
A video she posted on Instagram showed her standing in the aisle and singing after informing everyone the song had just charted on Billboard.
However, a flight attendant told her to "sit down and be quiet."
Brown remained civil but argued the seatbelt sign was off and she wasn't causing a disturbance.
"Watch me bless him," she said of the flight attendant as she took her seat.

She then turned around and told fellow passengers she used to "sing on planes a long time ago."

She continued:

"I just found out I'm up for two Grammys. My first time, you guys."
She then started singing her group's song "We Can't Forget Him."

But her attempt to spread the word of God was cut short when the Delta flight attendant returned to confront Storm again and tell her to stop singing.
"But they're enjoying it," she argued, to which the crew member countered:
"I'm not enjoying it. So I'm asking you could you please be quiet."
"If you're not able to follow my instructions, you will not be able to take this flight," he told her.
You can watch a video shared by TMZ here.
After Brown asked if she would go to jail for singing, the flight attendant repeatedly asked Brown if she would comply, "Yes or no."

Storm asserted:
"I'm doing what the Lord is telling me to do."
The no-nonsense crew member doubled down and informed her that he was the flight leader and needed her to follow instructions and answer his question.
Storm turned to other passengers and asked, "What do you guys think?"
@tmz/TikTok
The crew member said, "I'm asking you, ma'am."
After some more back-and-forth, he warned her she would be removed from the flight if she refused to be quiet.
She finally acquiesced without further incident.

While Storm is undoubtedly a talented singer, her in-flight conduct failed to impress people.
@bobbi_storm/Instagram

@bobbi_storm/Instagram

@bobbi_storm/Instagram
@bobbi_storm/Instagram
However, not everyone denounced the 36-year-old singer.
Some thought the flight attendant was rude.

One commenter said:

"Who is this guy? He needs to be reported. No worries you did right."

Another said:

"Lmao he was trippin nobody was complaining about you except him. What a hater! Keep singing girl!"
Storm posted a follow-up video explaining Delta had reached out, but insisted she didn't want the employee to be "reprimanded."
"I simply want us to keep in mind how to treat each other," she said.

"There were no rules being broken and it was me just spreading my joy with people after they gave me the 'go' to do so."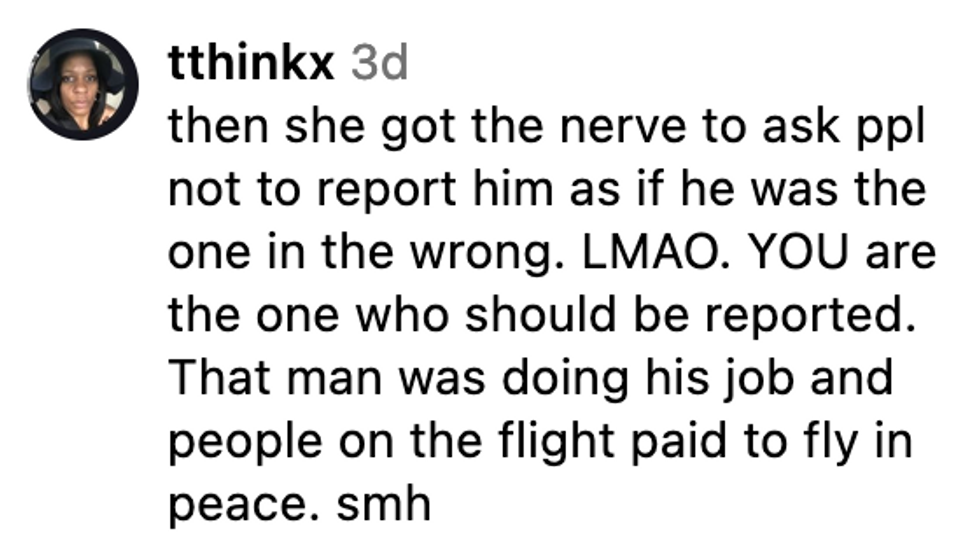 @bobbi_storm/Instagram
Storm was also criticized on X (formerly Twitter).
Many felt Storm was entitled and out of line.

Storm also said if the Delta flight attendant was watching her follow-up video, she hoped he had learned a "valuable lesson on how to treat other people."