Republican Governor Spencer Cox of Utah fought back tears as he publicly opposed an anti-transgender bill currently working through the legislative process in his state.
After speaking—and apparently listening—to trans identifying youth across his state, Cox succumbed to emotion as he plead with his state legislature to rethink the language of the bill, which has already passed in the Utah House and awaits debate in the Senate.
The bill would require schools to categorize all sports as "male," "female," or "co-ed," effectively eliminating trans students' ability to join the team that aligns with their gender identity rather than their birth sex.
When first pressed by reporters about whether he'd sign the bill if it made its way onto his desk, Cox gave a recognizable political response.

"I'm not in a place yet where I'm comfortable with the bill as it stands right now. Those discussions are ongoing. We still have a lot of work to do."
But as he continued to speak, he became vulnerable.

"These kids are ... they're just trying to stay alive."
"There's a reason none of them are playing sports ... I just think there's a better way. And I hope that there will be enough grace in our state to find a better solution."
"I don't understand all of this, I don't, but I'm trying to understand more. I'm trying to listen and learn and, again, trying to help kids figure out who they are and to keep them alive."
And after pulling himself together, Cox closed his comments with a plea for compromise.

"I apologize for getting a little emotional."
"When you spend time with these kids, it changes your heart in important ways, and so I want to try to improve that message and see if we can't find a better way to work together."
People who saw the clip on Facebook found it utterly refreshing a Republican governor would take time to listen to LGBTQ people and actually act on what he'd learned.
Jean Ann Rose/Facebook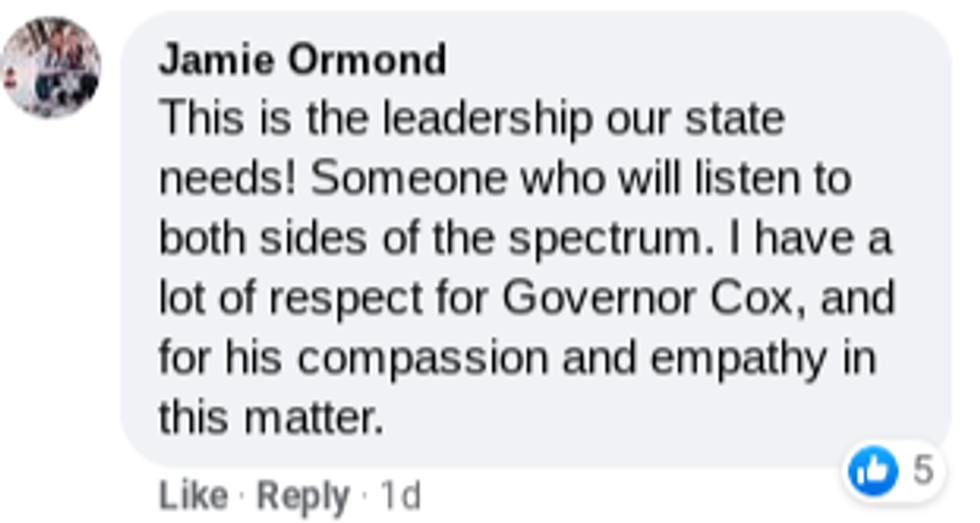 Jamie Ormond/Facebook

Virginia Sugihara/Facebook

Fiona McVay/Facebook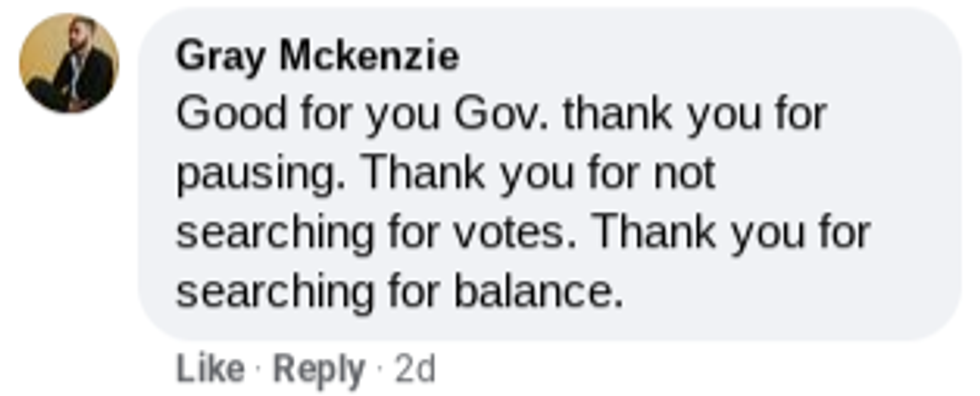 Gray Mckenzie/Facebook
Proponents of the bill, which is titled "Preserving Sports for Female Students," argue it would be dangerous to allow transgender girls to share the playing field with girls whose assigned sex at birth was female.
These supporters of the bill claim anyone who went through male puberty will have a different, stronger body than their cisgender peers, which could lead to unfair advantage or even injury. The bill ignores the fact the bill targets children who haven't gone through puberty as well as children on hormone blockers that halt their progression through puberty.
And the bill in Utah is far from unique. Similar pieces of legislation have cropped up in 17 states across the US, according to Human Rights Campaign.
Clearly, this debate will rage on for a little while. But it's a good sign that people like Spencer Cox are actually listening to the perspectives of trans youth, a group so often overlooked or even attacked.