We all came very close to seeing the the Avengers and the X-Men together on the big screen, as CNBC reported Monday morning that 21 Century Fox was in talks to sell the majority of its assets to Walt Disney Company.
---
Over the past few weeks the talks were on-and-off, and at the moment they are not happening at all. They could, though, resume at some later time (a similar story unfolded between Sony and Disney that eventually concluded with our friendly neighborhood Spider-Man appearing alongside Captain America and Iron Man). Sources familiar with the talks say that Fox believes it can more effectively compete in the marketplace with a tighter focus on news and sports, while Disney would take off their hands the movie studio, television production, international assets, and cable networks FX and National Geographic.
Fox shares surged on Monday before they were temporarily halted.
BREAKING: $FOXA surges 5.6% before getting halted; company has been holding talks to sell most of itself to Disney… https://t.co/rSMEzJMXmU

— CNBC Now (@CNBC Now) 1509993321.0
Some astute fans were quick to realize what such a acquisition could mean for their favorite superhero characters.
Brett Molina, whose Twitter avatar is of a certain claw-popping, fast-healing mutant, pulled out the All Caps to express his enthusiasm: "WAIT WHAT DOES THIS MEAN FOR THE X-MEN FILM PROPERTIES"
WAIT WHAT DOES THIS MEAN FOR THE X-MEN FILM PROPERTIES https://t.co/2rXlNLqlvu

— Brett Molina (@Brett Molina) 1509993573.0
What Brett is referring to is that the deal, if it happens, would almost certainly include the company's movie properties, including the X-Men and Fantastic Four characters. While both of these properties are in fact Marvel Comics properties, owned by Disney since the purchase of the comics company in 2009, the movie rights were purchased by Fox prior to Disney's acquisition.
Comic fandom erupted.
Disney is in talks to buy 21st Century Fox which means the X-Men and Fantastic Four would return home to MARVEL.… https://t.co/PohCeZdvua

— Austin (@Austin) 1510000872.0
Disney buying 21st Century Fox means Marvel could use: X-Men Fantastic Four Silver Surfer Dr Doom Galactus And so… https://t.co/F2ZCFomrS2

— Austin (@Austin) 1510001379.0
so DISNEY tryna buy 21st Century Fox (minus news and sports) and that means MARVEL will get Xmen and F4 rights. y'a… https://t.co/Z7LYWFPOAR

— Cesar Orquiz ⚡️ (@Cesar Orquiz ⚡️) 1510017781.0
Not everyone shared the enthusiasm.
@CNBCnow wow the only thing people care about is super hero movies. so depressing.

— renyopd (@renyopd) 1510006067.0
Whelp, that's one way to get X-Men and Fantastic Four back... https://t.co/Mns9pTQXnP

— Mike Ryan (@Mike Ryan) 1509993559.0
Unfortunately, the same excitement wasn't had for Fox News, which 21st Century Fox would still own and most likely build up in scope and presence.
@sequinpants @CNBCnow https://t.co/cFJ0TAoNQ3

— Trev (@Trev) 1509993382.0
@Mrjoshnichols @hvymetalinvestr @sequinpants @CNBCnow https://t.co/63VJ8U1Gcs

— Ms. Mouthpiece 💁🏾 (@Ms. Mouthpiece 💁🏾) 1509995778.0
Some reflected on the consequences that such a purchase by Disney would be. With Disney already owning the ABC television network, Pixar, Marvel, and Lucasfilm, some are concerned that Disney has become a dominating monopoly in the entertainment industry.
There are too many monopolistic worries to a Disney/Fox deal for me to care which X-Men characters this would allow to finally hug.

— Daniel Fienberg (@Daniel Fienberg) 1509994494.0
And Mashable noted that this might have something to do with Disney wanting to build up their own version of Netflix.
Why would Disney want to buy a big chunk of 21st Century Fox? Netflix. https://t.co/BBS0pn8Nf3

— Mashable (@Mashable) 1509995105.0
In fact, Fortune magazine believes that Disney's desire to compete with Netflix is the reason why they were even talking with Fox in the first place:
A Disney-Fox deal would help Disney stockpile more original programming that it could use to build up the standalone streaming service it announced in August. Disney said this summer that it will stop streaming new programming on Netflix, starting in 2019, as the company plans to launch its own streaming service to compete with the likes of Netflix and Amazon. Adding Fox's offerings to Disney's existing media properties (Marvel, Lucasfilm, Pixar, Disney Animation, ABC, etc.) would certainly help make Disney's standalone streaming play more attractive to customers who already have a wealth of digital entertainment options.
A later Bloomberg report claims the talks between Fox and Disney are now dead, doubting that talks will resume. Many of us are left to imagine what could have been...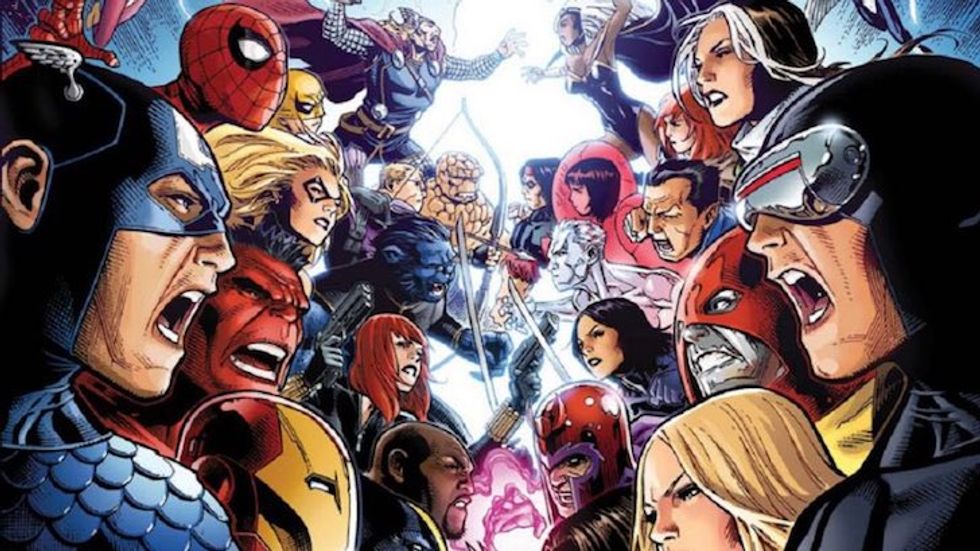 Please SHARE this with your friends and family.