A White woman in Virginia lost her job at a food bank after a video surfaced of her going on a racist tirade aimed at her Black neighbor.
The footage from the incident showed the enraged woman telling her African American neighbor, Quetta Good:
"You're not the right color, honey."
This racist called police because she decided a black woman must be a criminal to be living in her own nice house.… https://t.co/y5q0b5EWRf

— Kurt "Masks Save Lives" Eichenwald (@Kurt "Masks Save Lives" Eichenwald) 1619377722.0
According to Indy 100, the incident in which the White neighbor also used the n-word was said to have taken place in Colonial Heights, Virginia.
Good originally posted the video shot in landscape mode vertically, but her cousin Dametre Burroughs reposted the corrected footage, which you can see here.

WARNING: racial slurs
Good asked in the video:

"I'm an [n-word]?"
And the neighbor responded:
"Yes, you are."
@kurteichenwald The fact that so many people do and say things like this even when they know they're being filmed j… https://t.co/RDhwgtdtij

— Danny Adams (@Danny Adams) 1619378898.0
@TheRickyDavila I hate that people like her exist!

— Starry ⭐ Nights (@Starry ⭐ Nights) 1619406884.0
@TheRickyDavila I just don't have the energy to be this arrogant and hateful.

— J R Reed (@J R Reed) 1619413904.0
Good explained in a separate Facebook post she had enough of her neighbor's ongoing harassment—which included police searching Good's home for suspicion of drug activity.

"Let's rewind back to the beginning when she called the police to search my house for drugs because her words were I couldn't afford my house, I never leave the house so I had to sell drugs because I'm Black and had a Porsche."
"Yes the POLICE SURE DID SEARCH MY HOUSE FOR DRUGS SMH. No drugs were found I work from home!! This has been going on for MONTHS."

@kurteichenwald Why the hell was her house searched because this racist lunatic made an accusation? And why isn't… https://t.co/mGbzcZRcnr

— Sally (@Sally) 1619377930.0
@TheRickyDavila It is only okay to step on someone's property and call them ugly names when you are White... If a… https://t.co/GVP2Z725aO

— Julia (@Julia) 1619408539.0
@kurteichenwald So cops in Virginia will toss a house for drugs because a neighbor is suspicious? Odds are 100% tha… https://t.co/jB0fDxz5eZ

— Diane E ☮🐝♍😷 (@Diane E ☮🐝♍😷) 1619404033.0
Good's photo of the woman on Facebook identified her as "Hilary," which was seen on her name tag that traced her to Chesterfield Food Bank, where she was an employee.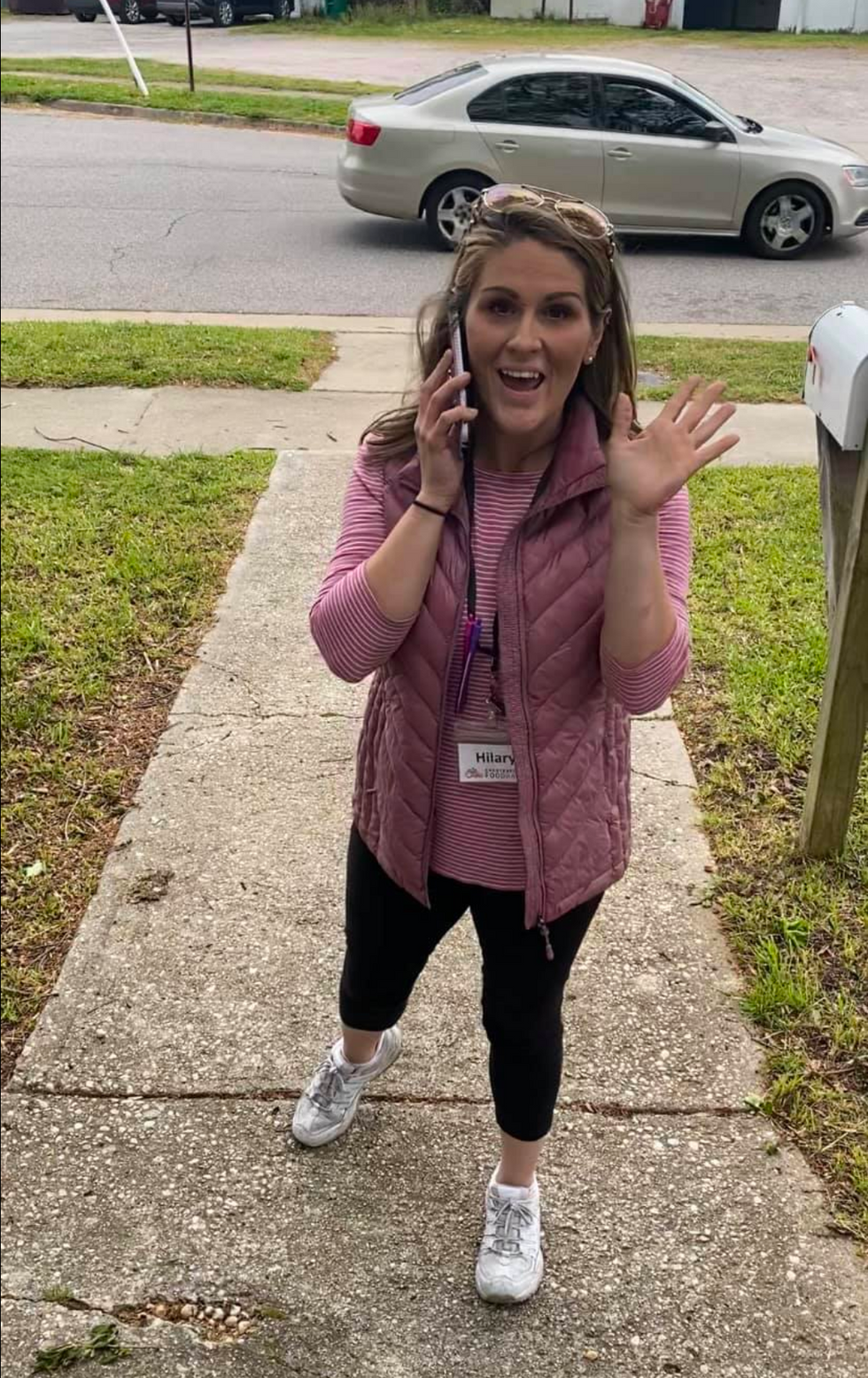 Quetta Good/Facebook
The footage caught the attention of Kim Hill, the CEO of Chesterfield Food Bank—who told The Progress-Index the incident was a "sad and an unfortunate situation."

Hill did not reveal the employee's name when issuing a Facebook statement, which read:
"We want to thank everyone for reaching out to us in regards to the video and story that was posted this morning regarding a confrontation between an individual and one of our employees in their neighborhood."
"We, here at the CFB, are broken-hearted to view this conduct as it goes directly against our values and beliefs. We are honored to serve everyone in need with dignity & integrity."
"In response to this situation, we have terminated this employee. We remain committed to creating and providing a positive, uplifting, and encouraging environment for our staff, volunteers, and clients."
More #Racist POS playing stupid games and winning stupid prizes! YAY! https://t.co/FwD1vunRZh

— Mr. Nahnsee | I AIM TO MISBEHAVE (@Mr. Nahnsee | I AIM TO MISBEHAVE) 1619475352.0
People were confused as to why a bigoted person would willingly work for a non-profit charity organization in the first place.
@TheRickyDavila @Jeffdc5 And this woman worked at a food bank?! Unbelievable!

— Gretchen🌻🇺🇸 (@Gretchen🌻🇺🇸) 1619413356.0
@Michael63251755 @gumboqueen3030 @TheRickyDavila "White Savior" complex probably led to her working at the food bank. Glad she was fired.

— Lily Shell (@Lily Shell) 1619448176.0
@TheRickyDavila She worked at a food bank, FFS. What the hell is wrong with her? Oh, maybe her nasty racism.

— I'm vaccinated because I'm not an idiot. You? (@I'm vaccinated because I'm not an idiot. You?) 1619405901.0
@TheRickyDavila Shows that most racists aren't bearded rednecks & don't wear white hoods or swastikas They're ord… https://t.co/kYW7Cfo6fp

— Just Dave ⛏✭ (@Just Dave ⛏✭) 1619406188.0
Speaking with the Daily Mail, Good said the altercation with the woman was over the fact their children were not getting along.
Good has a child in kindergarten while the neighbor has children in 2nd and 5th grade that Good claimed harassed her 6-year-old daughter on the school bus.
The harassment led to a feeling of being trapped.

"I feel like a prisoner in my own home. She had called me many names before but to hear her being racist, that really shocked me."
"You should be able to feel comfortable in your own home. This is not acceptable. We still have a long way to go as a society for equality."