Facebook is the biggest current social media platform.
60.6% of global internet users utilize Facebook.
There are 2.45 billion monthly active users and 1.62 billion daily users.
---
That's a lot of reach and influence.
But who is minding the store?
As a first line of defense, Facebook—like many social media platforms—employs automated security sweeps and keyword searches to detect improper content. This same sort of technology also handles their user complaints about violations of their community standards.
But many users take issue over the unsatisfactory results of such complaints and the lack of an elevation process.
One woman's experience is highlighting the problems with such a hands off approach to their own content and oversight.
At the age of 15, Samantha Jespersen found herself the victim of some online bullying. In 2012, someone created a business page on Facebook for "Samantha Rae Ann Jespersen's Butthole."
The business location was placed near her home at the time.
Ever since discovering the page, Jespersen has taken the Facebook mandated steps to have the page removed. Until recently, all her efforts proved fruitless.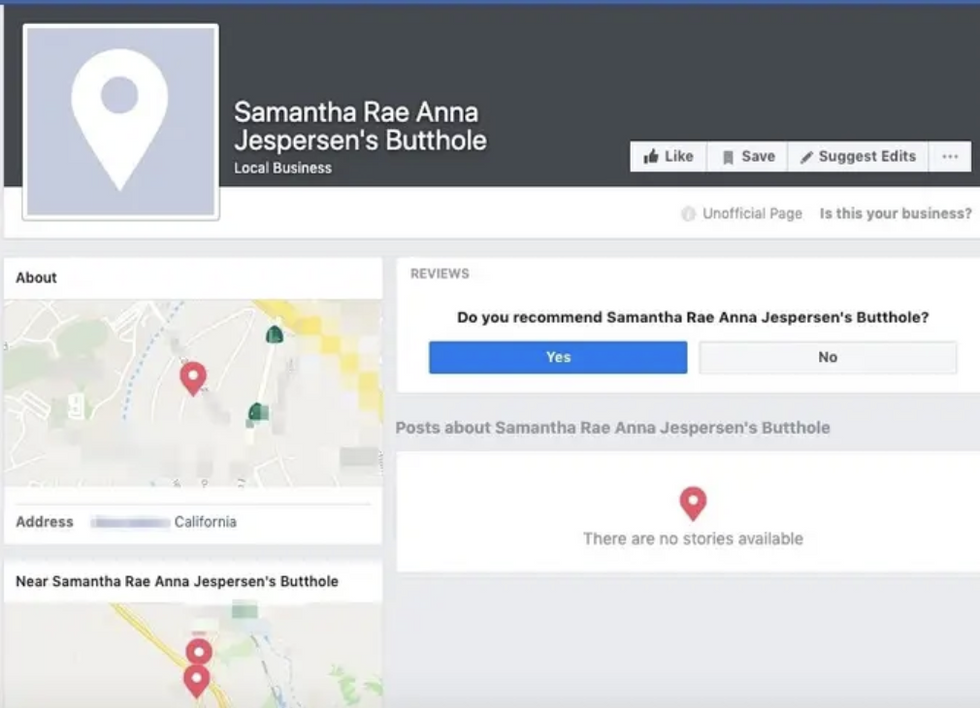 Facebook
Her attempts to "claim" the "business" page proved futile. Because the page was created as a business, according to Facebook rules only the owner of the business could alter the page.
Jespersen also tried to report the page as a violation of community standards. But because the page was a "business,"without posts or images, the Facebook automated review found nothing that violated their community standards.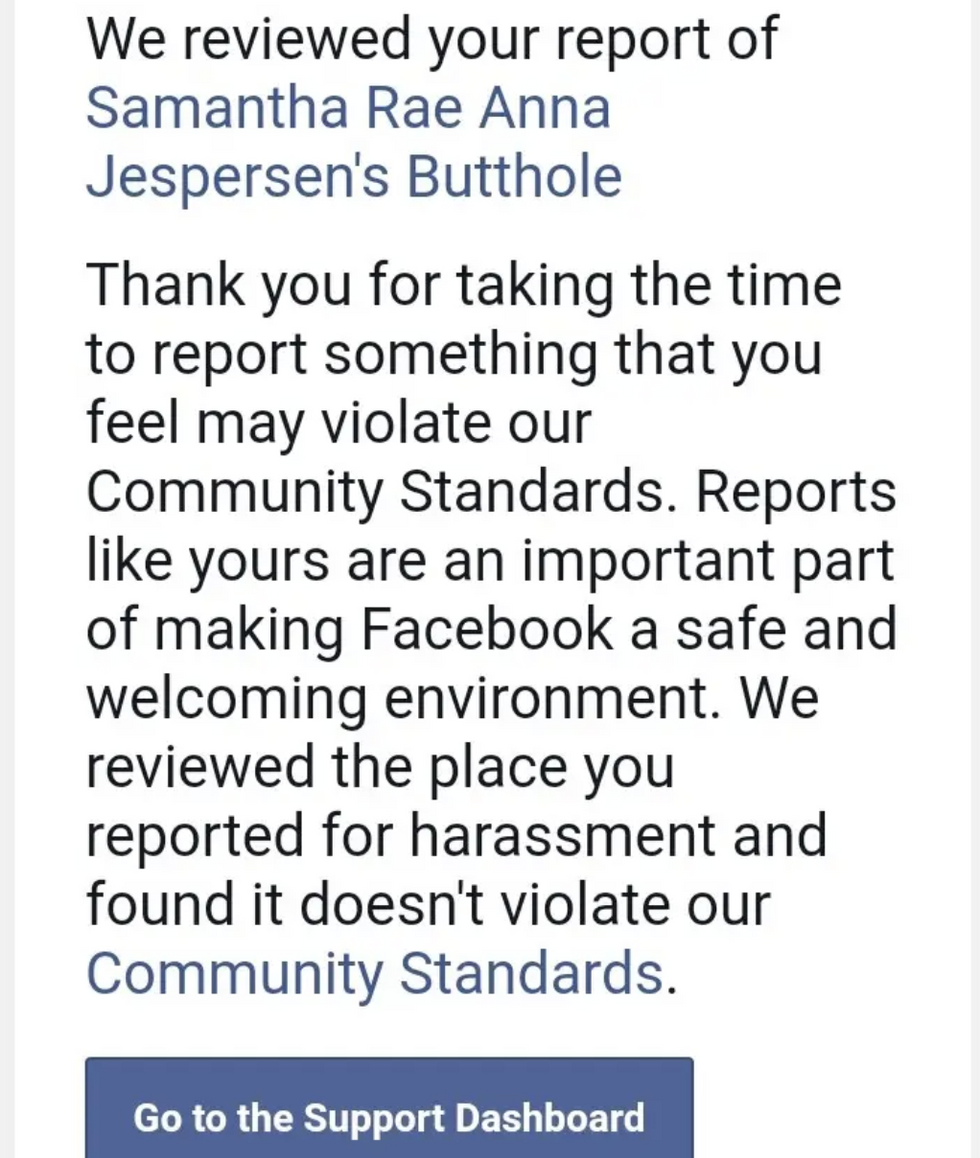 Facebook
Being created as an unofficial page created further issues for Jespersen.

It made it impossible for her to get rid of the page through any of the avenues available to her through Facebook.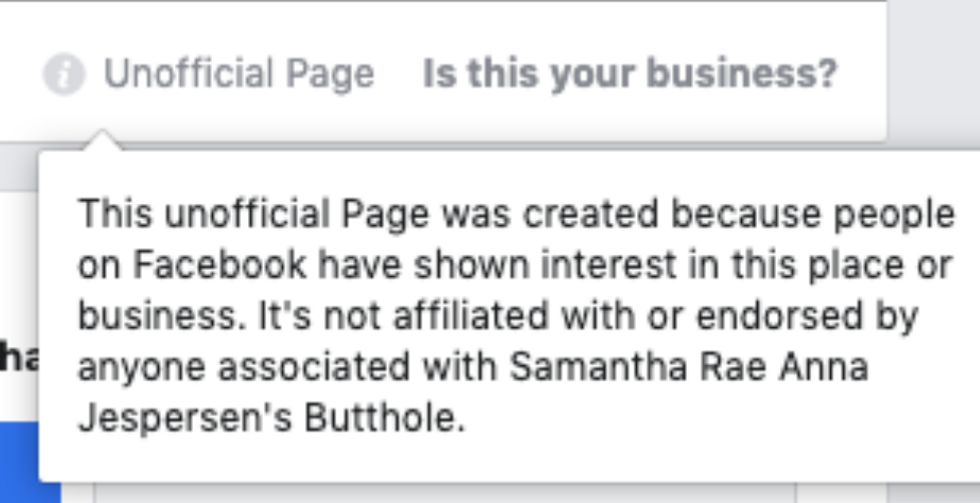 Facebook
At the end of her tether, Jespersen turned to the subReddit "legaladvice" for exactly what the subReddit offers: legal advice.
Ms. Jeserpsen posted under the username ragdollrae:
"My butthole has been a location on Facebook since 2012 and I can't get it removed."
"I wish this was fake but it's not. The first thing you see when you type in my full name on google is '[name withheld in accordance with Reddit rule]'s Butthole'."
"This page was created in 2012. I was only 15 at the time. I have reported it a million times, even asked friends to report it. It's humiliating."
"I tried requesting the name change of the page. Reported it for every option possible."
"Facebook says it doesn't violate terms. Tried claiming it as my business since at the bottom of the page it claims to be automatically generated off interest of the topic and not affiliated with the business which I don't understand how that happened, and it wouldn't let me claim it".
"It was never a business. I was a child. I feel so hopeless."
"Any advice would be appreciated. I promise I'm not trolling and have proof if needed with my name obviously edited out. LOCATION: CALIFORNIA."
"[TooLongDidn'tRead:] Facebook automatically generated a page when I was 15 saying my butthole is a business location with a pin close to the home I used to live in and nothing I can do can get it removed."
Buzzfeed News reached out to her to get the full story.
Regarding any repercussions from the page, she told Buzzfeed:
"I feel like if anybody has found it, it would probably feel way too weird to talk to me about it. And if I didn't get a job over it, they definitely wouldn't call me and say, 'Hey, found the Page about your butthole, not going to hire you, bye'."
"I feel like I should've been able to get it removed based off the fact that it was my real name, and I was underage, and since it had my old address."
After Buzzfeed News published their article, Facebook finally removed the page. However they but did not respond to Buzzfeed's requests for comment.
As large as the platform is and with the number of daily users, monitoring content is a daunting task. Automated systems are a necessity.
But with the number of stories like Jespersen's being shared, a system of complaint elevation beyond the strictly automated may be overdue. After all, getting called out in the media is not an ideal way to resolve your user's complaints.