On Monday's episode of Anderson Cooper 360 on CNN, 17-year-old Democratic activist Ethan Lynne slammed Virginia's Republican Governor Glenn Youngkin for attacking him online.

The high school student was on the show to discuss being harassed by Youngkin's campaign account with a now-deleted tweet from February 5 showing a photo of Lynne with former Democratic Virginia Governor Ralph Northam–who faced backlash from an old resurfaced medical school yearbook photo of him donning blackface.
"Here's a picture of Ethan with a man that had a Blackface/KKK photo in his yearbook," wrote Team Youngkin's Twitter account, accompanied by Northam's controversial photo.

Youngkin's campaign account was responding to Lynne's posting of a story that portrayed Governor Youngkin in an unflattering light.
The news story was about Kelley Fanto Deetz–a historian at the Governor's mansion–who resigned after discovering her office had been cleared and a planned educational space within the continuously occupied Governor's residence was allegedly being converted into a family room.
The transformation of the space was interpreted as Youngkin reversing efforts to highlight the history of the mansion in which enslaved people served governors from the kitchen quarters for more than 50 years.

The author of the report Lynn shared updated the article verifying the educational space in the Executive Mansion had not been turned into a family room by Youngkin's staff, but that the office had been emptied.
Regardless, Lynn made sure to amplify the online attack from the Governor's campaign account.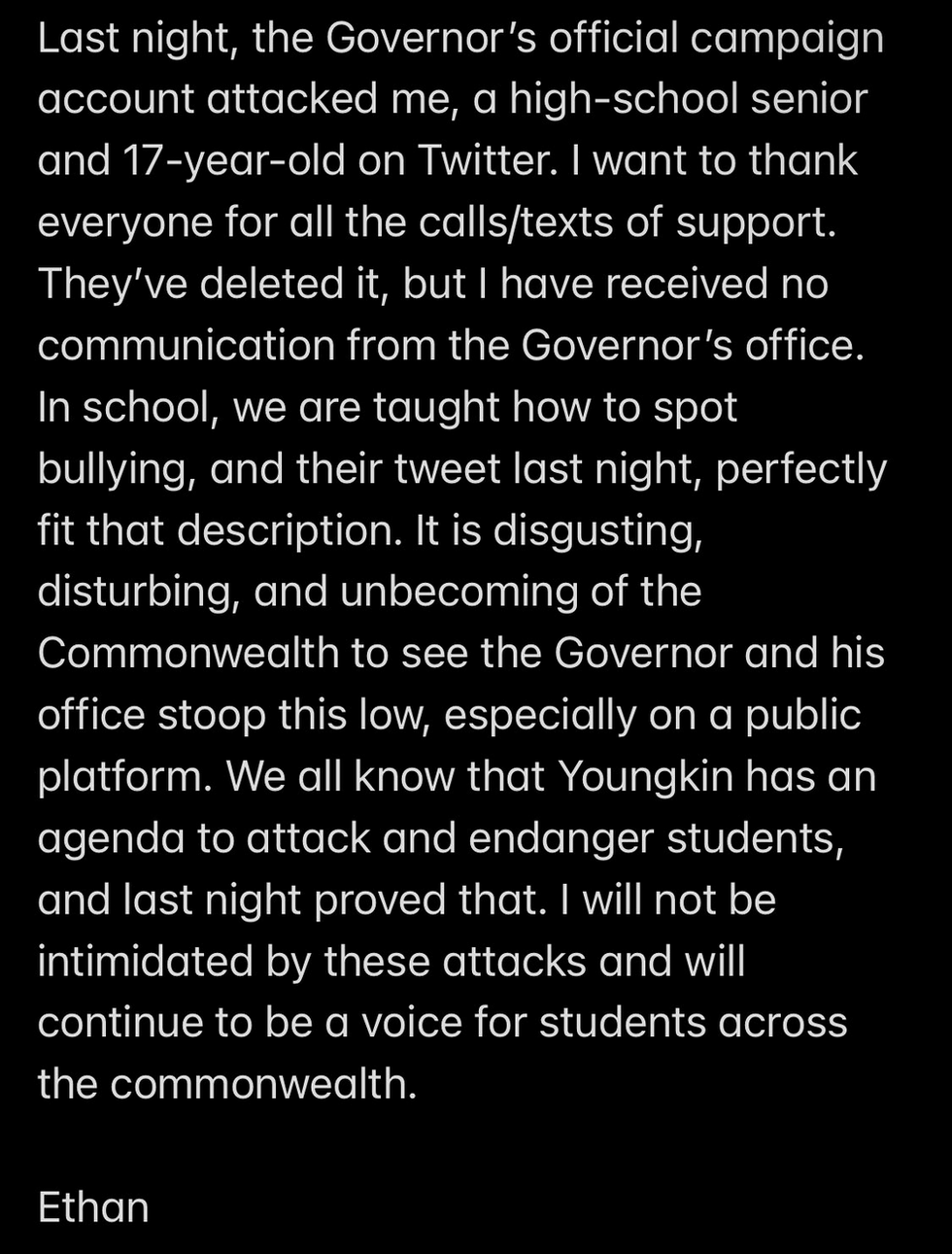 @ethanclynne/Twitter
He also recorded a video explaining the situation for the Richmond Times-Dispatch.

Ethan Lynn speaks about being attacked on Twitter by Team Youngkinyoutu.be
On Monday, Lynne was invited on CNN to explain his side of the story further.
Lynne recalled his initial reaction to the tweet from Youngkin's campaign and compared the attack to a certain former President who was notorious for such tactics.

"I was surprised. I could not believe this was real. I never thought we would get to the place where a governor is attacking his constituents online. That's something that Donald Trump would do."
Lynne said of Youngkin:

"He promised he would be different than Trump and take out — and our politics have become too toxic."
You can see Lynne's appearance on Anderson Cooper 360 here.
Youngkin did respond to the controversy on Monday morning, saying the tweet from his campaign was "unauthorized."
But Lynn thought the Governor's attempt at damage control was insufficient.

When asked what to make of Youngkin's statement, the teenager told CNN:

"I thought it was a non-apology. He's just sorry that the whole situation happened, he's not actually sorry for what was said."
"He didn't even take credit that it was his campaign team account, he said that it was a campaign account and did not strongly condemn the situation in any way, shape, or form."
People online were supportive of the young man.
He said he would like the Governor to offer a direct apology to him and his family and suggested Youngkin go further in making things right.

"The only way to stop this, is by publicly condemning this type of bullying and rhetoric in politics. The governor should be setting a better example for students like me."