We've all done it. Something seems logical in our brain, but when it comes out of our mouth, we hear how incredibly stupid it really was. At least for most of us when it happens, it doesn't take place on national television. Evan Kaufman wasn't so lucky.
---
It all happened when Kaufman appeared on The $100,000 Pyramid game show. He was given the clue "People Whose Last Name Is Obama," Sounds simple enough, right? Barack, Michelle, Sasha, and Malia all come to mind, but after seemingly studying the board for some time, Kaufman said:
Bin Laden
choking on my own tongue. https://t.co/9VtRysTXEL

— bobby (@bobby)1534197742.0
Yeah, it didn't go over well with the viewing audience.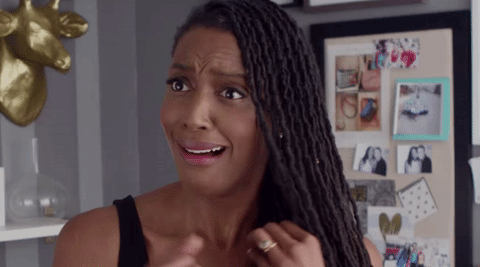 media.giphy.com
@bobby wait. wait. wait. what happened after? Is this real? Could he not see? I need more!!!

— christine teigen (@christine teigen)1534198212.0
@bobby Cool, just gonna slowly lower myself into lava https://t.co/tl59PNnEXK

— Ryan Kelly (@Ryan Kelly)1534199597.0
The video has been viewed over a million times, adding to Kaufman's humiliation. He took to Twitter this week to set the record straight and explain how his brain made such a colossal mistake.

So. This is me below. Racist $100,000 Pyramid Guy. Let me tell you the story about perhaps the most embarrassing mo… https://t.co/X8pj6uhmuo

— Evan Kaufman (@Evan Kaufman)1534205227.0
The producers of the show tell us beforehand, if we get to the final round, to study the questions VERY hard. "Peop… https://t.co/N2aE2pxatY

— Evan Kaufman (@Evan Kaufman)1534205227.0
I make it to the final round. I remember what the producers said. I try and focus. READ THE QUESTIONS CAREFULLY. (5/13)

— Evan Kaufman (@Evan Kaufman)1534205228.0
And so you have this perfectly viral clip. A clip that is insanely funny. It would be so funny if it wasn't me. The… https://t.co/Yj4f6kSchD

— Evan Kaufman (@Evan Kaufman)1534205229.0
What you don't see in this clip is me, shocked, correcting myself and saying Barack. Tim gets the answer. We get s… https://t.co/x1Z9TC4Ch5

— Evan Kaufman (@Evan Kaufman)1534205229.0
I leave with $8500... and the story of the worst pyramid guess of all-time. (13/13 Fin)

— Evan Kaufman (@Evan Kaufman)1534205230.0
People understood, and cut Kaufman some slack, even if they keep laughing at him.
@EvanKaufman I watched last night and thought, WTF? Thanks for going inside the story with details. I can rest easy tonight!💕😜

— Collette King (@Collette King)1534209075.0
@Coking66 @EvanKaufman I loved that people could be human even on National TV. #LaughableMoments

— MoralsMatter (@MoralsMatter)1534300223.0
@EvanKaufman Omfg Evan I had to watch this four times before realizing this wasn't a sketch you were doing with Tim Meadows

— Mister Bonestripper (@Mister Bonestripper)1534250775.0
@EvanKaufman You did this in service to your country, providing a bit of levity in our time of need. Thank you.

— Krister Johnson (@Krister Johnson)1534205926.0
And in this funny twist:
@EvanKaufman As I finished reading your thread, my eye moved to the left side of my screen where I noticed… https://t.co/2yvq1iql9y

— Nummymuffin (@Nummymuffin)1534222475.0
@Nummymuffin @EvanKaufman @BarackObama Amazing 😬😬 https://t.co/adcUiKVzS2

— ♥️ (@♥️)1534293420.0
Sometimes it feels good to laugh at our big stupid brains.