Former President Donald Trump was roasted after he took to Truth Social to distance himself from his former attorney Sidney Powell after she accepted a plea deal from Georgia prosecutors... by claiming she was never his attorney despite all evidence to the contrary.
Trump claimed Powell "was one of millions and millions of people who thought, and in ever increasing numbers" believe his lie that the 2020 general election was stolen from him. He asserted that the United States "IS BEING ABSOLUTELY DESTROYED" because of alleged election interference.
He then denied ever associating with Powell, writing:
"Despite the Fake News reports to the contrary, and without even reaching out to ask the Trump Campaign, MS. POWELL WAS NOT MY ATTORNEY, AND NEVER WAS. In fact, she would have been conflicted."
He added that Powell had done "a valiant job" of representing General Michael Flynn, a Trump appointee who resigned from the White House in disgrace and pleaded guilty to a felony count of "willfully and knowingly" making false statements to the FBI during the investigation into Russia's efforts to subvert the electoral process.
You can see Trump's post below.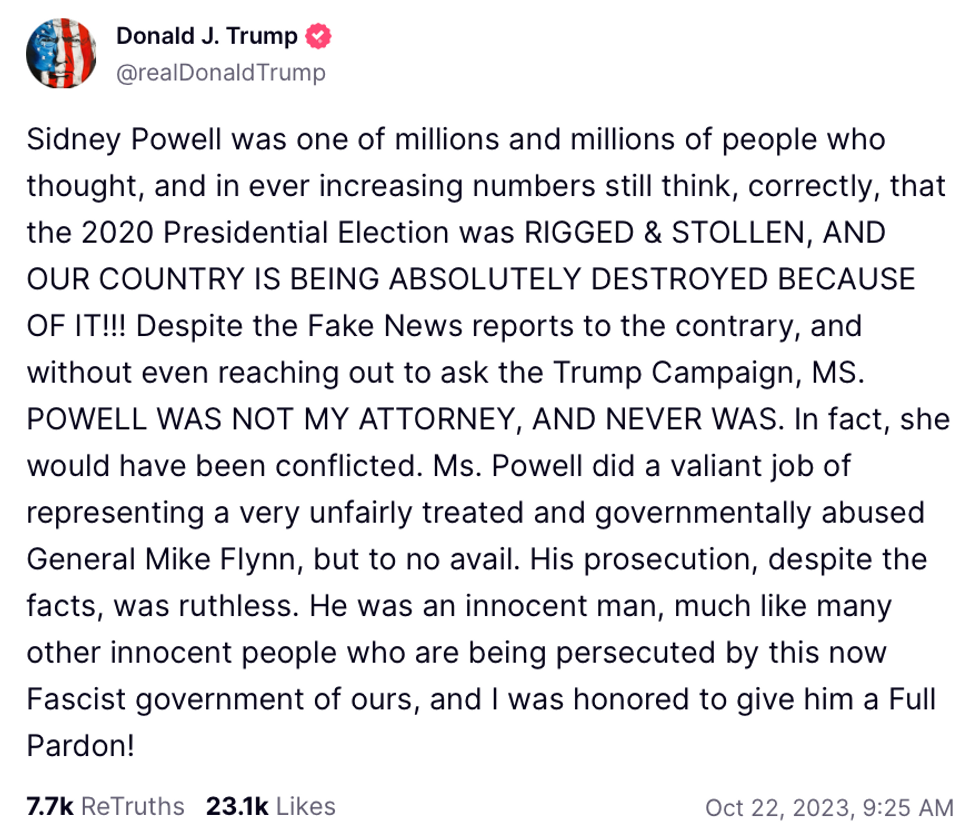 @realDonaldTrump/Truth Social
Trump's claim that he never retained Powell's services is false: There were public statements confirming her role in his legal team back in 2020.
Below is a tweet Trump posted in November 2020, at the height of his claims that the election was stolen. In it he named Powell as a member of his legal team to fight the electoral process.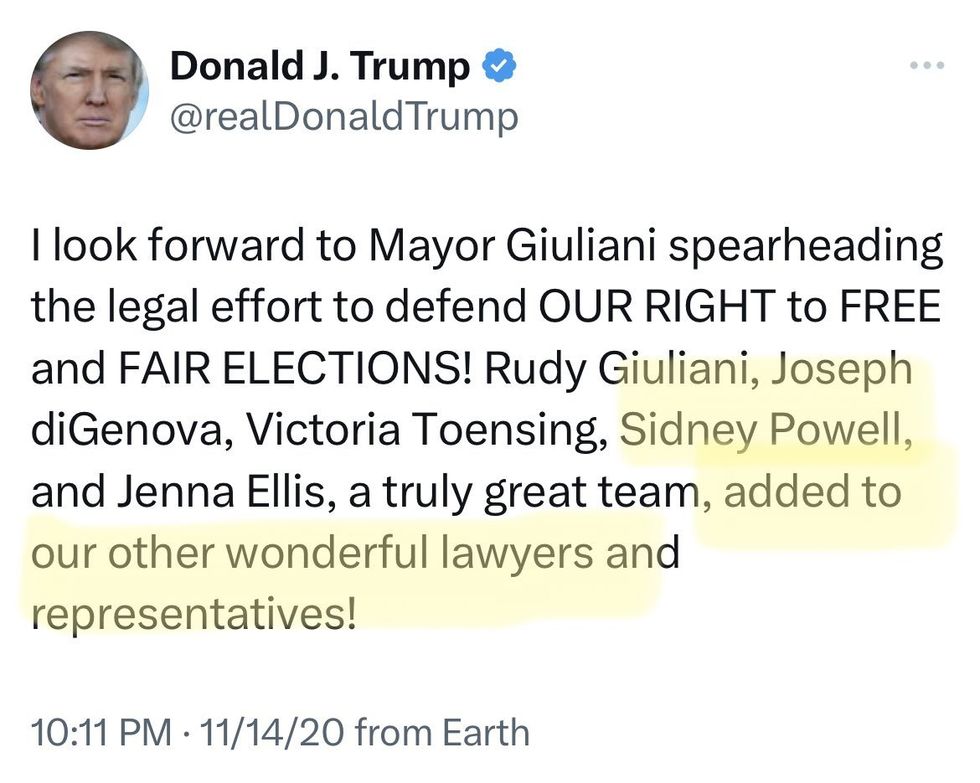 @realDonaldTrump/Twitter
Video footage from a press conference at the time shows Trump's attorney Rudy Giuliani introducing Powell and others as members of Trump's legal team, saying they were "representing President Trump and the Trump campaign."
You can see it below.
Additionally, when called to testify before the House Select Committee tasked with investigating the January 6 insurrection, Powell said under oath that Trump had asked her to be "special counsel to address the election issues."
You can hear her testimony below.

Trump was swiftly called out for lying about his association with Powell.
Powell is one of 18 Trump associates who have been charged alongside him under Georgia's anti-racketeering law for their efforts to overturn the 2020 election results.

Powell reached a plea deal with Fulton County prosecutors in Georgia, agreeing to cooperate in their investigation in exchange for probation, a fine, and a written apology to Georgia residents. Another Trump attorney, Kenneth Chesebro, also pleaded guilty to conspiracy to file false documents.