The man who responded to a thread about "craziest first date" stories with a photo of him with a Colombian woman has now been charged with her murder, according to a Twitter community note.
Back in December, 35-year-old John Poulos from Texas posted a selfie of him on vacation with a woman named Valentina Trespalacios–a 21-year-old Colombian who was reportedly a rising star DJ.
The caption to the photo he posted of them read:
"Invited a Colombian woman on vacation without meeting her first - now we're getting married."
In a shocking twist, the Twitter community note feature—a way for users to provide context–alerted readers:
"The user who posted this tweet is now charged with murdering the woman in question."
You can see Poulos' post with the update, here.
A link to a Daily Mail article attached to the community note reported Poulos was "facing aggravated femicide and concealment of evidence charges in connection to the January 22 murder of Valentina Trespalacios."
Poulos, a divorced father of three, was charged with murdering Trespalacios after he allegedly stuffed her dead body in a suitcase and left it in a dumpster.
The abandoned suitcase was discovered by a homeless man about a month after Poulos posted the photo of him with his soon-to-be-fiancée.
Trespalacios' family told Colombian local media outlet Caracol the couple had been together for eight months and had planned on moving in together.
They also noted Poulos was a jealous individual and was deeply obsessed with his fiancée.
The victim's brother Daniel Felipe told the news outlet in a separate interview that Poulos had hired a private investigator to follow Trespalacios to parties.
The Colombian attorney general's office pored over 300 hours worth of surveillance footage, along with photos and witness accounts, to investigate the days leading to the murder.

Surveillance footage obtained by international outlet Revista Semana indicated the couple had settled into their new apartment on January 19.
Trespalacios was last seen entering and leaving the apartment on January 21.
A rideshare driver told Caracol he received a message from Trespalacios the same night she was last seen on video at the apartment.
She was asking for help and informing the driver she was in danger.
When the driver asked if she was okay, Poulos entered the vehicle and Trespalacios told the driver the earlier message to him was sent by mistake.
Early on the morning of January 22, Poulos reportedly sexually assaulted Trespalacios and then beat and strangled her at the apartment.
Later that morning, surveillance footage showed Poulos transporting luggage in a shopping cart and unloading it into the trunk of a silver car.
Prosecutors believed one of the suitcases believed to be containing the victim was covered in a grey blanket "because her head was sticking out."
Poulos then drove and dropped off the suitcase with Trespalacios' body in a dumpster, before heading to El Dorado International Airport to escape the country on a flight to Panamá City, Panamá.
The suitcase containing Trespalacios' body was found the same day by a homeless person looking for recyclables.

On February 5, Twitter user @Helloimmorgan who originally posted the "craziest first date" thread was appalled after being apprised of the grisly turn of events.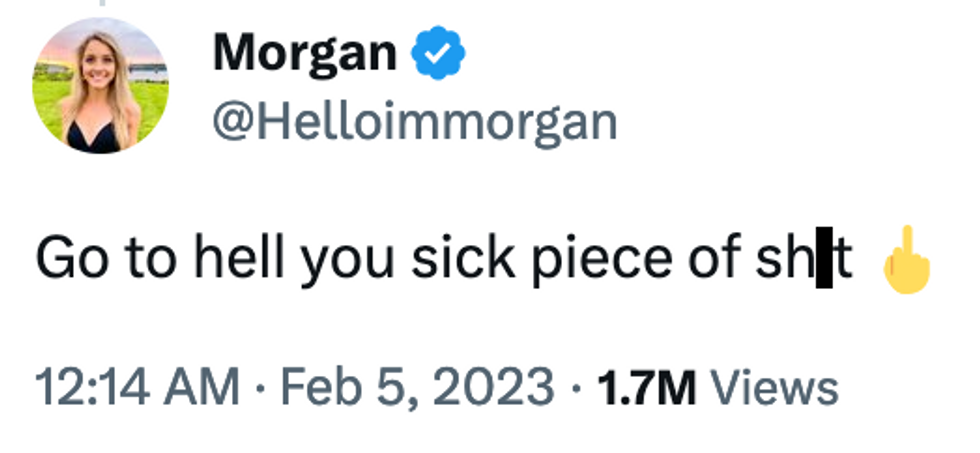 @Helloimmorgan/Twitter
Months later, the thread remained active as @Helloimmorgan continued commenting on the disturbing plot twist.

Users continued weighing in.


@BigBaller1309/Twitter
You never know about a person's true intentions or capabilities.

Fans pointed out a sign that was very telling of his personality.
Poulos was a follower of and retweeted a post by misogynistic social media personality Andrew Tate–who was charged with organizing a crime group for the purpose of sexually exploiting women.
Poulos' estranged wife, Ashley Poulos, broke her silence after hearing news of Trespalacios' murder and issued a statement expressing condolences for the bereaved family.
She revealed she filed for divorce from her husband in 2021 to get out of an abusive marriage.
She also said prior to filing for divorce, Poulos:
"Transferred our entire marital estate to an offshore trust leaving the family with nothing."
Poulos was arrested on January 24, moments before boarding a flight to Istanbul, Turkey, where he would have taken a connecting flight to Montenegro–which does not have an extradition treaty with Colombia.
He has been in custody since January 25 after being extradited from Panamá.
Colombian prosecutors are seeking a prison term of more than 35 years for Poulos.