A couple who found love after moving into sheltered accommodation in their sixties told how romance blossomed when their eyes met over the handlebars of a mobility scooter.
Both disabled, Trisha Green, 61, had been resident at Seagrave Court, an independent living facility in Strelley, Nottinghamshire, England, for a few months when she met former engineer Derek Icke, 67, and blew him away with a demonstration of her custom made mobility scooter.
Derek, who has a spinal condition and has now upgraded to a similar vehicle to Trisha's, was viewing the facilities in his wheelchair in summer 2018.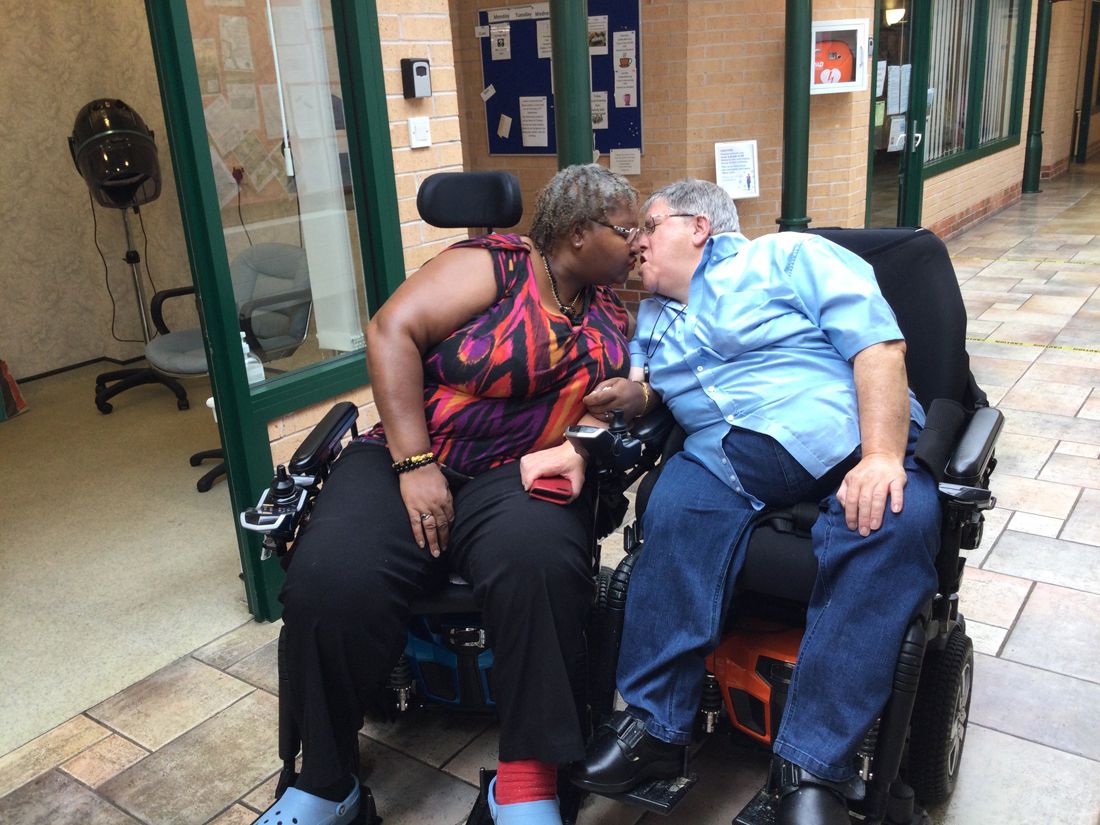 Trisha and Derek (PA Real Life/Collect)
Moving in shortly after, the couple soon scooted together to a showing of Mary Poppins Returns at the local cinema and have been inseparable ever since that first date – getting engaged last November.
With their September wedding postponed due to the pandemic, they have now rescheduled for June 2021 and Trisha, whose pregnant daughter, Leeza, 41, a teacher, lives in China, said:
"It's like I'm living in a dream world."
"You don't think when you're going into a care environment that you're going to find love. The two things did not go together in my mind and I certainly didn't think I'd find someone to marry. It still doesn't seem real."
"Derek is so kind and sweet. He's a proper gentleman. I'm quite a shy person, but he really puts me at ease," she continued.
"We can just have a joke together."
Living in London for years, where she worked as a healthcare assistant, in her late 40s, Trisha developed fibromyalgia – a long term condition that causes pain all over the body – although it was not properly diagnosed until her mid-50s.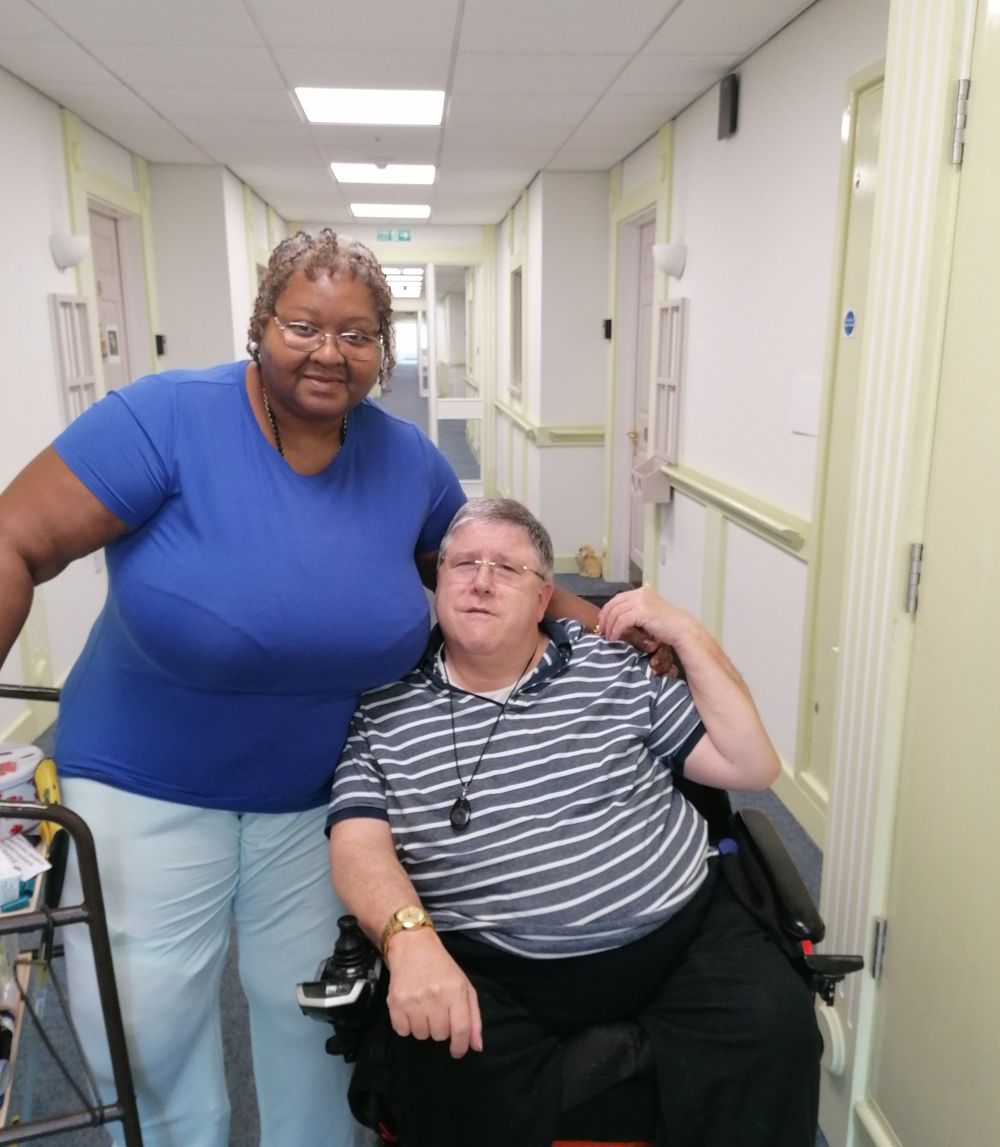 Trisha and Derek (PA Real Life/Collect)
A single mom, since parting from her daughter's father when she was a child, she said:
"I got into a regime with painkillers, which would help. Then the pain would come back and I'd be signed off sick from work."
"Eventually, it got too much and I had to take early retirement in my mid-50s. I moved to Nottingham to be close to my daughter, who was here then, and lived with her for about five years."
Moving into a bungalow when her daughter took a job in China, Trisha's health went downhill.
"I was falling over a lot and, with the fibromyalgia affecting my concentration and memory, I'd forget to take my medication or pick up a new prescription," she said.
"It got to the point where I was admitted to hospital because I couldn't manage at home on my own, then I was discharged into a nursing home at the age of 58."
"I missed having my independence, so I worked hard to try and improve my health and my physical strength with physio and rehabilitation classes."
Once her medication was under control and she could walk without falling, the nursing home manager suggested Trisha should look at independent living instead.
"I'd become very depressed," she said. "Before the hospital stay, I'd hardly been going out unless someone took me. I had carers coming in, but I hadn't been in a relationship for five years and I felt very lonely."
Moving in to Housing 21's Seagrave Court in early 2018 – a care scheme offering independent living in contemporary apartments with care and support on site – Trisha flourished.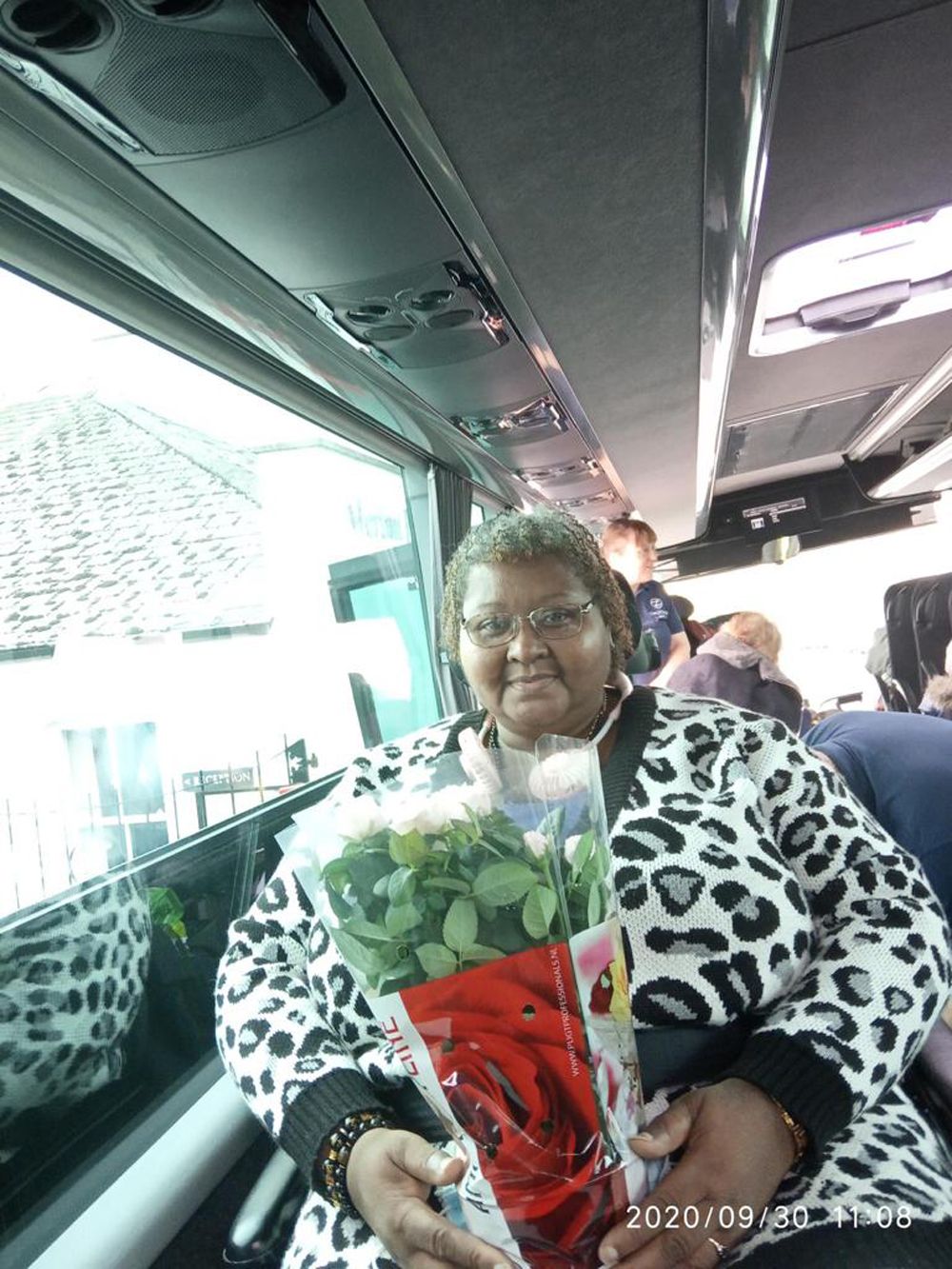 Trisha on holiday (PA Real Life/Collect)
"I wanted to live independently again but with support if I needed it," she said.
"I had my own front door and control over where I went, when I went and who could come to my home, which was great."
"I was very shy, but the staff helped me to come out of my shell. I set up a knitting group, learned to play the guitar, went on day trips and to the entertainment nights, where singers would perform."
She said:
"The staff encouraged me to sell tickets for events, which got me talking to people and really built up my confidence."
She was selling tickets in the reception area of the facility in June 2018 when she met Derek, who does not have children.
An engineer for 48 years, as he reached retirement, diagnosed with malformation of the spine, it was affecting the blood supply to his spinal cord, leaving him wheelchair bound.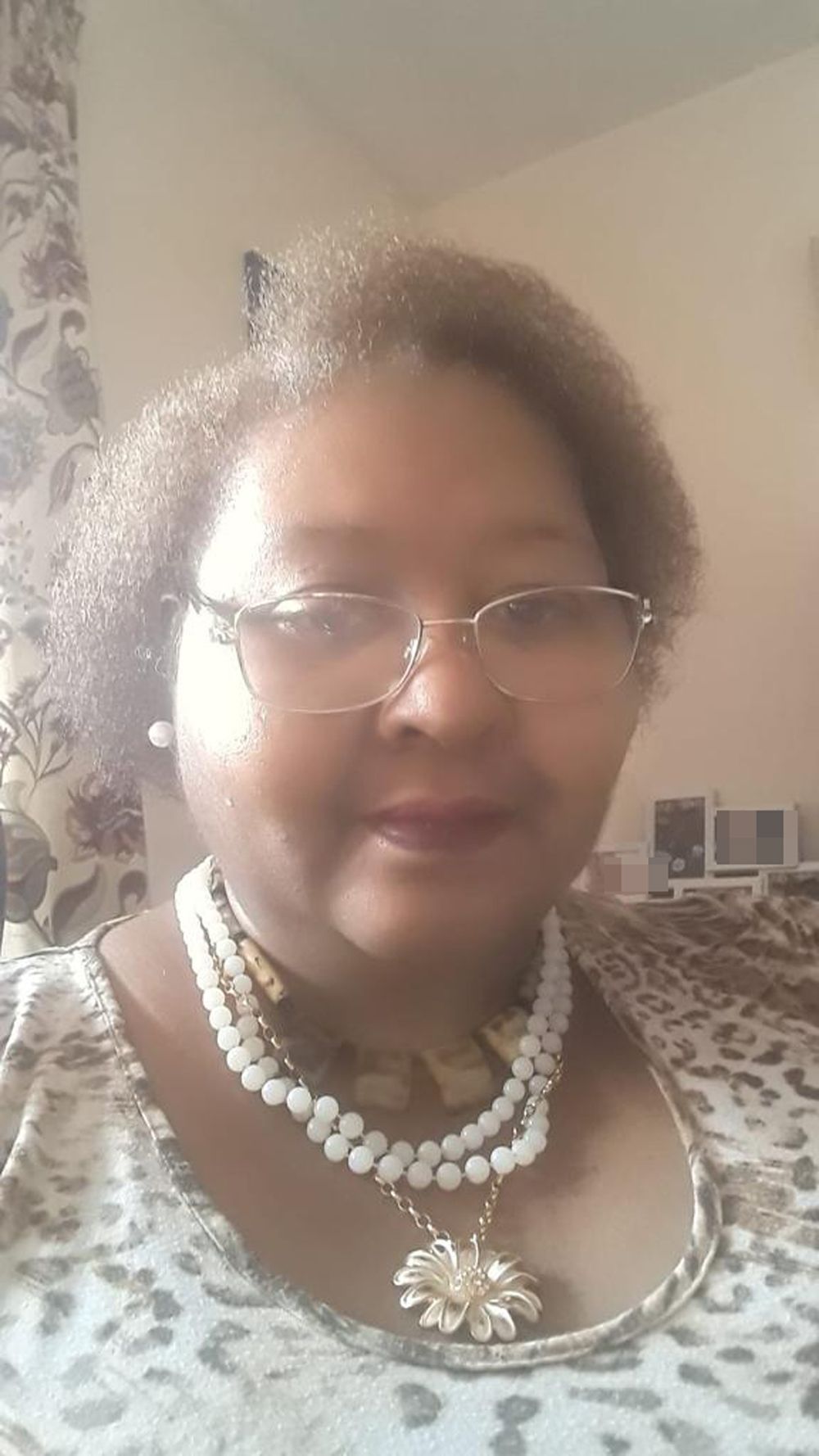 Trisha (PA Real Life/Collect)
In 2016, he spent seven weeks in Nottingham's Queen's Medical Center, before being discharged into a nursing home.
Finding it unsuitable, he came to look around Seagrave Court – landing the perfect apartment and the love of his life at the same time.
Trish said:
"The first time we met, I was on one of these custom made mobility scooters and the manager was showing Derek around."
Here at Housing 21 we would like to say a big #ThankYou to all our staff. We haven't taken for granted all the hard… https://t.co/8EOA98QTsR

— Housing 21 (@Housing 21) 1597934234.0
Trish added:
"He was in an old wheelchair and was looking to upgrade, so the manager asked me to show him my scooter."
"I thought to myself, 'He's not too bad!' From that first moment, I wanted to get to know him more. He seemed like a real gentleman."
Derek paid a couple more visits to Seagrave before moving into an apartment on the floor above Trisha's.
She said:
"We would play chess together. As another icebreaker, I asked him to help me with my laptop because I couldn't get this DVD to work. It was a good excuse to talk to him, although he couldn't fix it!"
Their first date was to see Mary Poppins Returns in September 2018, with Derek phoning the local cinema to check they could accommodate their scooters.
Soon after, they became a proper couple.
"Derek lives one floor above me, so we would be in and out of each other's apartments before the pandemic, when we had to stop seeing each other for a few weeks and speak over FaceTime and WhatsApp," she said.
"We like to watch telly together and we would book a taxi and go into town to have a cup of tea or a meal. We just like spending time together."
Then, in November last year, they decided to get married.
Covid-19 has emphasised to us all the importance of houses and our homes. Take a look at our website to find out ho… https://t.co/IFJqydpjIz

— Housing 21 (@Housing 21) 1596449921.0
"There wasn't a big proposal moment. It was a discussion and we both decided it was what we wanted," Trish explained.
"I think Derek was going to do a romantic proposal at Christmas, but then I saw a ring I liked, so we skipped that bit!"
"We went shopping so I could get my ring size, but while I was in there I saw this gorgeous blue sapphire wedding ring."
"Derek was outside, so the shop assistant took it out to him and he said I could have it."
The couple had their wedding arranged for September, with the ceremony due to take place at St. Teresa's Church in Aspley, Nottinghamshire, and the reception at Seagrave.
But, unfortunately, in March – as restrictions kicked in – they were told they would have to postpone it.
Trish, who can walk using a stroller, but needs her mobility scooter when she goes out, explained:
"Everywhere just shut down, the church was closed and we couldn't arrange the paperwork anymore."
"I'd been to a wedding fair and picked my dress. It's a traditional white gown."
"It's disappointing, but there are a lot of people in the same situation. We're hoping to be able to do it in June if things are a bit more normal."
We're thrilled to see Care Workers being appreciated for #PCWWeek20. At Housing 21, our Care Workers have worked th… https://t.co/R0QdJCNtDc

— Housing 21 (@Housing 21) 1599041132.0
Keeping to tradition, the couple will not live together until they are married, when they will move into Derek's two bedroom flat.
Unable to go on a honeymoon, last week they enjoyed a week-long break to the Cotswolds instead.
Trish added:
"We would have been on our honeymoon, but we had a lovely break, having days out in the Cotswolds with a coach company."
She continued:
"We're just really excited about getting married now and can't wait. Hopefully, by June, everything will have settled down."
Meanwhile, for Derek – who has not enjoyed a long-term relationship in the past – sheltered living has definitely been a move in the right direction.
He said:
"I never thought I would move here and fall in love. I think we both felt the same, it was totally unexpected."
"We were not looking for love, but it does feel like fate. If we hadn't been through all we have we would never have ended up here and would not have found each other."
"We had similar stories, in that we both ended up in hospital, then in a nursing home and then in Seagrave."
"I love Trisha, she's really nice in every way you can be. She's incredibly kind."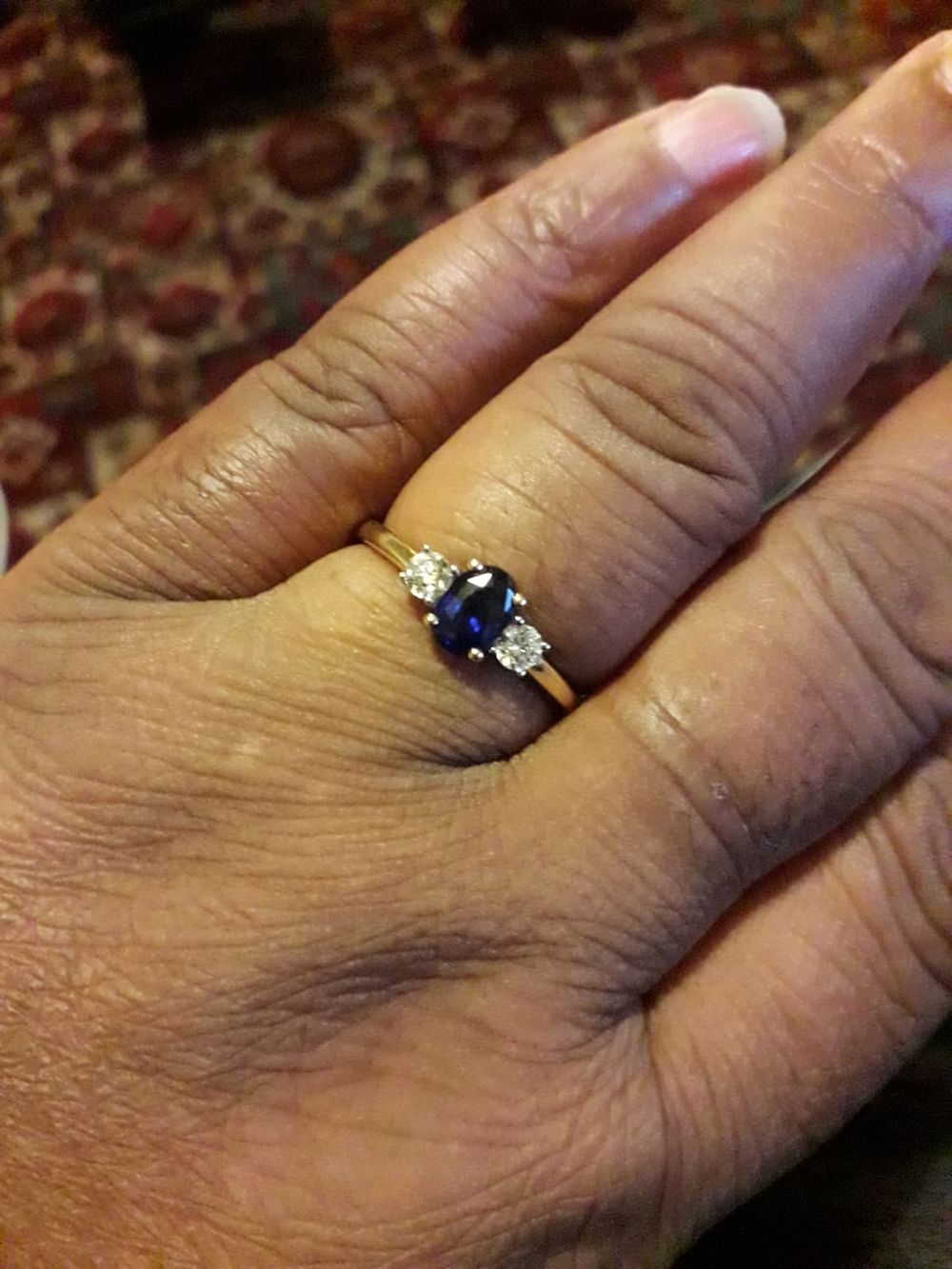 Trisha's engagement ring (PA Real Life/Collect)
He added:
"We're so happy we came together. It couldn't be better!"
Billie Fryer, Housing Manager at Seagrave Court, cannot wait to toast the happy couple.
She said:
"They say that you are never too old to fall in love and you only live once, so you need to grab happiness while you can. We can't wait for our first Seagrave wedding – once restrictions are loosened."