A fearless couple have become landlords to some very unusual lodgers – an exotic menagerie including 103 tarantulas, 30 praying mantises, and a scorpion, to be precise.
Spending around £300 (~$377) a month on the critters, Jessica Whittaker, 19, and her partner Adam, 23, proudly display their collection – which is worth around £7,000 (~$8,800) – on floating shelves, positioned around their bedroom and living room in their flat in Glasgow, Scotland.
While many of their friends and loved ones are so terrified of the creepy crawlies that they refuse to set foot through the door, the couple, who run a business – Adam's Exotic Creatures – together, keep them as pets, or breed them and sell some on.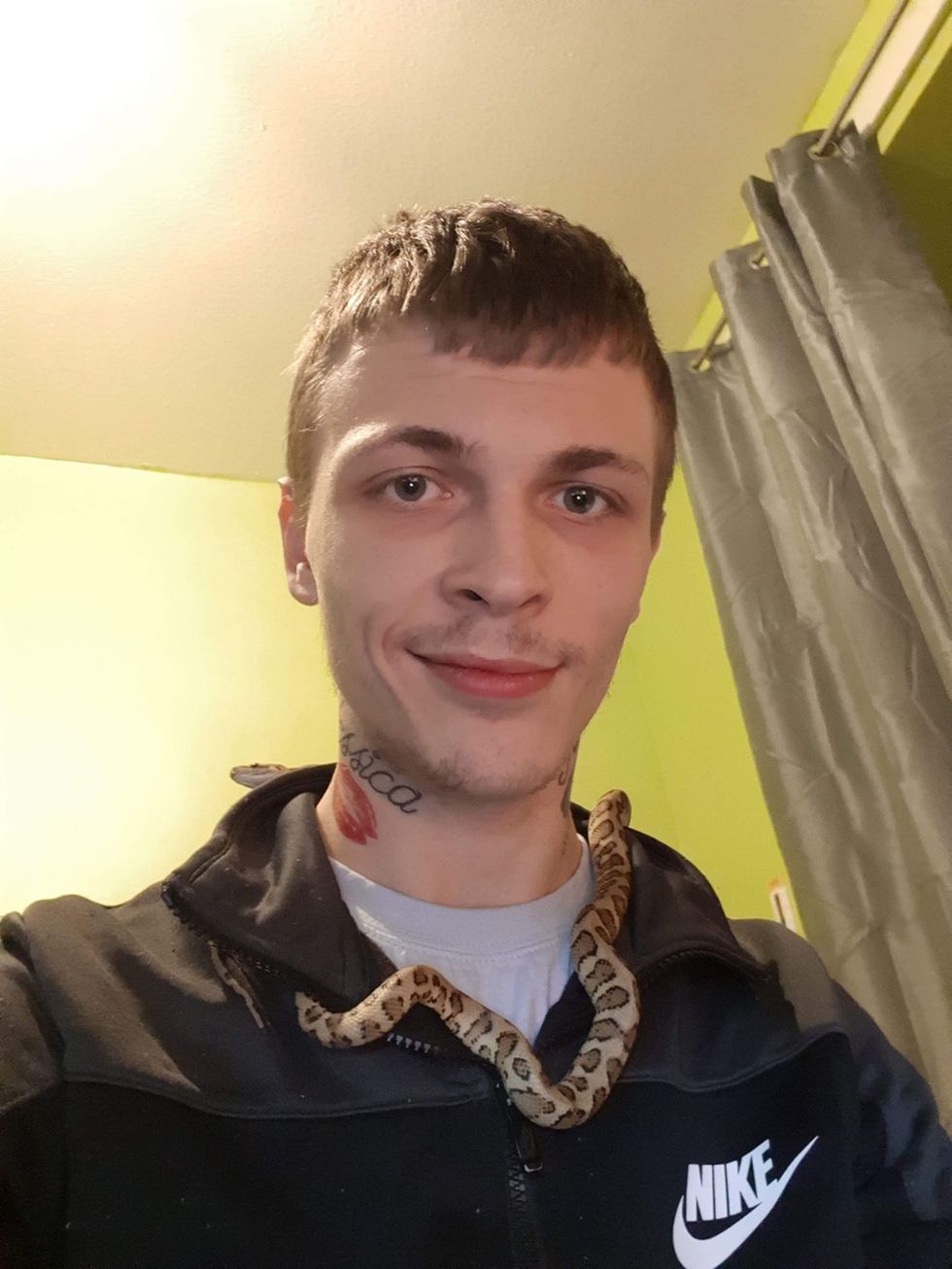 Adam (PA Real Life/Collect)
Extolling the virtues of their exotic collection, which she says delights their young children, Alisha, one, and Darren, eight months, Jessica said:

"People do ask us why we have all these animals around the kids but, of course, we take precautions. The tanks they are in are locked at all times and kept high up out of reach."
"The kids don't touch the animals, but love to watch them in their tanks – especially the scorpions and snakes. They're fascinated by them."
"It was Adam who introduced me to exotic creatures, and we've slowly built up the collection in the three years that we've been together. It's like having my very own Steve Irwin!"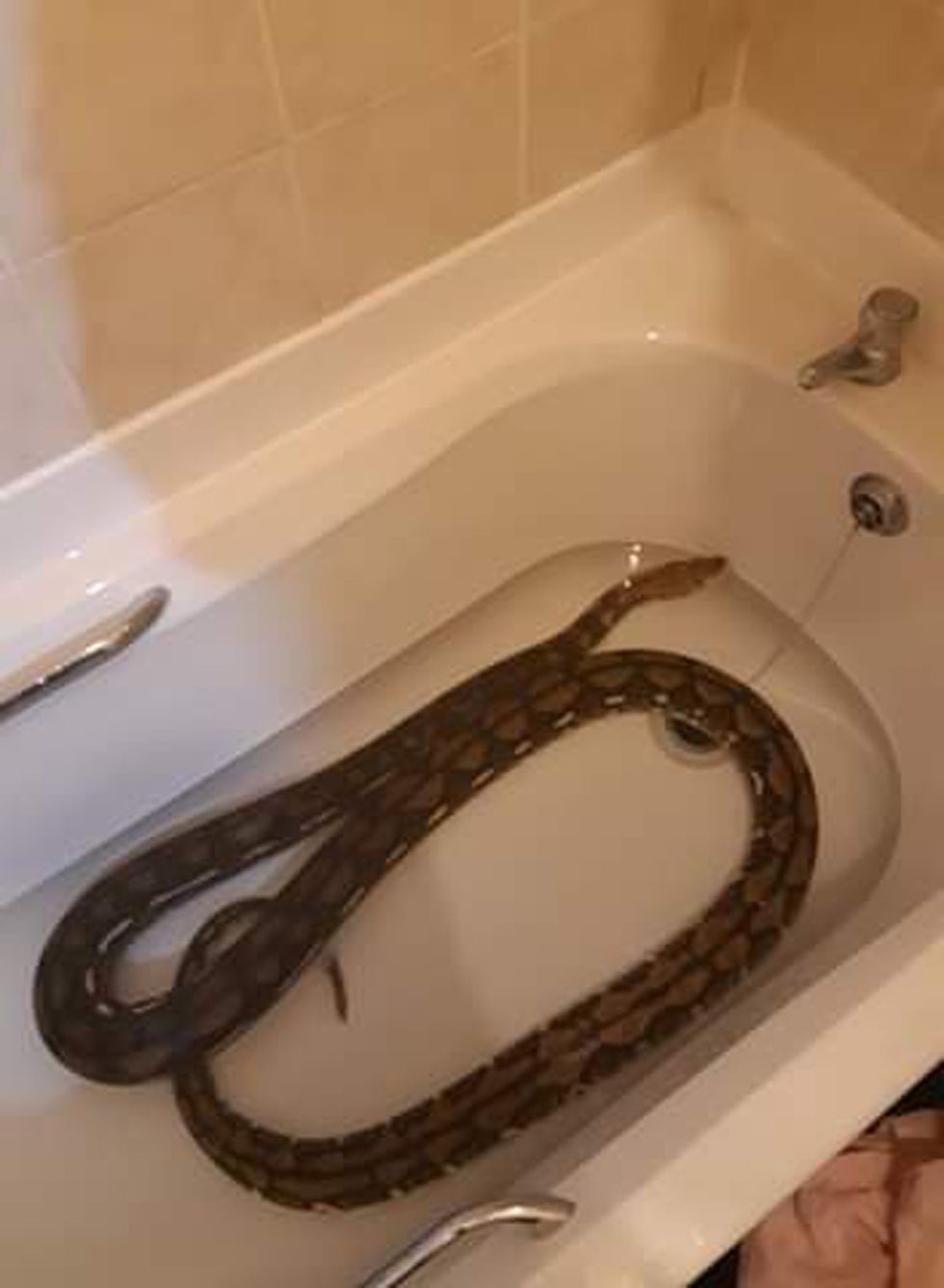 The 15ft python in the couple's bath (PA Real Life/Collect)
Speaking as the documentary Tiger King – which explores the world of exotic cat breeding and its eccentric cast of characters – has taken Netflix by storm, Jessica recalled how the first animal she and Adam bought together was a 15ft python from a local pet shop, around two years ago.

They rehomed it, as a safety precaution when they started a family, but their enthusiasm for all creatures great and small had been well and truly awoken.
Next, they bought two small corn snakes, before steadily building up their whopping collection of tarantulas.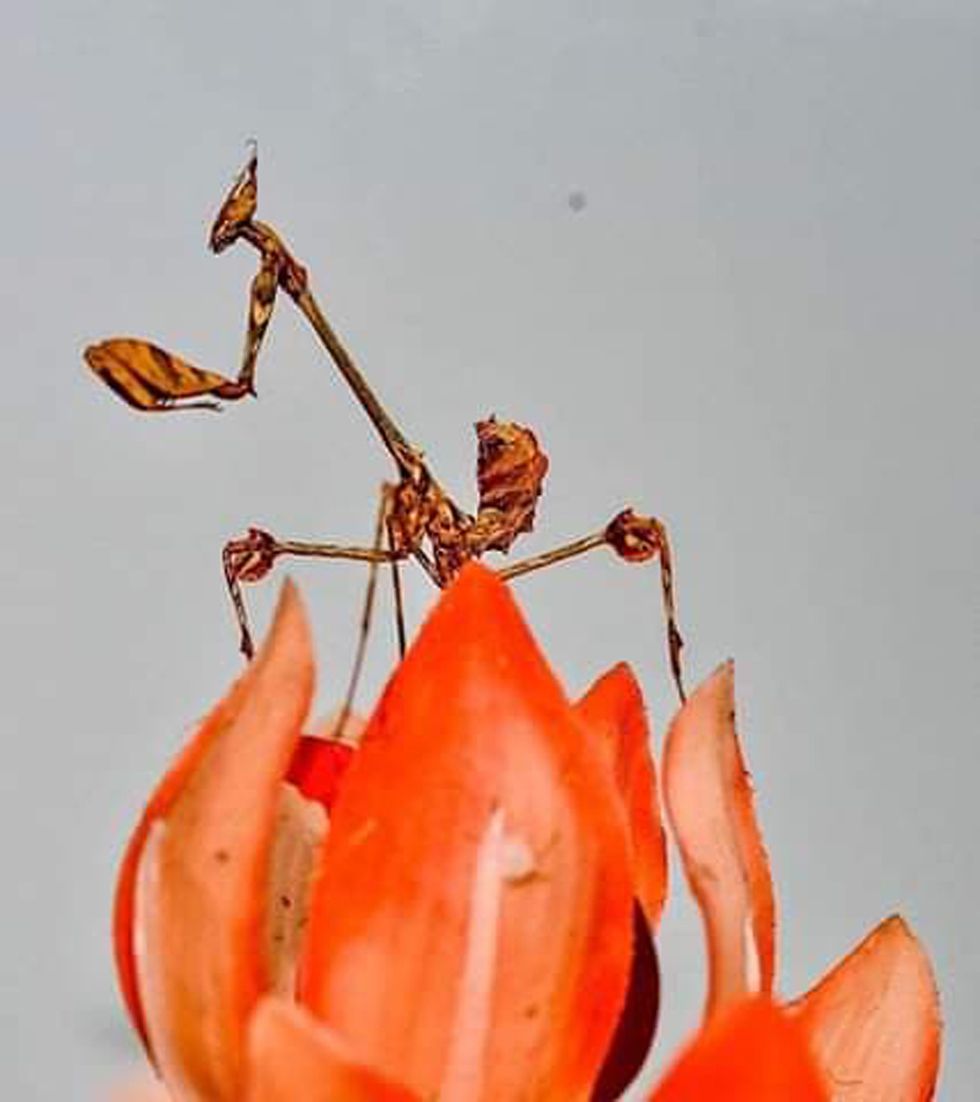 Adam and Jessica's mantises (PA Real Life/Bulldog Photography)
Jessica explained:

"Adam had grown up around exotic animals, but I hadn't, so when he first told me he wanted to get some for us, I said, 'Not a chance.'"
"But I slowly got more used to the idea and being around the creatures now has totally taken that fear away."
"I think because some of these animals have the potential to bite or sting, people assume they're out to get them and don't want to be around them. But it's all about understanding them and knowing how to properly handle them."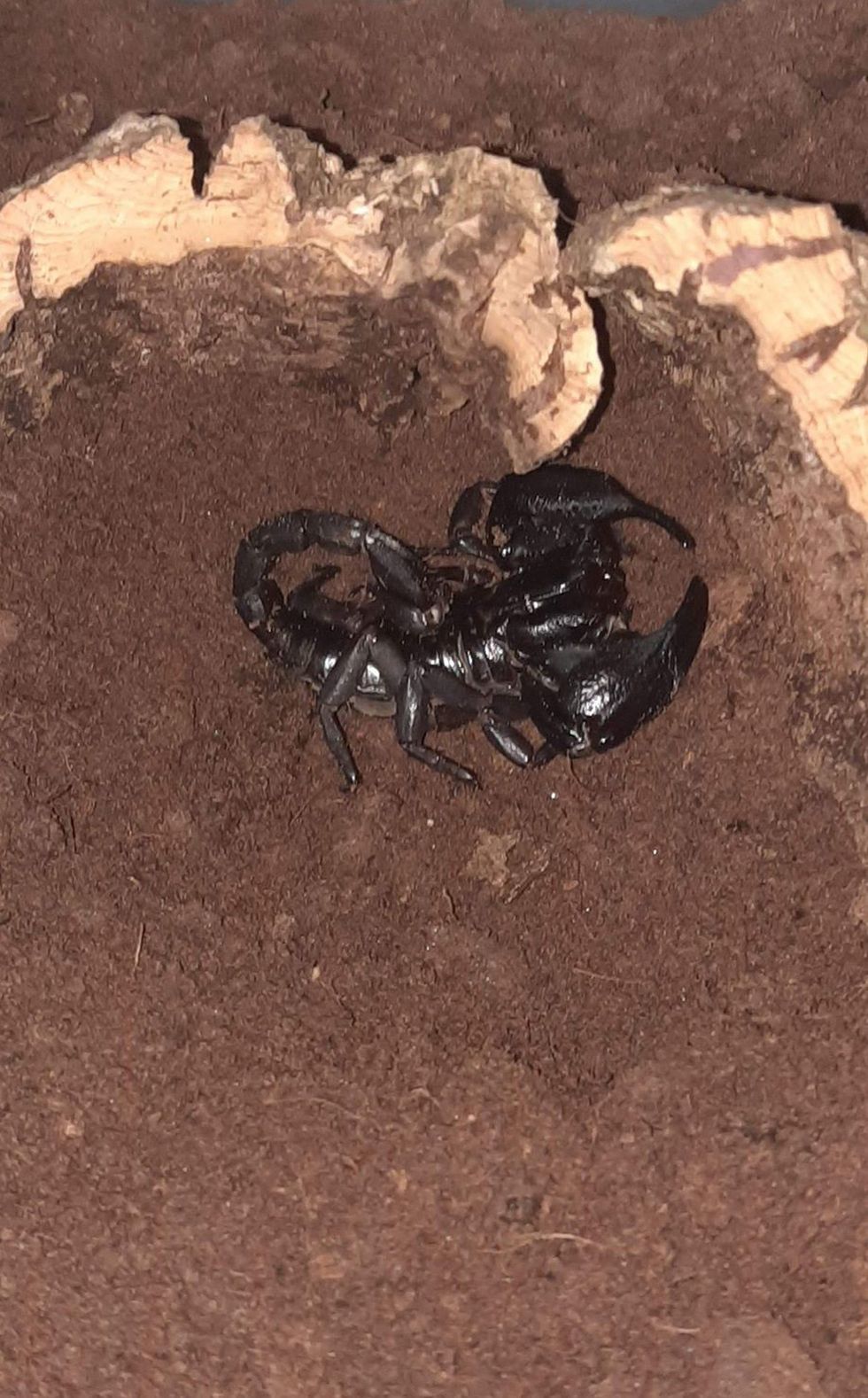 Adam and Jessica's scorpion (PA Real Life/Collect)
Slowly, the pair's flat began to resemble a miniature zoo, as they moved on from using mainstream pet shops to specialist breeders, to source their menagerie.

Now Adam buys all his critters from three specific breeders – two based in the UK and one in Poland, who specializes in spiders.
Currently, their collection comprises of 103 tarantulas, 30 mantises, two lizards, eight cockroaches, and two corn snakes.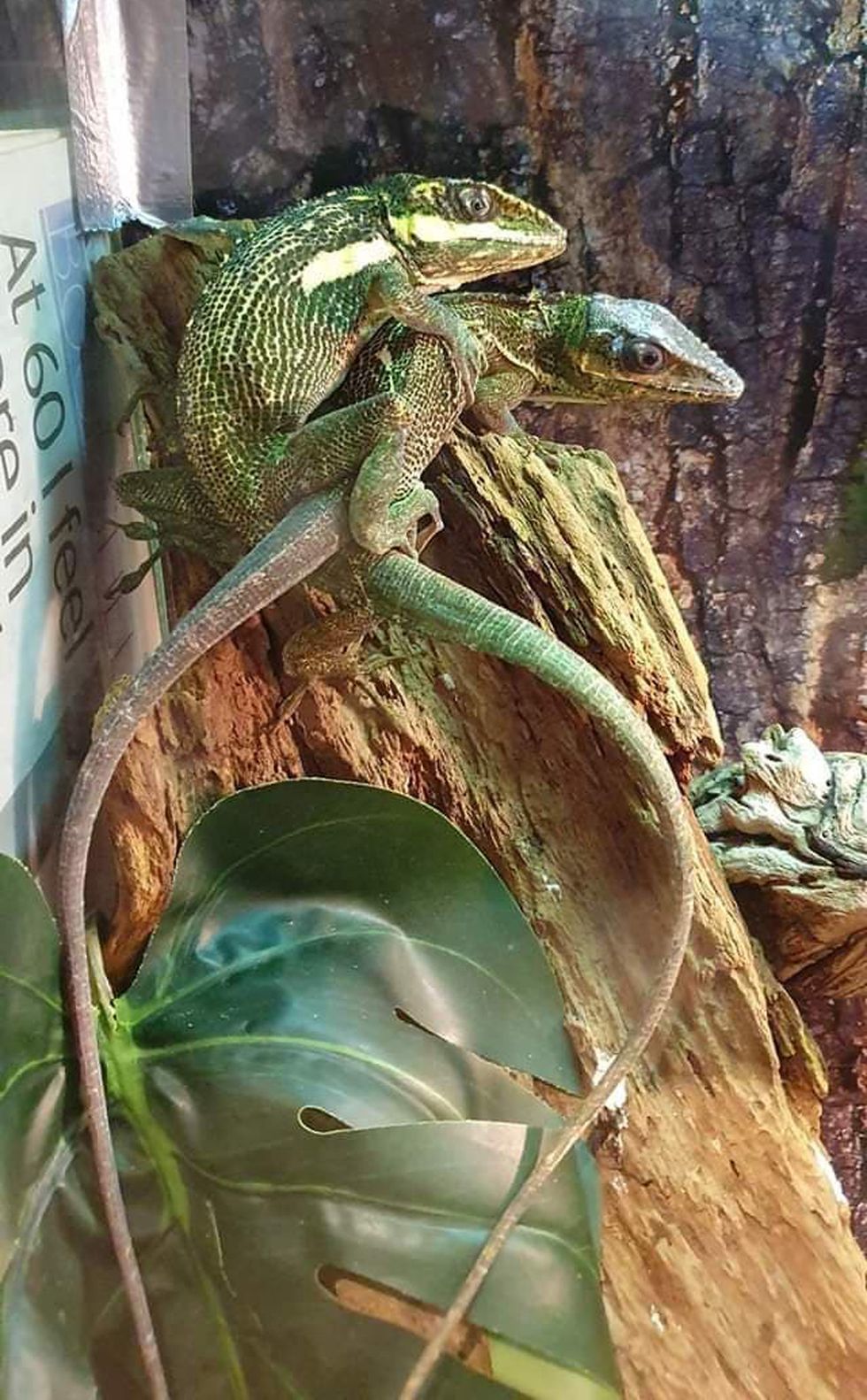 Adam and Jessica's lizards (PA Real Life/Collect)
"Most of the animals are fed with live creatures, so we also have huge stashes of roaches, fruit flies, and mealworms," added Adam.

Although they live in an apartment, the pair have used clever space-saving techniques to ensure all the creatures have enough room.
Most are displayed on floating shelves, either in the living room, or in Adam and Jessica's bedroom, and the pair also have a special cupboard where they keep most of the tarantulas in tanks.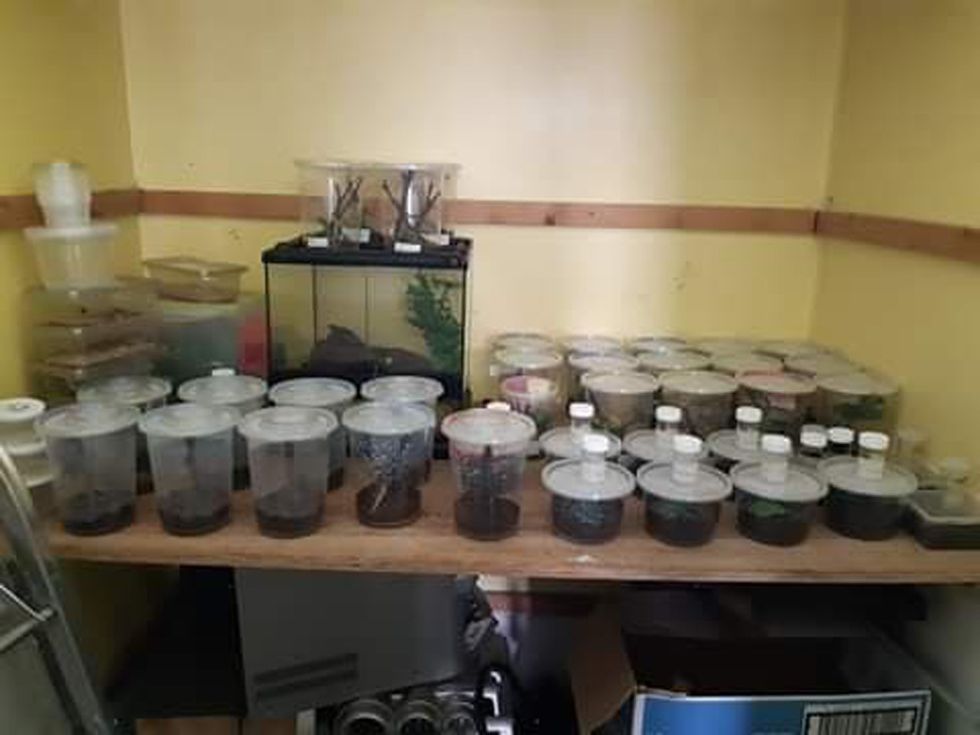 Adam and Jessica's tarantulas (PA Real Life/Collect)
"Having them on display means sometimes people don't want to come round," laughed Jessica. "Or when they do, they'll avoid the rooms where the animals are."

Reiterating that their children's safety is paramount, the couple ensure that the tanks are out of Alisha and Darren's reach at all times, and would never allow them near potentially dangerous creatures.
But keeping exotic critters is not for the faint-hearted, with the couple spending up to five hours a day feeding and watering them all.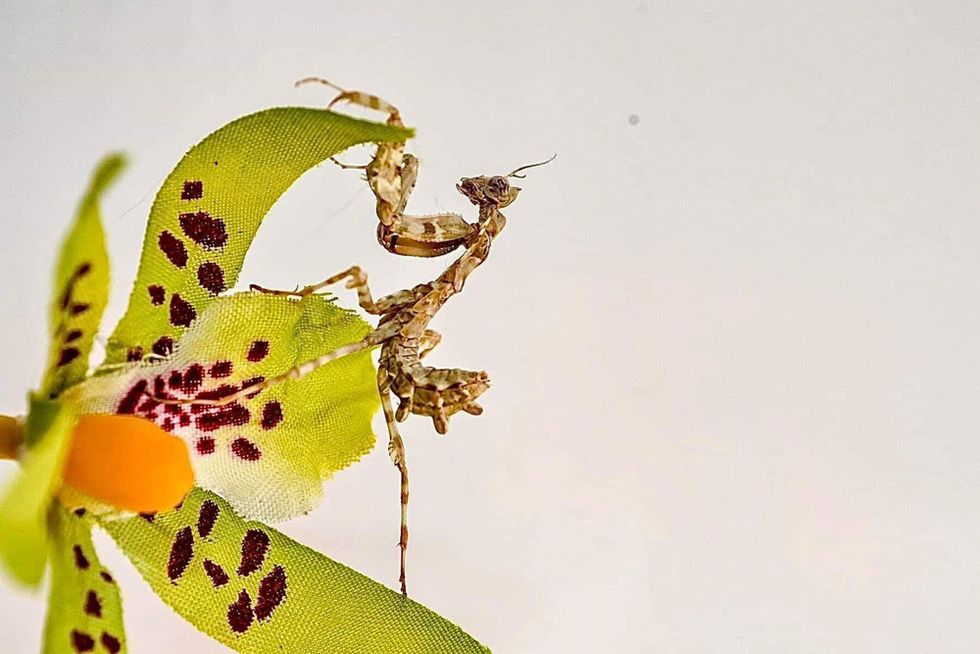 Adam and Jessica's mantises (PA Real Life/Bulldog Photography)
Still, Jessica, who was first introduced to exotic pets by her partner, is now as bonkers about them as he is and is overjoyed to see their business steadily building.

They have hired an adviser and have a growing and loyal customer base, mostly online.
Adam is also applying for various grants and licenses so he can open a proper shop, and the couple would love to start a zoo one day, where they would also breed creatures to sell to fellow enthusiasts.
Jessica said:
"As bizarre as it all seemed a couple of years back, this has become the norm for me now."
"My pre-animal life was very different. I had a lot more free time, and far fewer tarantulas to worry about – but I wouldn't change it for the world."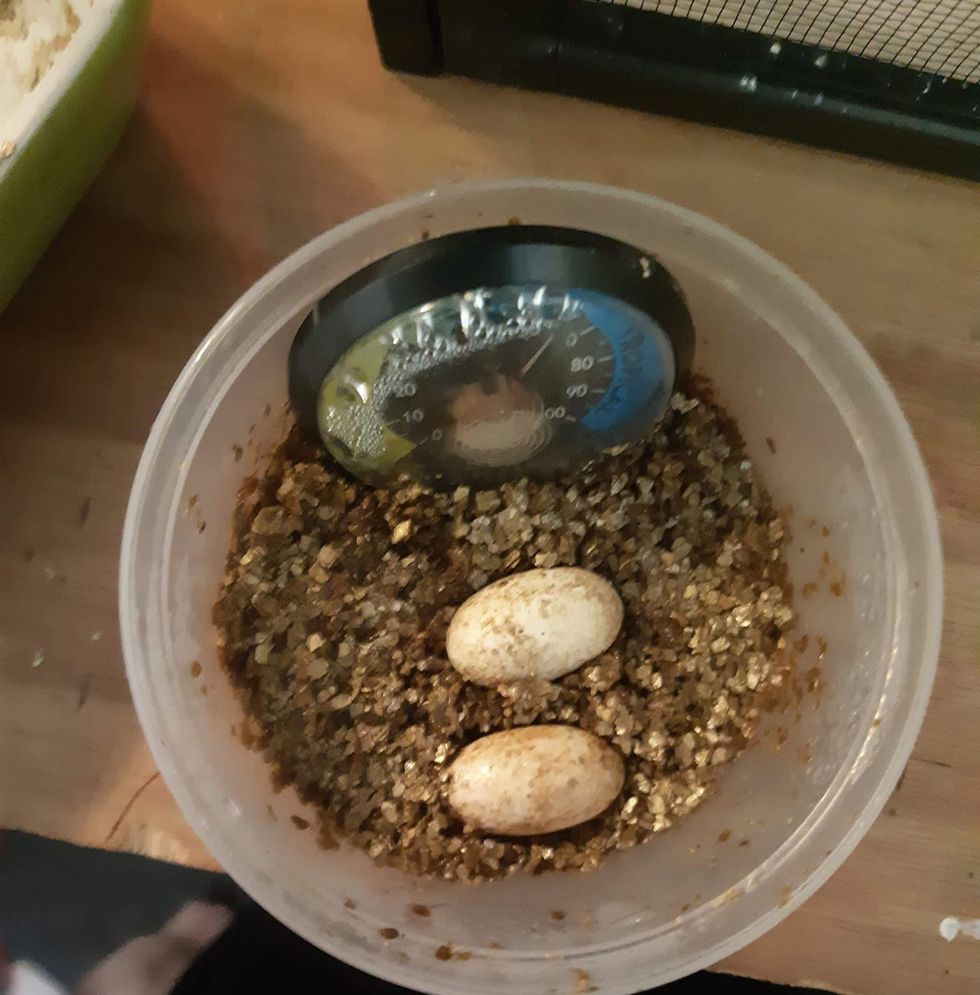 The corn snakes when they were still hatching (PA Real Life/Collect)
Meanwhile, Adam is hoping that the family business he created will be passed down through generations.

He said:

"For me, this business is something to leave behind for my kids. I previously trained as a chef with a dream of opening a restaurant, but the hours aren't family-friendly. This is something that also incorporates a passion I've had from an early age."
"I absolutely love animals and it's becoming much more normal for people to have something more exotic than a dog or cat."
"Ultimately, I'd love to get my own crocodile. You can even get leads to walk them on. I would love to be that odd one out down the park with a huge reptile!"